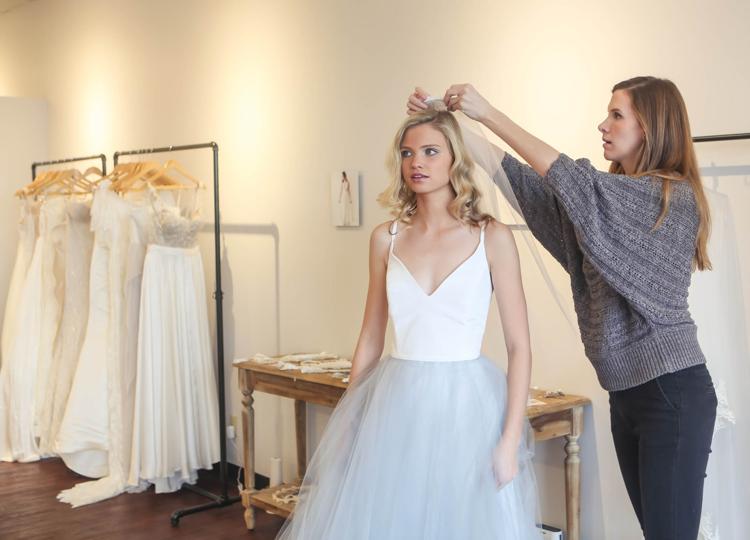 In the ever-changing world of wedding celebrations, more brides are thinking outside the box – whether that means abandoning the building completely for intimate beachside or mountaintop nuptials, or trading in the cathedral and country club for a rustic, secluded barn under stars and twinkle lights. These settings are typically not the place for traditional Victorian gowns, but digging for that "just-right" destination dress can be overwhelming among the thick crinolines.
While helping her sister shop for wedding dresses last year, Juno Bridal owner Claire Ketterer found herself underwhelmed. "I didn't see anything I really liked – everything was really traditional," Ketterer recalls. "I knew I would want something that was unique, that would make people say, 'Oh, wow, did you see her dress?' I didn't see anything like that." She started looking online at images of dresses she would want to choose for herself, looked up the designers of those dresses and discovered that none of them had a retail presence in St. Louis. "So I said, 'I'll just open a bridal shop,'" she says.
The timing was perfect. A St. Louis native who grew up with six siblings, all of whom currently live in the St. Louis area, Ketterer had recently moved back to her hometown to be closer to her family, especially her nieces and nephews. She had spent a few years working as a nurse in Santa Monica, California, and was looking for new opportunities. "I always wanted to start my own company," she says.
Juno Bridal, Ketterer's bridal boutique, named for the Roman goddess of marriage, is set to open on Feb. 25 on the north side of the Central West End. Its website describes the store thus: "Not your mother's bridal shop. We're for the free-spirited, creative, modern bride who cherishes individual style." The Juno Bridal bride is unconventional, fashion-forward and laid back, according to Ketterer.
The shop will feature a collection of six bridal-gown designers, each unique to the St. Louis market, curated by Ketterer through online research and a trip to check out styles and meet designers at last fall's New York Bridal Week. The majority of Juno Bridal dresses cost between $1,500 and $3,000, with the full range of prices from $1,400 to $5,500.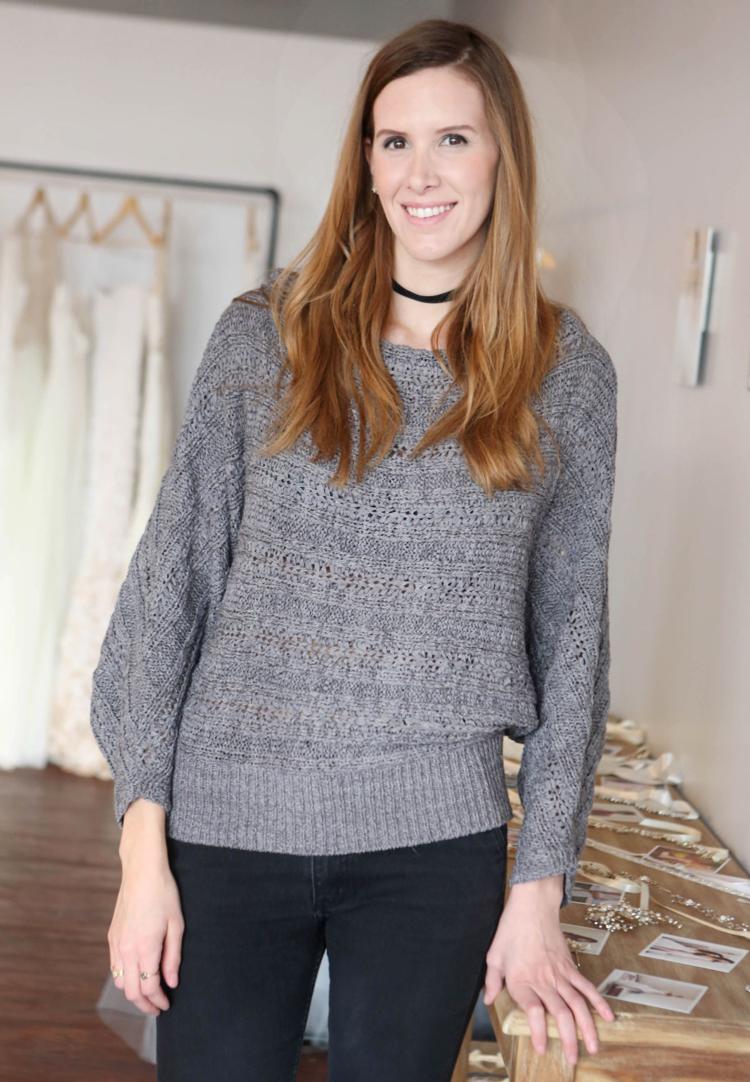 Designers have a distinct bohemian feel, featuring textured lace and off-the-shoulder styles. Several of Ketterer's designers offer customizations in addition to ready-to-wear dresses from their collection. Custom dresses are made individually to order, often with the ability to mix and match various tops and bottoms, customize fabrics or make dresses specific to size. Brides have the ability to try on samples in store to place a unique order. Most Juno Bridal dresses are ideal for destination weddings – easily packed away in a suitcase to cut down on cumbersome luggage.
Daughters of Simone, based in California, features romantic, bohemian-style dresses by sisters Ashley and Brittany Castanos, who began their label by altering vintage pieces found at local thrift shops. Their inspiration is drawn from their mother's own 1970s off-the-shoulder gown, which is echoed in their designs, featuring shoulder-baring styles with crochet laces, silks and chiffons.
Alyssa Kahle, of the eponymous Alyssa Kristen bridal line, is a designer based in Chicago's River North neighborhood. "She has a really cool story," Ketterer says. "She was an accountant and couldn't find [a bridal gown] in Chicago, so she made her own dress, then she began making dresses and selling them online." Alyssa Kristen designs focus on balance paired with a distinctive element – a regal collar balanced with a plunging neckline or a high neckline balanced with an open back.
Nashville-based designer Olia Zavozina specializes in highly customizable dresses. Brides are able to choose their own neckline, silhouette, fabrics and embellishment. "I'm going to have eight of her dresses, but the brides can try them on and say, 'I want the neckline different,' or 'I want a different color,'" Ketterer says.
Truvelle, based in Vancouver, British Columbia, features simple, elegant, effortless dresses. Each dress is handmade in Canada, with fabric individually cut for each bride's specifications. "I love its dresses," Ketterer says, describing them on her website as "forward-looking, modern and unconventional."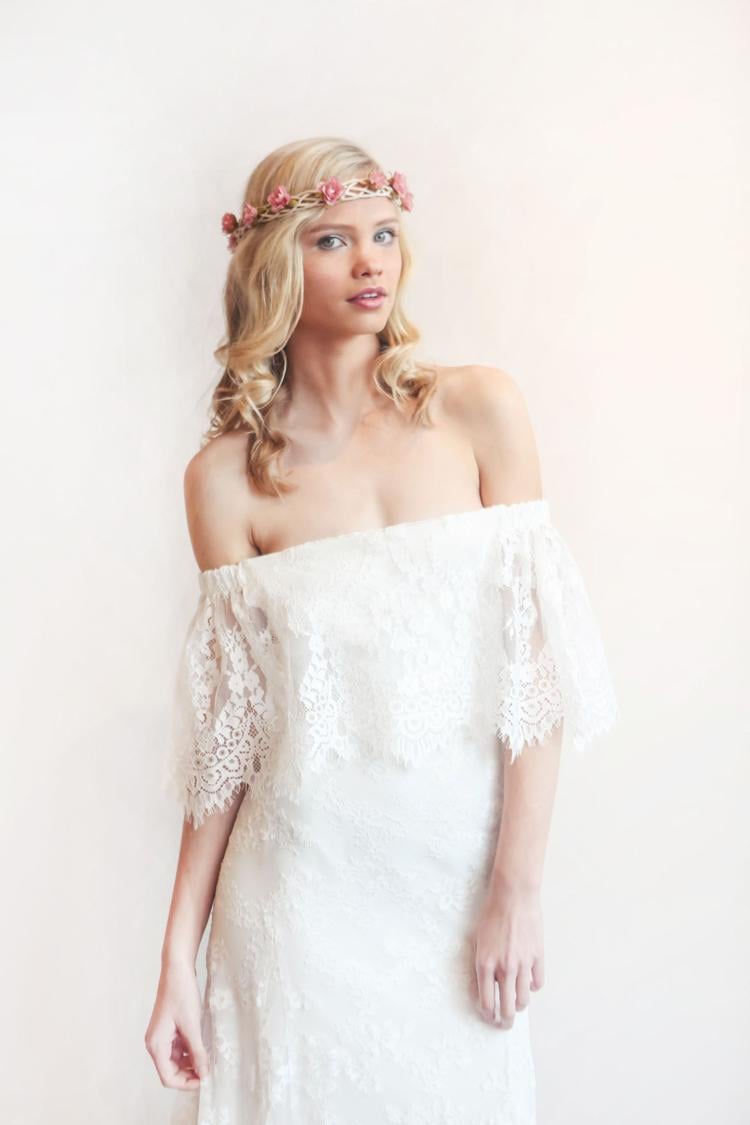 Named for the Titaness that ruled during the Greek Golden Age, New York-based Theia features gowns with a youthful, bohemian feel, fluid silhouettes and elaborate beading. According to Greek mythology, Theia gave gold and silver their shine, diamonds their fire and rubies and emeralds their sparkle. The label aims to bring out a bride's inner goddess – all for under a $2,000 price point.
The farthest-flung designer featured at Juno Bridal is Daalarna, based in Budapest, Hungary. "I'm trying to, from now on, keep designers in the U.S., but I loved Daalarna," Ketterer says. Daalarna also offers customization, allowing brides to choose the skirt of one gown and top of another, and specializes in dresses with distinct femininity and timeless elegance.
Juno Bridal will be open by appointment only, with each bride and her party receiving a personalized, 90-minute, one-on-one consultation, complete with complimentary sparkling wine. Ketterer recommends shopping at least eight months in advance of your wedding to allow six months for the dress to arrive, and an additional two months for alterations.
Ketterer also has seven trunk shows lined up this spring and summer, each featuring one individual designer whose entire collection will ship to Juno Bridal. During the two- to three-day duration of the trunk show, customers will receive 10 percent off items from the featured designer. Trunk shows also will be by appointment only. Appointments can be made through a form on the Juno Bridal website or over the phone.
Juno Bridal, 4430 Olive St., St. Louis, 314-300-8959, junobridal.com