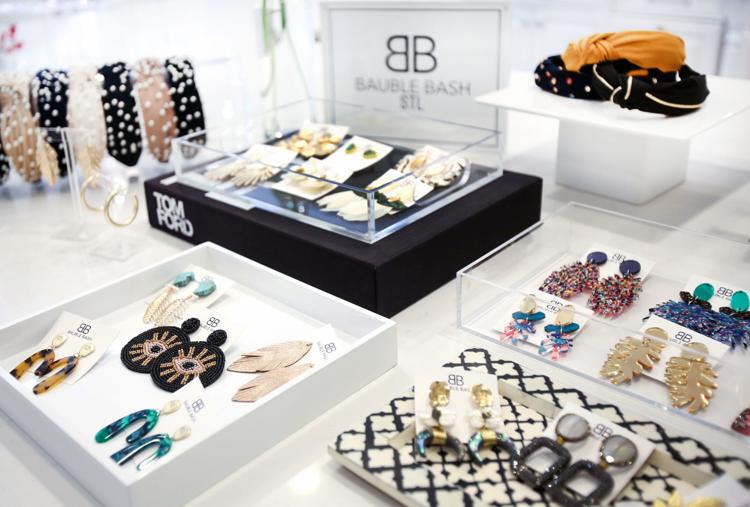 Two style-savvy moms here were constantly being asked where they got the fun, fashionable accessories they were wearing around town – so they decided to start offering the jewelry to women across the metro area.
Julie Ernst and Heather Johns introduced Bauble Bash STL last May with a launch party at Johns' Clayton home. The online-based accessories shop, which also holds local pop-up shops and hosts private parties around the area, offers bold, bright, statement jewelry and accessories meant to "make each day feel like a party." The business carries accessories by Bauble Bash, started by Johns' friends Camille Chamberlain and Lissa Mitchell in San Antonio, Texas, in 2017. "Bauble Bash STL is for the woman who wants statement jewelry and wants to be on-trend and doesn't want to spend a fortune," Johns says.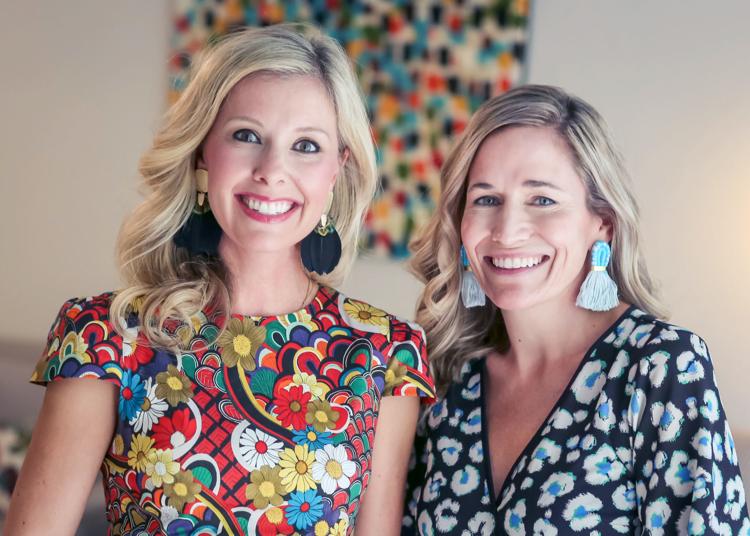 Johns, a Dallas native who moved here three years ago, and Ernst, a New Orleans native who has lived in the area for 13 years, met while their kids were attending preschool together and instantly bonded over their shared Southern roots and mutual love of fashionable accessories. "We both love jewelry and shopping and thought Bauble Bash STL was something great we could do to add a little Southern vibe to St. Louis," Johns says.
Both former teachers, Ernst always dreamed of running a fashion-related business, while Johns also loved the idea of connecting with people through fashion. "Bauble Bash STL was another avenue for me to meet more people and connect with the community in a fun, unique way," Johns says, adding that the business already has partnered with local organizations to offer pieces at school auctions, charity events and real estate open houses.
Based on Instagram, @baublebashstl, the online shop's fun, fashion-forward selection includes earrings, bracelets, necklaces, headbands and handbags ranging from about $20 to $80. Customers can send a direct message through Instagram to order, request a private party where the jewelry will be offered or purchase pieces at one of Bauble Bash STL's local upcoming pop-up shops, which include Leopard Boutique in Webster Groves from 5 to 7 p.m. on Sept. 18, the Chaminade Mother's Club Fall Event from 6 to 9 p.m. on Oct. 17 and Ladue Chapel Holiday Mart on Dec. 5 from 11 a.m. to 7 p.m. and Dec. 6 from 9 a.m. to 1 p.m.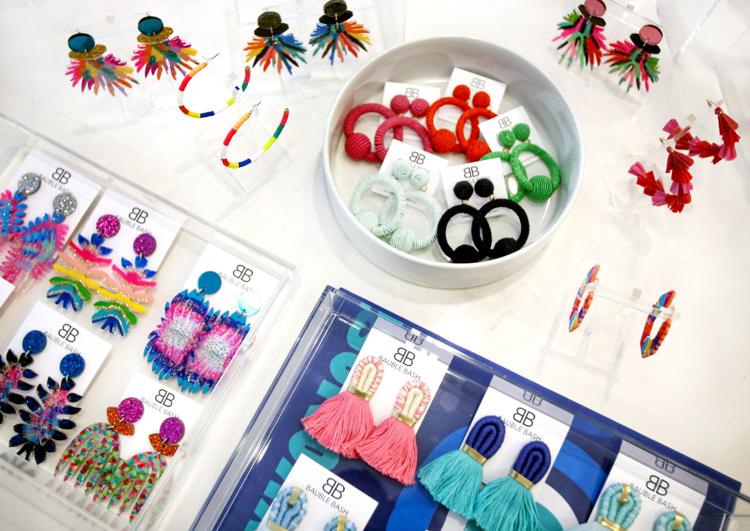 Orders are delivered on a customer-by-customer basis to get items in buyers' hands as quickly as possible. Although flat-rate shipping is available for $6, many customers choose to have their purchases delivered to them at locations of their choice. "Some people who buy items on Instagram will swing by one of our pop-up shops or come by one of our homes to pick it up," says Ernst, who resides in Town and Country.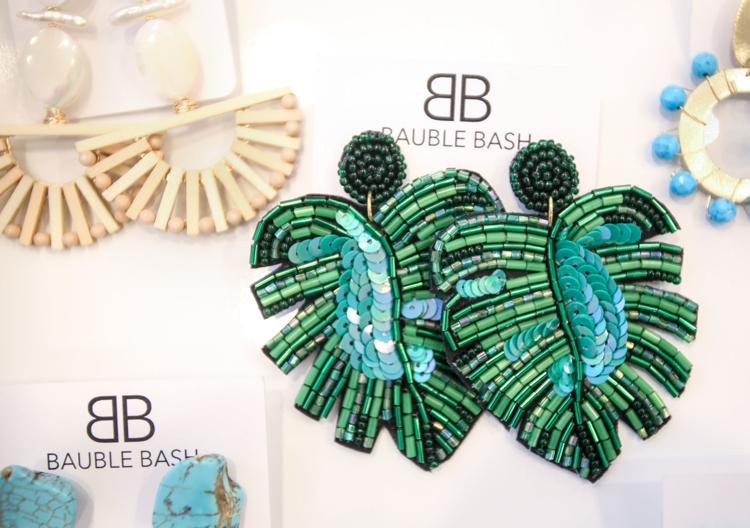 Bauble Bash STL's inventory sells quickly and rotates seasonally, Ernst says. The hottest summer sellers – such as acrylic earrings in a rainbow of neon colors, bright-striped beach bags, waterproof metallic bracelets and pastel-hued headbands – are currently transitioning to their fall counterpart pieces, including reddish-orange hoop-and-ball earrings; black, gray and camel rope-and-tassel earrings; hand-painted acrylic earrings; fall-colored tile bracelets; silicone key rings; pearl-and-velvet headbands; and other elegant, beaded, neutral-colored and pearl accessories for women. The online shop also is expanding its offerings for girls; after its colorful tassel necklaces quickly sold out this summer, it added metallic headbands on-trend for fall.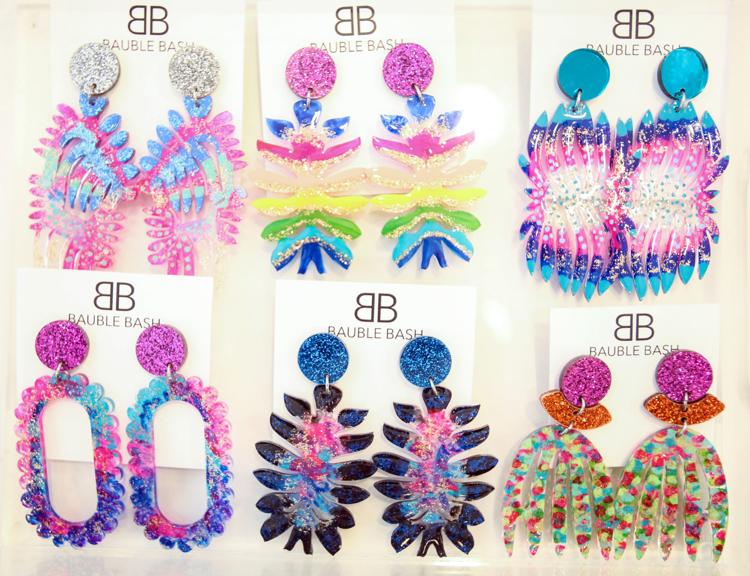 The stylish co-owners are excited to get to know their customers and offer unique accessory options that can't be found anywhere else in the area. "It's fun for us to curate a line that is specific to what St. Louis women are looking for," Ernst says. "We try to pick a variety of things, so not everyone in town has the same pair of earrings. We want less quantity of different styles, so you truly are more unique."
The accessories add a pop of color to women's wardrobes – without the weight, Ernst adds. "They're big and bold, but they're light, and they're going to pop," she says. "Whether you're taking family pictures or pictures for holiday cards, you're going to see our earrings."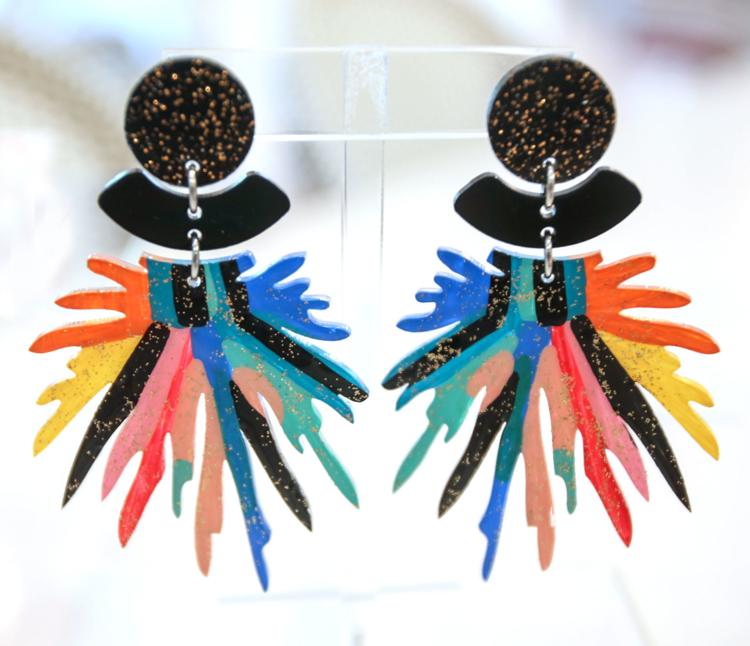 Bauble Bash STL also is striving to be an interactive, personalized shopping experience, Johns notes. "We're a good local source for that last-minute gift or to wear yourself to a lunch or event," she says. "If you need a statement earring or a unique piece to go with an outfit, we can help you pick something out."
Ernst says she and Johns often text images of a few jewelry options for customers to choose from, and the transaction comes full circle when buyers tag the shop in Instagram photos of themselves wearing the accessories. "So many people got pieces to take on vacation and wear over the summer," Johns says. "[In photo captions,] they'll say, 'We're at the beach and wearing the acrylic earrings,' or 'We're in Colorado and wearing the turquoise studs.'"
Above all, Bauble Bash STL accessories are fun, Ernst says: "Our ultimate goal is to have fun and inspire that fun in other people."
Bauble Bash STL, @baublebashstl