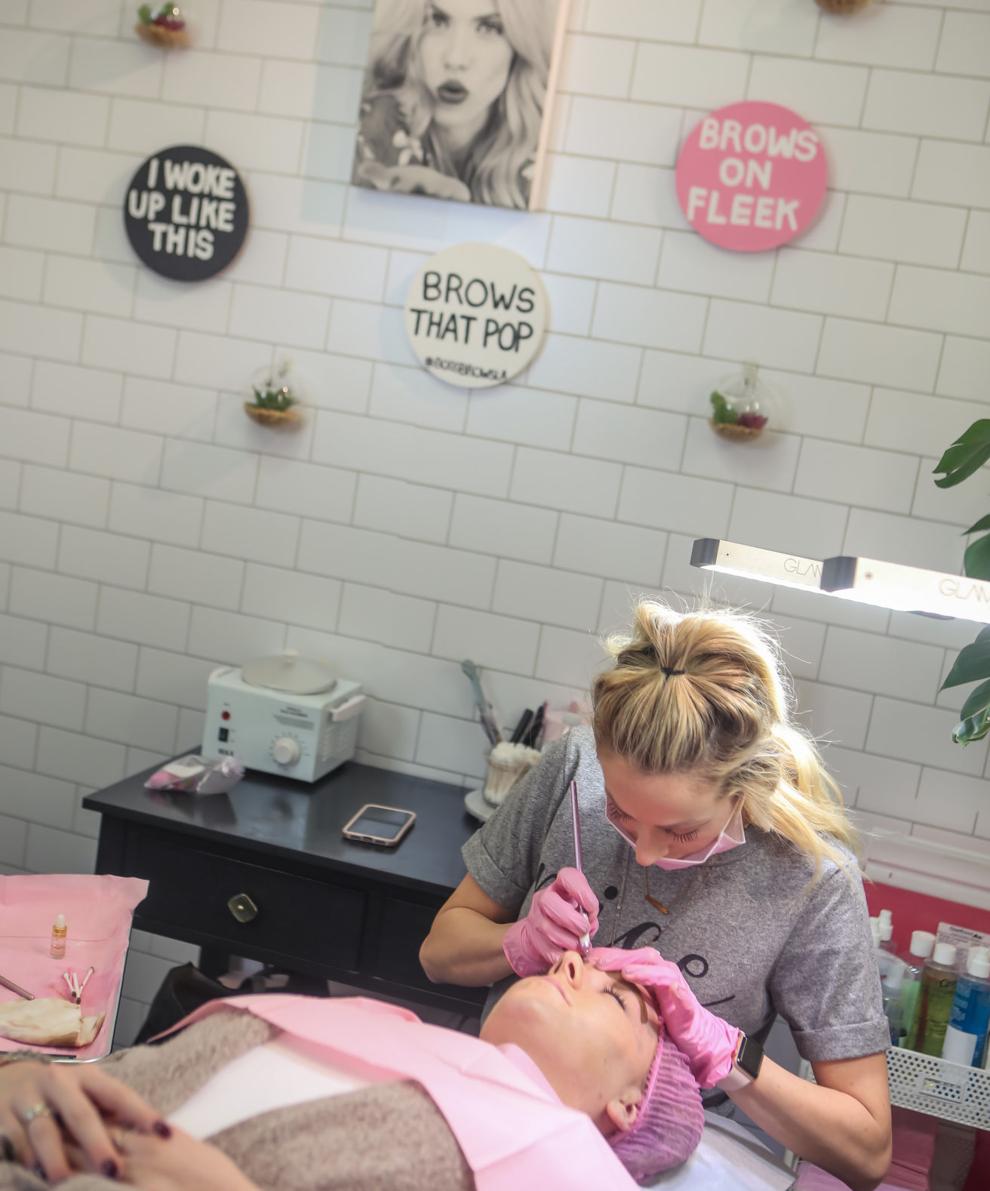 You don't have to look very far to take note that eyebrows are having a strong moment these days. The trend is unmistakable, much like the rounded, puckered-red lip of the 1920s or full and feathered eyelashes à la London's swinging '60s style scene and cultural icon Twiggy.
The look, a departure from the wafer-thin brows of the not-so-distant past, involves a fuller, more natural clean brow with a subtle arch. For many, though, this "natural" look still requires help, aided by fill-in materials like brow powders, gels and pencils, which can make a low-maintenance look still feel very demanding. For these individuals, Clayton's Boss Brows LA, one of the St. Louis area's first studios to offer microblading, gives clients an opportunity to follow today's eyebrow trend in the form of a semipermanent tattoo.
Boss Brows LA's owner, Kristi Bates, is a Southern California native whose relationship brought her to the St. Louis area – and with her, the eyebrow trend that's been sweeping the coasts the past few years. "In Los Angeles, microblading has become really big and well-known, as eyebrow trends have grown in popularity and people have learned how important it is to frame their faces properly in order to create a balance and enhance natural beauty," Bates says. She started her aesthetics career as a wax specialist at a high-end Beverly Hills boutique, and after taking master classes in microblading, Bates started Boss Brows LA a little over a year ago, running her Clayton studio as her home base while maintaining her LA clientele by renting space in the area during her visits back to see family.
If the thought of a tattoo on the face conjures up images of Mike Tyson or the often harsh, artificial aesthetic of micro pigmentation, rest assured that microblading is quite unlike the brow trends of the past. "It's different from the traditional tattoo," Bates states, "much more natural and realistic looking – my whole thing is low-maintenance cosmetic solutions."
This look is achieved by employing fine cosmetic pigments to deposit a series of hairlike strokes to fill in sparse or thinning brows. This results in a much more natural-looking, semipermanent brow that fits and complements your specific features.
For Boss Brows LA clients, Bates offers a free consultation to begin, to introduce clients to how the process works. "I clean their brows and do something called brow mapping – I draw with pencil and use various rulers to measure the distance of their eyebrows and how they should frame the face using their bone structure," Bates says. "I create a template so they can see what their eyebrow is going to look like, and approve it, before I actually start to work. I'm really precise with brow mapping; I want to make sure it's even and exactly what the client wants. The bone structure navigates where the brow goes, whether it's a high arch or low arch – I give them what their bones tell me to give them because then it looks natural.
"I apply a topical numbing cream to minimize irritation, and from there, I use a hand-held tool – with no electricity or vibration – that looks like an X-ACTO knife. But instead of a blade, there are several tiny needles in many different shapes and sizes, depending on what you want to create – whether slant, rounded or shading – all bunched together so I can implant the pigment in the top layers of the skin."
Bates' needles, three times smaller than traditional tattoo needles, inject a medical-grade, organic pigment that sits on the top layer of the skin, with her choosing the shade based on the client's skin tone and natural eyebrow color. "Most people think you have to base it on the hair color, but you want your brows to match what you already have," Bates says, comparing the discomfort of the process to the sensation of tweezing or waxing or to a sunburn. She uses a topical numbing cream before the treatment, as noted, and a secondary topical numbing liquid during the treatment to continue the client's comfort. The entire process takes anywhere from two to three hours, resulting in two or more years of day-to-day, low-maintenance glam eyebrows that won't wash off with the rest of your makeup at the end of the day.
Microblading services begin at $499, reconstructing the eyebrow using strokes that mimic real hair strokes. "It looks extremely natural," Bates says. Additionally, Bates' specialized techniques set her apart in the industry – Ombre Boss Brows, which also begins at $499, is Bates' shading service "for someone who has brows but [who] really wants to define them because they're sparse, they fill them in with powder or pencil or brow gel." Ombre Boss Brows service creates the shape by filling brows in with pigmentation shading directly onto the client's skin. "It's buildable; it can be dramatic or natural, depending on what the client's needs are," Bates says.
Blade + Shade Boss Brows is Bates' most popular service, at $550, providing a combination of microblading and ombre to achieve a true 3-D effect. "It's my technique I use to create the most natural-looking eyebrow that is defined, gives you the reconstruction with the strokes and adds the shading to create a 3-D effect to really make it look realistic and natural," she says.
"About 90 percent of people do the Blade + Shade combo brow, but there are people who just want strokes to fill in some sparse areas or just want the shading or ombre so they don't have to wear makeup," Bates continues. All brow services include a touch-up appointment at the eight-week post-application mark, to ensure both Bates and her client remain happy with the result, and $275 color-boost appointments, what Bates calls a "revamp" to make the pigment more vibrant a year or two down the road – as the result does fade like normal tattoos, and oily skin won't keep the pigment as long.
Boss Brows LA offers additional services, such as beauty mark enhancements and waxing. Bates also provides training services for local existing beauty professionals who would like to expand their repertoire by offering microblading at their own studios and salons. "It's a specialized craft – I really wanted to open a studio that focused on doing the actual art," Bates says. "I do training in the art of microblading every other month; I think that has really helped expand the knowledge of the art."
The most rewarding part of her work, according to Bates, involves clients' reactions. "I get text messages from men and women saying, 'Wow, I can't believe how different I look; I feel so good and don't have to do my makeup,'" Bates says. "I've teared up at some of the reviews and text messages of gratitude from my clients – it's something I'm really grateful for."
Boss Brows LA, 104 Gay Ave., Clayton, 310-482-1628, bossbrowsla.com