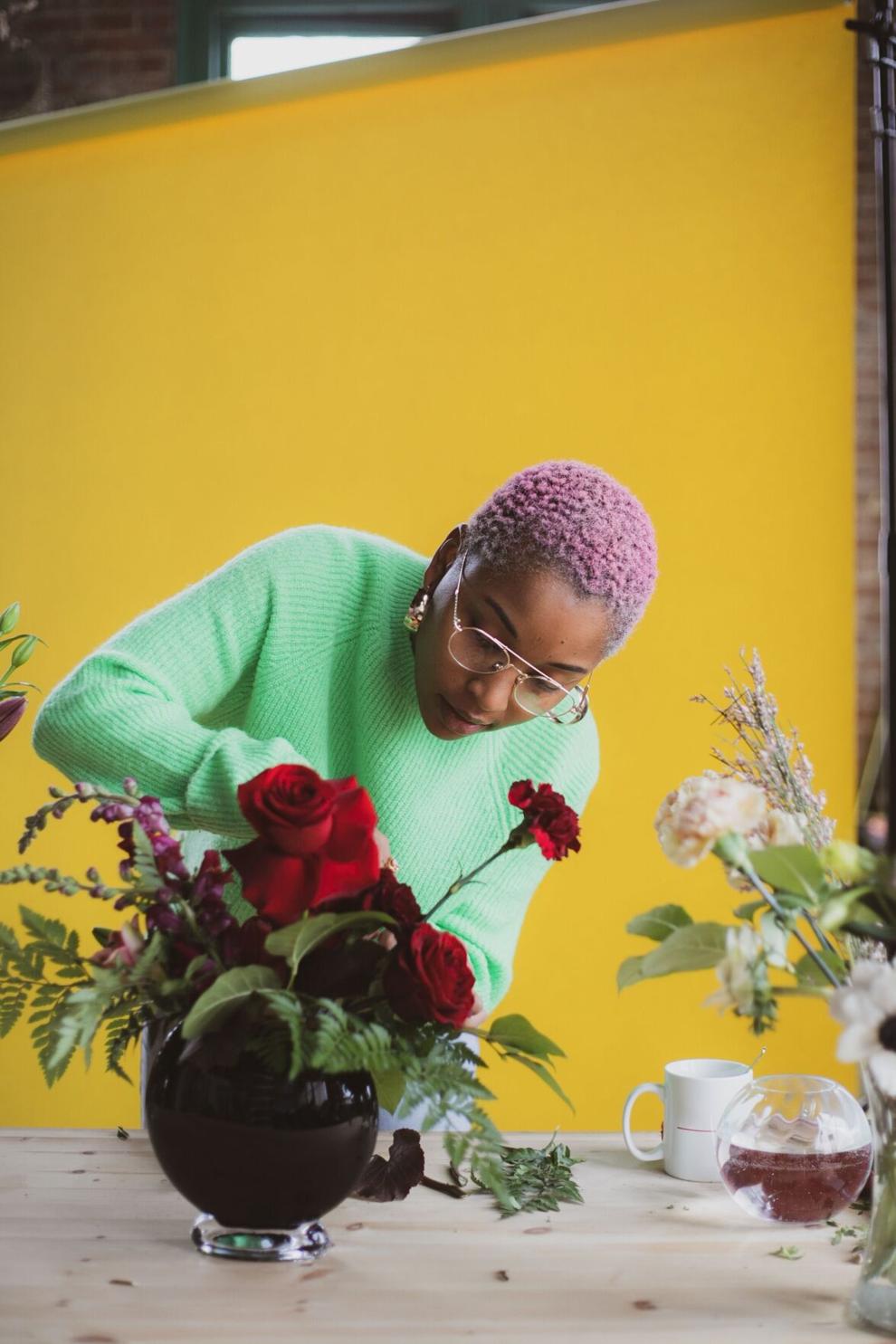 When Tee Johnson reaches for the flowers she's going to make the "stars of the show" in her arrangements, she's drawn to pastels – blushes, sage greens, lavenders – and loves a soft but dramatic shape with a mixture of masculine and feminine elements, similar to the spiky-but-dainty African protea or the curvy-yet-complex ranunculus. "I think it mirrors my personality; I've always been a bit of a contrast," Johnson says. "I'm dainty and girly in certain ways, but I can also have this hard exterior and can be a little rough around the edges until I get to know you."
That contrast exists in the name of her floral-arranging business, Dirty Blossom, that mixes grit and gravel with pretty blooms. Johnson started her company with that name as a vintage clothes retailer based in Chicago in 2010, but it slowly (and serendipitously) evolved to encapsulate her growing interest in flower arranging and design. Today, she offers three arrangement sizes (petite, medium and large) of fresh, hand-picked "modern day blooms and beauty" via her website that come with a premium reusable vase and delivery in the city and metro area. She also sets up at pop-ups and workshops a few times a month to teach people about the craft, with themes centered around vibing with your girls on a chill Sunday or female empowerment and "putting on your crown." In May, Johnson will host a Mother's Day workshop to honor all that women do in families, homes, communities and businesses.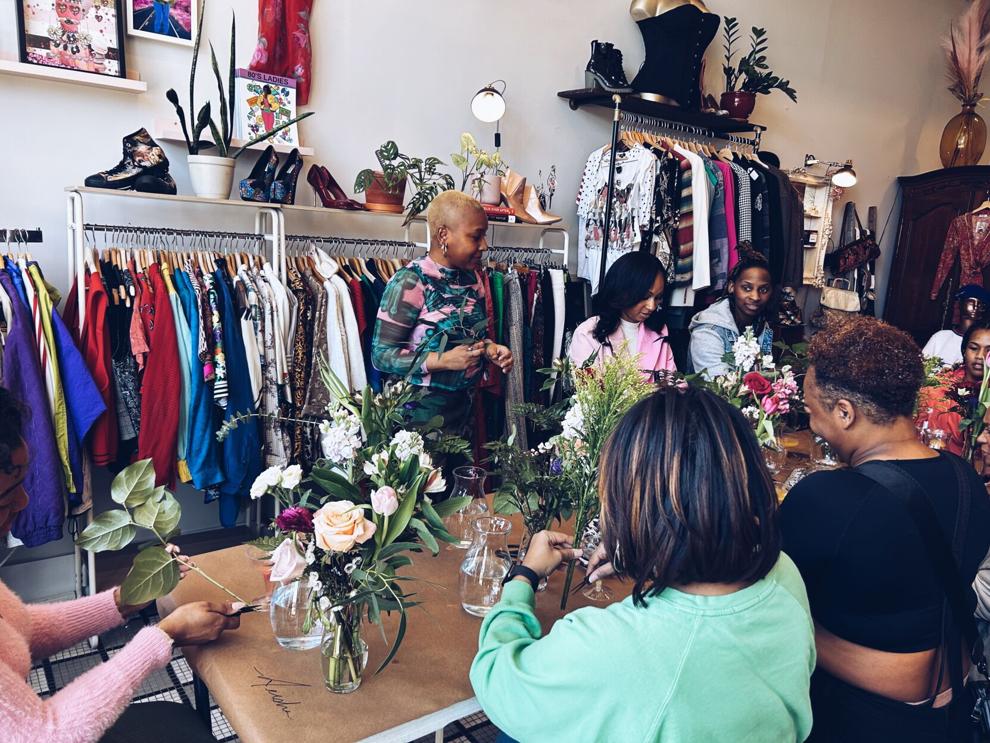 "When I first got into flower design, so many people were like, 'Oh, you're doing weddings or funerals,'" Johnson says. "To me, 'modern day blooms' is way beyond those two things. It's educating people on floral design, workshops, flowers as art, flowers for every day in your home … not limiting yourself to one thing. It doesn't have to be a special occasion or a gift for someone; it's just because you want them."
For Johnson, the fleeting, fragile nature of florals as an art medium, combined with the way it makes her and those she's teaching slow down and breathe deeply, is what gives her purpose: "What drew me to flowers is it forces you to be present. I'm such a busybody and feel like I always have to be doing something, so when I work with flowers in my studio, I'm there; I have to take my time, and it's not a rush. "I have this quote tattooed on the back of my arm that says, 'Bloom until your petals fall, then bloom again,' and I think that relates to why I love floral design so much. It's never-ending, and it's a rebirth. I'm always creating; I'm always thinking of what I can learn about this flower or what I can do next."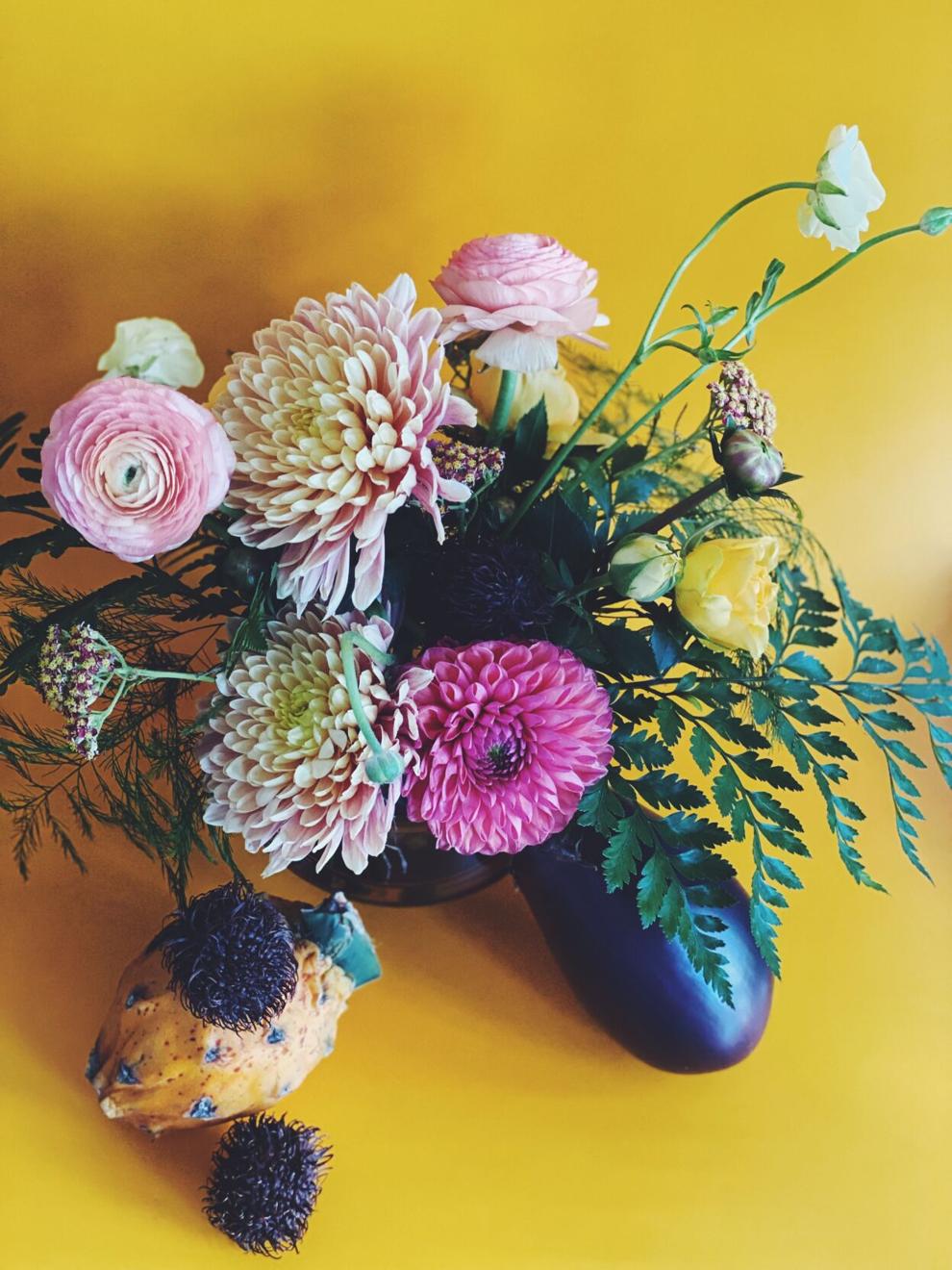 Johnson grew up in St. Louis and has been surrounded by art, creativity and the freedom to express herself her whole life. She's always loved sketching and journaling, and she did floral-based collage work for Ghetto Blooms, a multisensory art installation about inner-city life in North City in the summer of 2019 that she curated with regional artists. She credits her father, who owned multiple clothing stores when Johnson was younger, as a major inspiration behind her work. Like Johnson, his creativity expands into multiple forms, as he now owns a furniture store and works closely with interior design and decorating.
"He dabbled in all the things he loves – dressing nice and decorating homes – so he built his businesses around that, and I take after him in that way," Johnson says. Both parents were supportive of her creative passions and forging her own path. "As kid, my parents gave me the outlet to be weird and creative and to not worry if other people thought it was cool. My dad is definitely the creative free spirit, just going for it without worrying about what other people are doing or saying – if you see this thing you want to do, do it."
To that end, when Johnson moved to Chicago for school and founded the retail-based iteration of Dirty Blossom, she was also working at Marc Jacobs. In 2013, after talking to a colleague one day about her affinity for floral design, she got to dreaming about how she could merge her interests. Around the corner was a small grocery store, Olivia's Market, and Johnson walked in and inquired with the florist if she could apprentice under her, unpaid. She quickly gained a mentor and an eventual official internship. By 2015, Johnson started getting serious about her passion and holding floral arranging pop-up shops with Dirty Blossom, and in 2019, she moved back to St. Louis. Since then, she's dropped the retail offerings but added Home Bodi in 2022, her line of cozy home goods including a soy candle, a fleur bath oil and a rose bath soak, which is available on Dirty Blossom's website.
"Any apartment I've had, I've always tried to make it feel super welcoming [with] good vibes," Johnson says. "I'm an advocate for taking time to be with your own thoughts and be in your own space; sometimes you have to block out the noise and recharge from being with family and friends."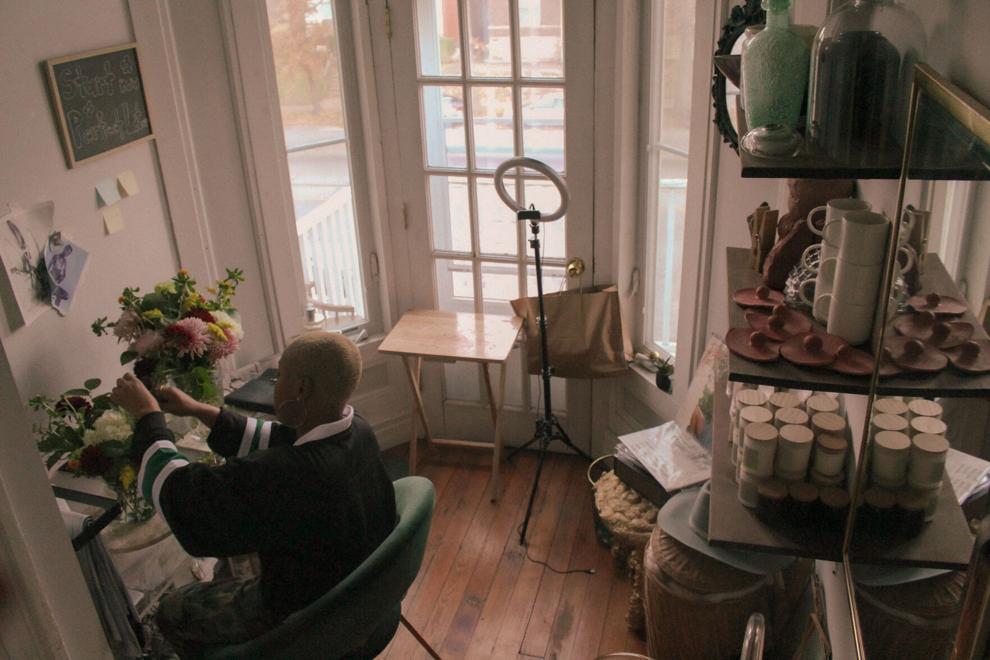 In the next year, Johnson hopes to find a brick-and-mortar storefront to host her events to further build and connect with a community. She adds advice for anyone hoping to make their own flower arrangements: "I don't want people to be intimidated by it; you can do that," she says. "Your arrangement doesn't have to look like mine or the person next to you; it just has to be your own."