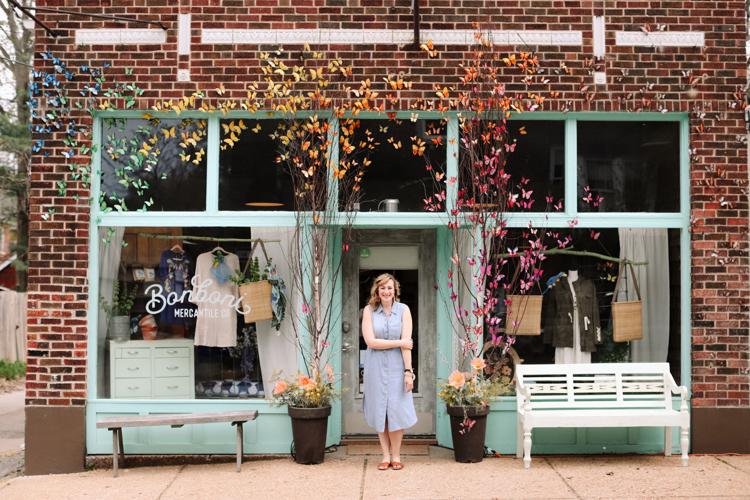 For almost two years, nestled in a 120-year-old home in St. Louis' Shaw neighborhood, Bonboni Mercantile Co. has been a go-to destination for all things décor, both charming and eclectic. Hunting for the perfect antique (but wonderfully refurbished) side table? Visit Bonboni. Need the perfect housewarming gift for a friend? Same thing. Looking for the perfect ladies' night out to flex your creative muscles with a unique do-it-yourself class? Ditto.
A few months ago, though, owner Lauren Thorp realized she wanted to expand her offerings by introducing clothing into the mix.
"One thing I saw in myself was that my style carries over from how I decorate my house to how I dress myself," says Thorp. "And I was getting a lot of people coming in asking about clothing all the time, so it was a combination of what my customers wanted and how I myself like to shop."
Thorp describes Bonboni's new apparel offerings just as she describes her own personal style and aesthetic: classically boho chic. She's interested not in carrying basics but rather in offering pieces with unique touches – from fun stitching on a sleeve to a back detail that catches the eye. But just because the clothing she curates has a touch of whimsy doesn't mean the pieces aren't practical.
"I'm a mom of small kids, so low necks aren't necessarily what I can wear right now," Thorp says. "And as a look, I love strapless pieces, but that just doesn't work for my stage of life. And because we have so many customers who are similar to me, I've tried to find mom-friendly pieces that can go from the playground to date night depending on how you style them."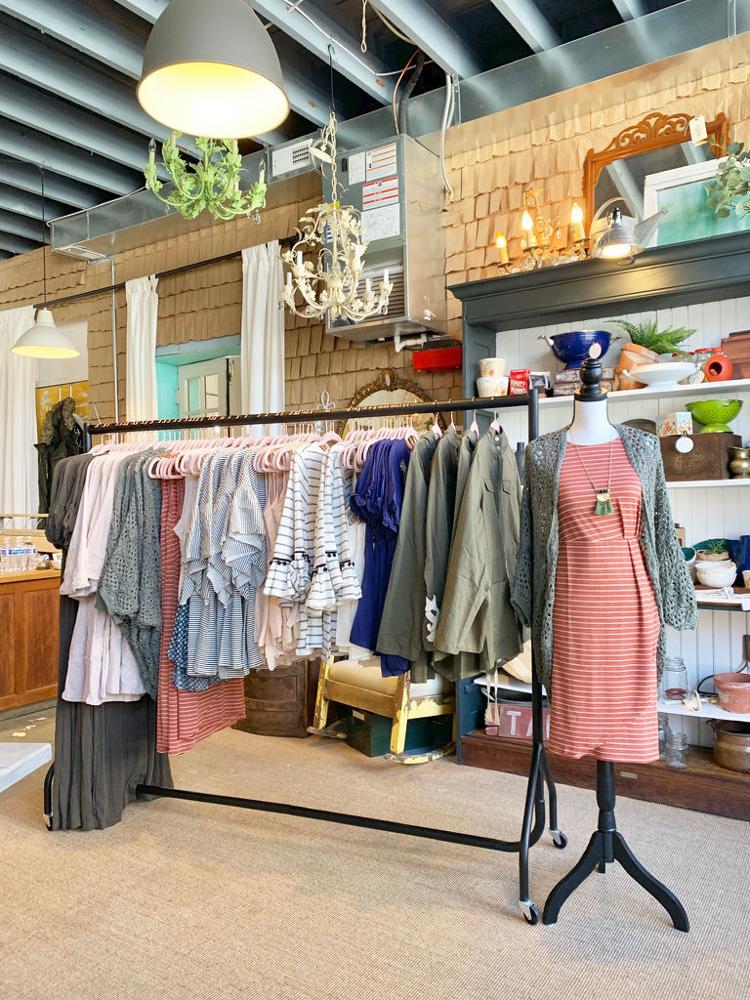 Lines she favors include such Californian companies as Doe & Rae and Daniel Rainn, as well as tonlé, a zero-waist, fair-trade company that utilizes scrap waste sourced from mass clothing manufacturers which is then given to Cambodian artisans to create handmade clothing and accessories.
"I really try and pick pieces that I would personally wear," Thorp says. "That's the lens I buy through. I don't really pick brands necessarily as much as I do the look."
Shoppers can expect new pieces monthly ranging in price from $40 to $120. They also can enjoy a new space to shop Bonboni's clothing options, as Thorp transformed the garage attached to the current shop into an expanded retail space, complete with her signature boho-chic touches like wallpaper created from antique maps, a vintage chandelier and a fitting room she constructed from two antique doors and copper piping.
Another addition to the Bonboni family involves not something you can wear but something you can drive, albeit slowly: a refurbished Cushman Truckster.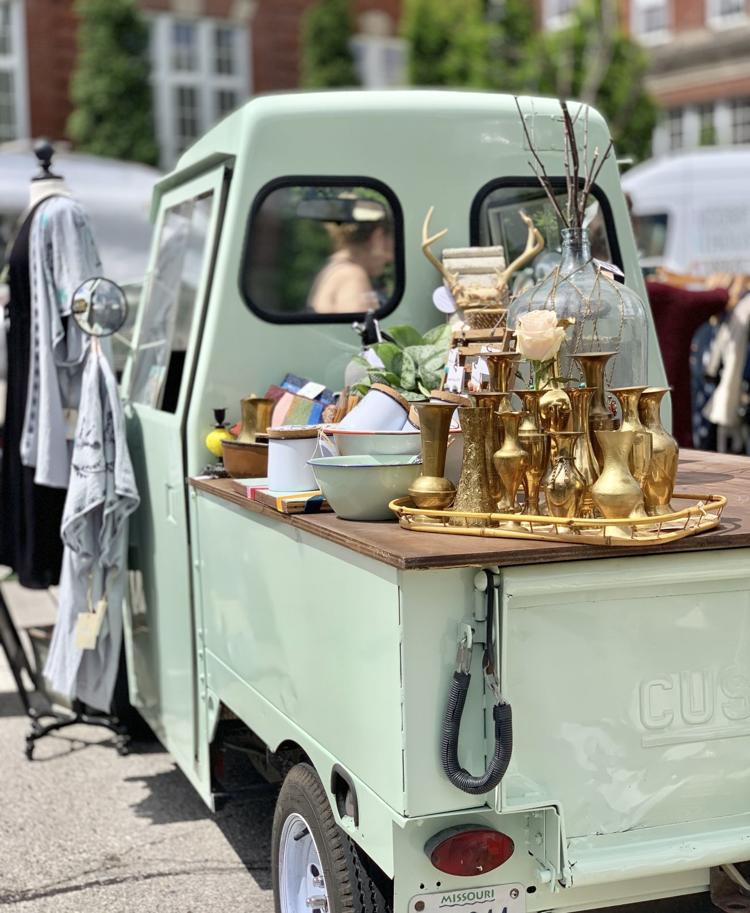 "I saw her, and I immediately knew I needed her," Thorp admits, "though I didn't know 100 percent what I was going to do with her."
Bonnie, as the mint-green stick shift is aptly named, serves as a fun way for Thorp to get out into the community. So far, Bonnie has showcased Bonboni's offerings at pop-up events at local spots like The Golden Fig in midtown St. Louis, and this fall, Bonnie and Thorp will attend the Made Festival at Westport Plaza.
Looking ahead, Thorp expresses excitement about expanding both her online shopping offerings – especially for the holidays – and her in-store offerings, playing with the idea of a highly curated vintage capsule collection. So far, she reports a really positive response, calling the expansion of her home goods a great way to welcome a whole new community of people into the shop.
"Getting a different set of customers in has been really nice," Thorp says, "because for a lot of people, decorating their home might not be their top priority, but they love filling their closet."
Bonboni Mercantile Co., 2246 Klemm St., St. Louis, 314-472-3457, bonbonistl.com