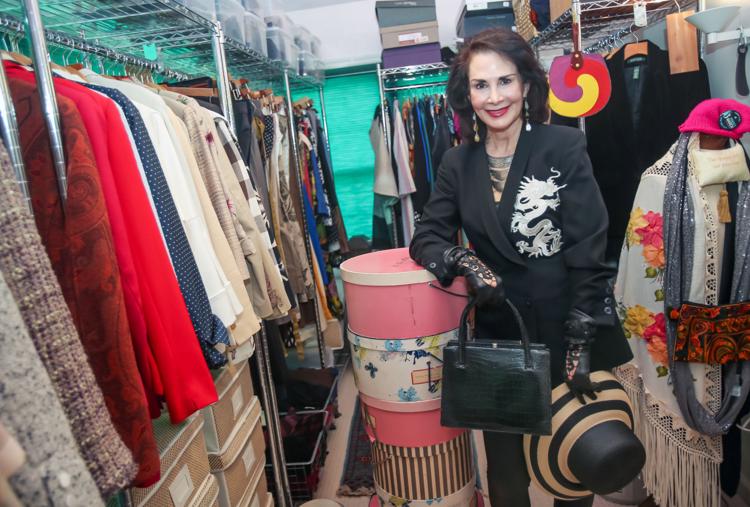 Sometimes you see a piece of clothing and instantly imagine who would wear it. Perhaps you visualize a celebrity or even a close friend, as the item perfectly matches their personal style.
This is hard to do with Sheri Sherman.
In fact, the only thing Sherman and her wardrobe might have in common is that they are both incredibly dynamic. Sherman has spent years helping local organizations through her volunteer efforts, with causes ranging from the Burns Recovered support group to Washington University's Edison Theatre. And from huge galas to small fundraisers, she is regularly spotted in society photos supporting these and other groups while dressed to the nines.
"I have a wardrobe that reflects the shopping history of St. Louis – after all, I have been shopping in this city for 55 years, [as I] began seriously at 15," Sherman says. "I was a salesperson and model at Saks Fifth Avenue on Maryland Plaza in the '70s and still have clothes from many stores and boutiques no longer on the scene."
Currently, Sherman has a varied list of fashion favorites, with stores ranging from Neiman Marcus to Free People and even Chuck's Boots. But this list seems concise and small compared to her plethora of fashion-related collections. She explains she collects vintage hats, scarves, alligator purses, Bakelite purses and jewelry, as well as new hats.
"I used to wear hats almost every day in the '80s, but now it is only once in a while," Sherman says, noting she recently donned a hat to visit Degas, Impressionism, and the Paris Millinery Trade at the Saint Louis Art Museum. Even without a hat, every fashion lover knows accessories can make an outfit. "You can add a beautiful scarf to an ordinary outfit and make a dramatic statement," Sherman says.
Sherman explains her entire family is fashion-focused. "Our son lives in Hong Kong and has all his clothes custom-tailored," she says, adding that he's not the only one to find great apparel there. "My daughter lives in New York, and I never miss the opportunity for a shopping excursion with her. She has a good collection of St. Louis vintage clothing stored in our basement. My husband is also an excellent dresser, so I live in a family of fashion."
Sherman says she is always "dressed" – as in, she actually takes the time to properly put together an outfit – if for no other reason than because she has such a fabulous collection of apparel. "Many times, I will pair a new purchase with a piece of clothing from the '80s, or before!" she adds.
Of the vintage eras, many of which she seems to adore, Sherman says she most loves the styles of the 1930s and 1940s, noting she "covet[s] the gorgeous outfits in old movies and old magazines from the period."
With a love for fashion this strong, it only makes sense that some of her volunteer work would be related. Later this year, Sherman will co-chair the "More Than a Fashion Show" event at Neiman Marcus benefiting the Midwest Children's Burn Camp. This year marks the event's fifth anniversary, and Sherman has served as co-chair each year. The event will be held on Sept. 7.