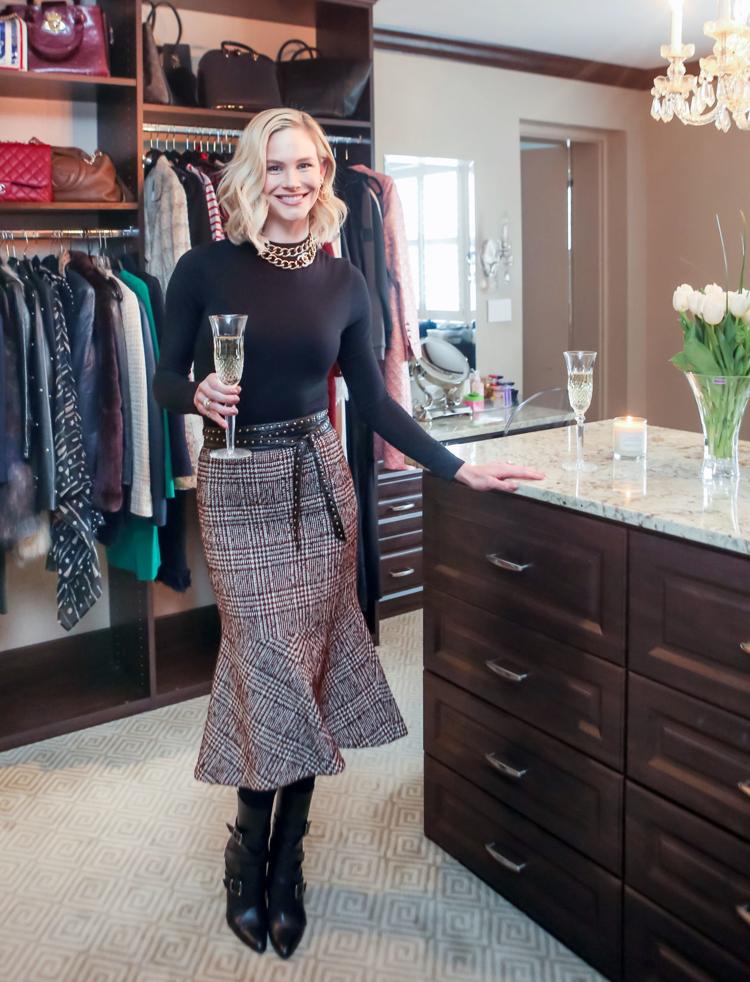 You know those bridal suites where you and your friends can all gather around in an adorable seating area, and there's a well-lit pedestaled mirror? Did you ever wish you had that setup in your own closet? What if that same closet had 1,500 square feet of space, a built-in laundry room, a full vanity and ample space for bags and purses?
Well, come summer, this will be Meghan King Edmonds' closet dream come true.
Ladue News recently caught up with King Edmonds – an alumna of the Bravo TV network's The Real Housewives of Orange County turned lifestyle blogger and busy mom and stepmom – about her new house and closet space, as well as what she's excited to fill it with.
King Edmonds describes her personal style as classic with a twist of rock 'n' roll, favoring everything from tweed Chanel jackets to edgy, metal pieces and pattern mixing. She loves looks that feel elevated from head to toe and include unexpected and tiny details. But for the day-to-day? Comfort and convenience reign supreme.
"If we're talking about mom work, then it's total sweats," she says. "Cotton or something easily washable, because inevitably, I will have at least one wardrobe change throughout the day." She counts some of her favorite casualwear brands as Rag & Bone, Vince Theory, Evereve, Madewell, Sundry and Wildfox, as well as Goldsheep for workout wear.
"I'm super excited that I'm a mom of young babies at a time when athleisure is so on trend," she adds. "It's very convenient for me and my current wardrobe."
When she looks to step up the glam, for evenings or events, King Edmonds has a designer go-to: "My No. 1, hands-down favorite designer is J. DOSI," she says. "She's an upcoming designer and a good friend of mine. I would say half my closet is her." King Edmonds also loves high-end labels like Chanel, Gucci and Louis Vuitton.
Though she admits to being a big online shopper – again, three kids under the age of 3 here, people – she does count secondhand area shops Byrd and The Vault as favorites, as well as Saks Fifth Avenue and Neiman Marcus in Plaza Frontenac, to discover new designers and even trends that she might initially resist.
"I always said I was not going to do the high-water flared jeans, and then like two minutes later, I bought a pair," she says. "And as the '90s came back, and I promised myself I would never, ever give in to that – and again, I totally embraced every piece of it. So I really think there is no trend that is off limits to me."
Within her family, she exercises her fashion rights on her littlest, 8-month-old twins Hart and Hayes, who are always sporting matching outfits. And though she's tried to coerce husband Jim Edmonds, former St. Louis Cardinals player and current broadcaster for Fox Sports Midwest, into "skinnier" jeans – "Because he played baseball, he still likes to wear big jeans that can fit his legs no matter what" – she's fine with fashion not being one of his passions. Her daughter Aspen, however, is already starting to come into her own.
"She can only pick out what I put in her closet, right?" King Edmonds says with a laugh. "But I'm totally fine with her exercising her own little personality, however unique that may be. She's turning into a little girly-girl and likes bows in her hair. She also likes to get into my jewelry drawer and wear everything, including my diamond engagement ring, which is not a play toy."
For her little ones, King Edmonds likes local spots like Lass & Laddie, The Smocking Shoppe, Sawyer & Sisters and Purllamb.
King Edmonds is prepared for any fashion situation. She has scoured eBay for Edmonds jerseys and has a whole section of them hanging in her closet, in varying sizes, to lend to family and friends visiting the metro area for Cardinals games.
But whether she's representing her favorite player, running to a workout with kids in tow or going full glam for an evening event, King Edmonds stresses the importance of not allowing any insecurities to keep you from doing the things you want to do or wearing the things you want to wear.
"I think that it's cool that I can dress both ways and still be the same person," she says. "The huge dichotomy between my daytime and my nighttime look is something I embrace. I think it's important to embrace all parts of your life."