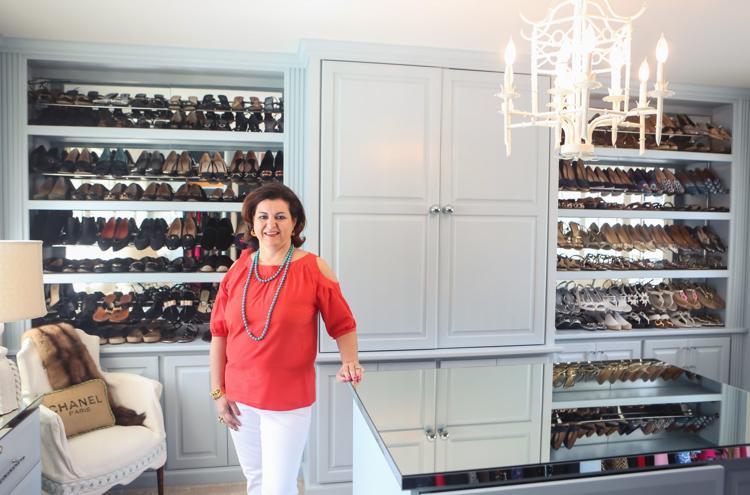 When we meet for lunch on one of the first truly beautiful spring days St. Louis has enjoyed this year, Maria Clifford, with her hair elegantly pulled back, is already sporting what she later confesses to be her go-to summer ensemble: white jeans and a flowy top. But the kicker, so to speak, lies beneath the table where we're seated: envyworthy wedge-bottom espadrilles. "They're my favorite trend this season," she admits, tapping a toe out to show them off.
A seasoned "shoe dog" – one who's a veteran of the footwear industry – Clifford has years of fashion merchandising under her belt, including time spent as the fashion director at Brown Shoe (now Caleres). So in storing her own wardrobe, she drew inspiration from her years of working in the industry, turning a former office into her own dream closet – with enough shelving to house more than 128 pairs on display, plus ample cabinet space for boots and athletic shoes.
"All those years going into the showrooms, you'd always see pretty vignettes of shoes," she says. "I wanted to be able to see everything rather than have things stored in boxes or tucked away here and there. So it's set up like a stockroom by color and heel height, and I can just survey all of it at once and decide."
Her "shoe closet" is not only a stellar storage space but also a carefully curated extension of her designer's eye, featuring soft-blue walls, mirrored dresser tops, natural light exposure and, fittingly, framed designer shoebox lids.
This marriage of fashion and interior design, in fact, led to her most recent venture.
In 2015, Clifford founded Style Matters, an interior design studio that helps individuals curate their homes and styles. Style Matters also offers services that include room makeovers, art and color consulting, shopping and home staging. Right now, she's helping decorate a city brownstone with midcentury modern details.
"Starting my career in retail merchandising, it really trains your eye to look at things critically and evaluate colors and trends," Clifford relates. "Over the years, it's been this natural progression to interior design."
Clifford describes her overall style as classic with a twist – and her shoe collection correlates, ranging from high-end designers such as Prada to budget-friendly casual and comfortable options. She counts her Chloé heeled pumps as go-tos. In fact, she likes them so much she now owns them in three colors.
For St. Louis shoe shopping, Saks Fifth Avenue reigns supreme, according to Clifford, but her favorite destination to hunt for unique pairs remains overseas.
"The boutiques on the Left Bank [Paris' famed La Rive Gauche] are the best shoe stores for really unique finds," she says, also counting the Parisian department store chain Galleries Lafayette and the Shoe Salon at Bergdorf Goodman in New York City as her must-visits while traveling.
"I think the shoes you wear can give you a lot of confidence," Clifford says. "They can perk up an outfit, make you stand straighter and make you put yourself out there. Whether it's because it's a higher heel that you might not normally wear or a pointed toe, the right shoe can give you a little sass and attitude."