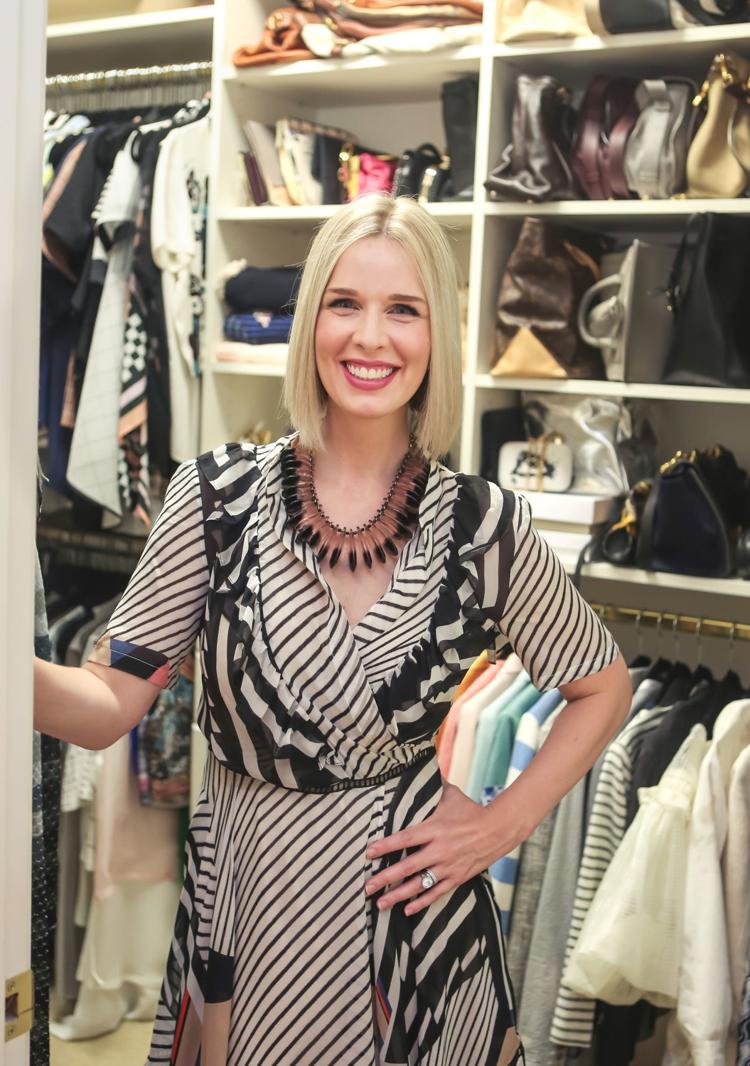 Kelly Peck's deep appreciation for art carries over to her closet.
That's what makes her fashion as unique and unexpected as the arts and cultural events she carefully curates as the vice president of the St. Louis-based artist and exhibition agency Barrett Barrera Projects. "I view [fashion] designers as artists," she says. "I am interested in those that experiment, take risks and have an eye for smart design."
Peck follows a number of innovative international "artists" for fashion inspiration: Japanese designer Yoshikazu Yamagata's artistry-based conceptual label, writtenafterwards, and more wearable line, written by; Belgian designer Dries van Noten's carefully balanced colors and patterns depicting globalism; and Japanese luxury brand Sacai's experimental fabrics and silhouettes. "[Sacai] also has a sporty feel that works well with my lifestyle: balancing work with young children," Peck notes.
For local style inspiration, Peck frequents SKIF International, a boutique carrying St. Louis artists' knitwear and silk tunics. "The silk tunics are incredibly versatile – they can be layered with knits or worn very simply," she says.
In her daily life, Peck wears well-crafted clothing and accessories that transition between
work and home. "I like to be comfortable, and I love innovative pieces with unique details," she explains. "So black FRAME jeans with Golden Goose sneakers and a sweater or blouse with an interesting pattern or graphic is my most immediate go-to … [and] I tend to mix and match small, simple earring studs in my day-to-day dress."
And when it comes to special occasions, the artsy fashionista reaches for a rare combination: heels with low ankle socks. "I just bought this great pink metallic pair of socks that I plan to wear with high white wedges for a night out," she says. "Small accessories like socks can make a dress I've worn 1,000 times seem new."
Peck also is careful to point out that a closet full of designer labels doesn't make a fashionable woman. "Some of the most stylish people I know have very simple wardrobes that work across occasions and are curated in very thoughtful ways," she notes.
Rather than buying into trends, Peck recommends investing in pieces that collectively create a personal style – and caring for those special selections, so they last. "I am very patient about how I shop," she explains. "Typically, I create multiple online wish lists with pieces that catch my eye. I revisit those and edit out which doesn't hold my interest across time. For me, the hunt is part of the fun, and I like knowing that every purchase was a considered one."
On the other hand, if Peck feels connected to a particular piece that cannot be easily sourced, she may splurge. "Recently, I found an amazing Xiao Li tulle jacket, and it was only at one retailer in one size," she recalls. "Ultimately, it was worth purchasing because I know it's very limited and is something I can wear multiple ways for many years."
Above all, Peck lets her work in the arts influence the evolution of her style. "I am surrounded by incredibly creative people … [and] privileged to work in an environment driven by experimentation, and that extends to my fashion choices."