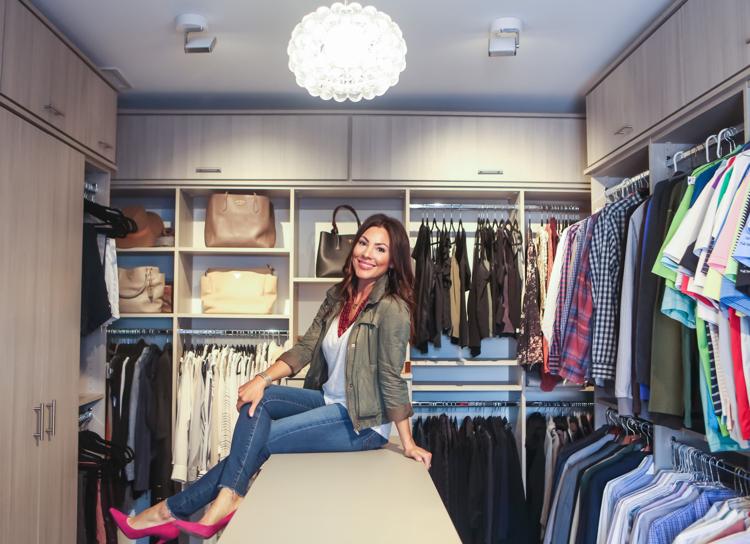 Lifelong St. Louisan Jeni Deibel likes to keep things comfortable and casual, with a fashion-forward twist. Deibel owns her own private practice, where she works as a functional nutritionist and addiction nutrition recovery coach.
"When I'm not in a baseball cap and workout clothes, I enjoy mixing pieces and breaking rules," she says. "Depending on the occasion, I love a polished-casual look with a little edge. And quite often, if I'm wearing a great shoe and rocking a great bag, the rest doesn't matter and just falls into place!"
Deibel, an active online shopper, says she's "definitely a shoe person, then a bag person," and notes that she prefers to splurge on high-quality designer shoes a few times per year instead of purchasing lots of cheap options. "I definitely go for quality over quantity," she says. "I love Christian Louboutin, Valentino, Stuart Weitzman, Sergio Rossi, Gucci, Jean-Michel Cazabat, Ash, Alexander White and my all-time favorite tennis shoe, [the] Stella McCartney Adidas UltraBOOST."
Deibel's current fashion obsessions include a wool trench from DSTLD in West Hollywood, California, and a custom necklace from Genovese Jewelers, a one-of-a-kind piece that includes a gold thumbprint of her late father. Although not typically one for jewelry, Deibel regards this understated necklace as a favorite and deeply sentimental.
"My personal style has evolved over the years and continues to change, but the one style trait that remains a constant staple is confidence," Deibel says. "As long as I am comfortable and confident in what I am wearing, anything goes. I love original, one-of-a-kind pieces and shopping from boutiques – even local designers if I can. I rarely shop 'big-box' retail; I would prefer to spend my money on small businesses that carry the lines I like." She also notes her love of discount hunting, naming online retailer Poshmark as a personal favorite.
Thanks to her flexible schedule, Deibel says she likes to start the morning with exercise.
"I always say that if I put 'real' clothes on first thing in the morning, my workout won't happen," Deibel says, mentioning Lululemon, Joah Brown, Free People, Carbon38 and Splits59 as some of her favorite activewear brands. "Aside from comfortable workout clothes, I will typically throw on my favorite AG jeans, tank or tee, some layering pieces and a great loafer or boot."
Outside of the office, Deibel and her husband, Todd, raise their three children: two elementary school-age boys and a 3-year-old girl Deibel calls a future fashionista. "She already has her own style, and despite her extreme girliness, she's very mighty and can keep up with her older brothers."