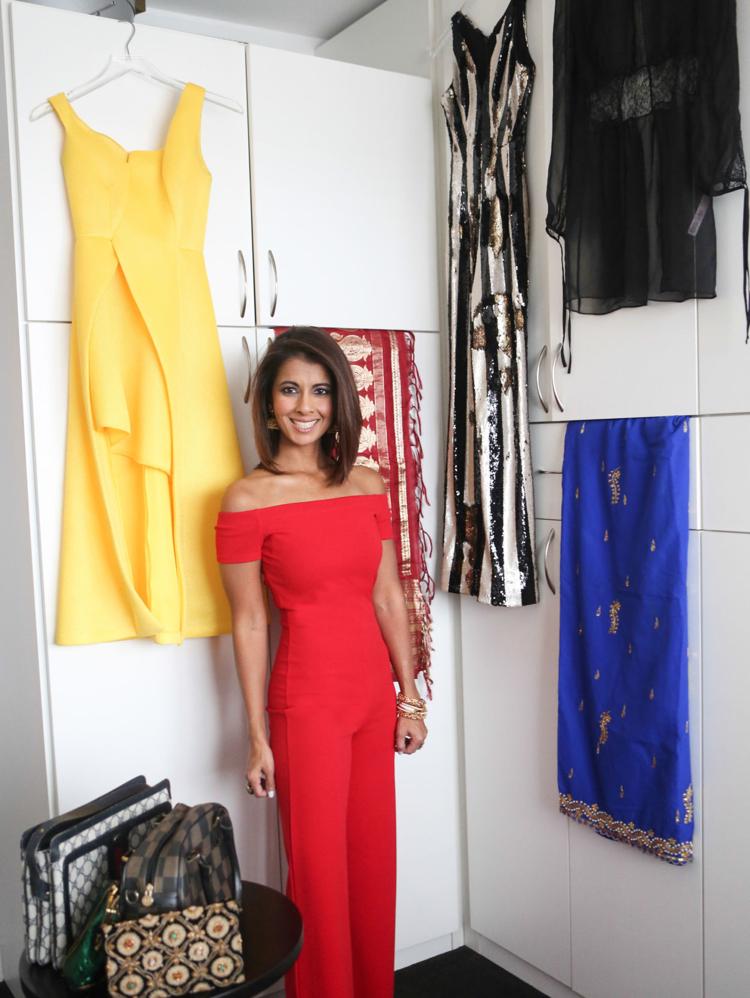 You've likely seen Jasmine Huda. Between her work as a Fox 2 News 11 p.m. TV co-anchor or frequent volunteer work around St. Louis, it's difficult to miss her – and her consistently sharp outfits.
"'Quiet confidence' is how a colleague once put it," explains Huda when asked about her personal style. "Not sure I'm worthy of that compliment, but I think it is fair to say that I 'shine' in my own way, in both my professional and personal worlds."
That shine often comes from gold, which is a personal favorite of Huda. Like many other women, she says she disliked yellow gold for years before her current obsession with it. "I like to accessorize with my mother's Indian jewelry, much of which is heirloom," she explains, mentioning a pair of gold chandelier earrings with rubies and pearls. "I'd say that's one of my defining characteristics: I am not afraid to incorporate that tradition and culture, on or off camera."
Huda's love of sparkle extends past the accessories. She's always drawn to the glitz, which make for fun and festive outfits perfect for the events of the many organizations she supports. She mentions the sequined, striped jumpsuit by Dress The Population that she wore for last fall's Guns 'N Hoses event – complete, of course, with sparkly Guns 'N Hoses stilettos. "Miraculously, I was able to wear those heels after a month [of] wearing a boot for a bone contusion!" Huda adds.
On camera, Huda's apparel is a bit more matte. "At work, I try to maintain a style that is classic but youthful and with some occasional edge – think leather, lace, sleeveless, mixed with some fun gold jewelry," says Huda. "Outside of work, I'm big on performance gear, as I spend a lot of time in the yoga studio. I take classes six days a week." She mentions Lorna Jane, DYI and Alo as go-to athletic brands, as well as the Align leggings by lululemon.
For pieces both adventurous and classic, Huda enjoys shopping Nordstrom's petite selection, as well as Byrd Designer Consignment Boutique in Ladue. For her athletic needs, she heads to Dimvaloo in Colonial Marketplace, also in Ladue.
"I would be remiss if I didn't mention my frequent visits to the tailor," says Huda, explaining that most of her garments need alterations. "Inexpensive dresses can look like a million bucks because of simple adjustments. It also helps to have an expert second eye. The team at Sadie's Alterations has worked on all kinds of outfits for me – from va-va-voom, blingy jumpsuits for Guns 'N Hoses to sari blouses to jackets."
Those TV looks viewers see across the metro area are selected by Huda, who notes – as is the industry standard – that bright, solid colors work best on television. And although her on-air work has gained her many fans, she says occasionally a look doesn't translate to TV. "I was reminded of that a few weeks ago when I wore an asymmetrical cutout sweater," Huda says. "I thought it was fashion-forward, but on camera it was a fashion distraction, at least for one viewer: 'What was that sweater you were wearing? Why did it have that one hole on the side?'"