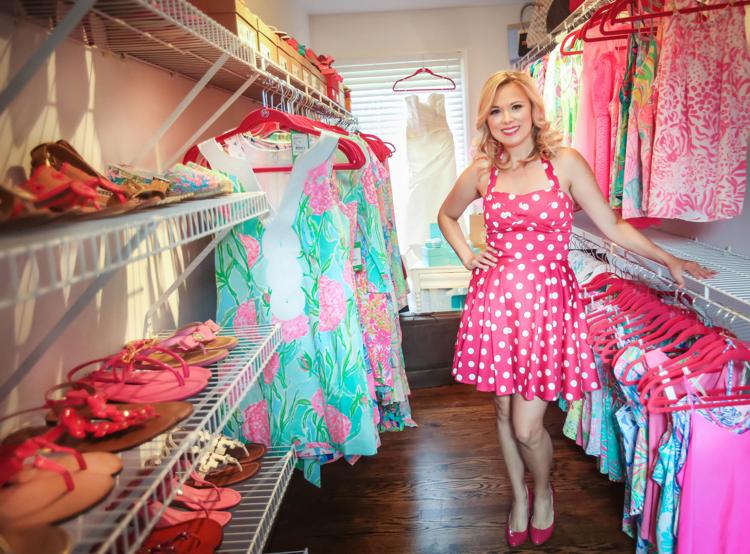 With their bright, fun pattern and cheeky connection to cartoon royalty, it seems Lilly Pulitzer-patterned Mickey Mouse ears would describe St. Louisan Holly's personal style best. Holly is the woman behind the popular Instagram account @pinkpreppymom, which often highlights her colorful sense of fashion.
"My style is really about bright colors, especially pink," Holly says, her fuchsia-filled closet proving her point. "Bright colors make me happy and seem to make others smile as well. I like clothing with a personality."
Here in St. Louis, she notes Pink Magnolia as her favorite store – "I love all things Lilly!" – and Kate Spade and Vineyard Vines as other top picks. "I am often described as bubbly, and I feel my fashion reflects that. I prefer to wear a dress whenever I can – I am kind of old-fashioned. In that regard, I also like a vintage cut, and that is why I like Kate Spade: colors and vintage."
This autumn, she says she'll stick with jeans and cashmere sweaters, but admits she doesn't buy too much autumn apparel since she's more focused on bright-colored attire. With much of St. Louis longing for layers, Holly says she loves spring and summer apparel.
Holly, originally from the city of St. Louis proper and now residing in Town and Country, explains she recently stepped away from her photography business after the birth of her daughter. Instead, this mother of two launched a lifestyle blog after developing her loyal Instagram following.
Holly's new blog features a heavy Disney theme, and is charmingly titled Bippity Boppity Blog, a loose tribute to the song "Bibbidi-Bobbidi-Boo" from that studio's classic 1950 Cinderella. "Of course, I love Disney as much as bright clothes," she says, noting those Lilly Pulitzer-patterned mouse ears.
"The wonderful thing about being at Disney is that everyone can step out of the box and wear whatever makes them happy, and others will compliment them on their unique take." Items like Disney Dooney & Bourke accessories and Minnie Mouse monograms, all seen on Holly's popular Instagram page, show her preppy style and Mouseketeer nature are not mutually exclusive.
"As you can imagine, finding time to stay fashionable with a new baby in the house – and a 5-year-old – isn't easy, but it's just a part of my personality and who I am, so it has to happen most days of the week to keep me being me," says Holly.
One look at her social media shows she seems to juggle things just fine. Bold patterns and bright colors fill the stylish and popular photos, and a few Mickey Mouse heads even make an appearance. "Of course, mouse ears are the ultimate accessory, but hard to pull off in St. Louis!"