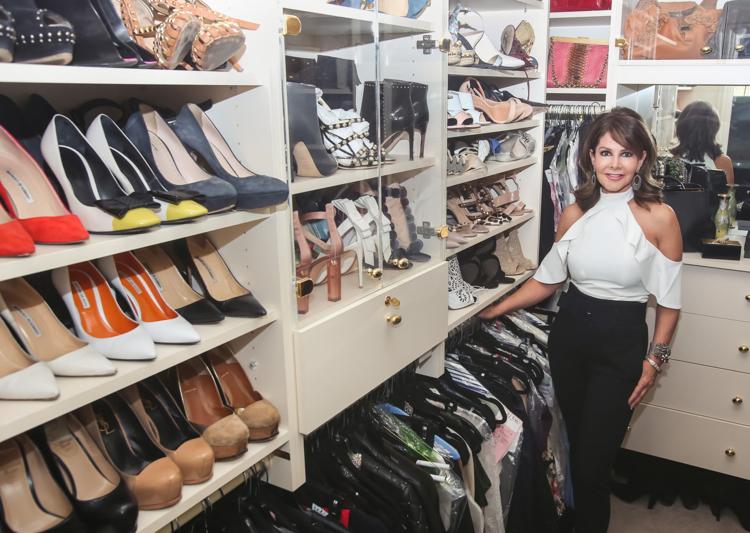 Like large-scale sculptures and skyscrapers, the sky's the limit for Faith Berger's fashion.
For more than 25 years, the local art consultant has been as known for her eye for artwork as she is for her signature style: eclectic, envelope-pushing looks. "Fashion can be inspired by the architecture of a building or the form of a sculpture," she notes.
Berger likens picking a perfect piece of art for a space to choosing the right ensemble for an event. And her love affair with the art of fashion began early – at just 3 years old. "I was instantly attracted to fashion, and I collected all the issues of Vogue," she says, noting that it all started with iconic Italian designer, Gianni Versace. "My mom made me leather jumpers and capes … and taught me to sew in Italian stitching."
With art and architecture as her fashion muses, Berger has spent decades building a spectacular wardrobe with the best couture clothing and accessories of the '70s, '80s, '90s and 2000s by the industry's biggest names, including Versace, Alexander McQueen and Chanel, to lesser-known designers, such as New York-based Jonathan Simkhai. "It's like what I tell my clients about art: There are so many artists and clothing designers who have so much to say who aren't on main [street] or at department stores," Berger notes.
For that reason, Berger seeks out rare fashion finds at unique boutiques, such as Vie in Ladue and SKIF International in downtown St. Louis, as well as follows the fashion lines of up-and-coming local designers, including Wai Ming by St. Louis native Emily Brady Koplar. "I have a fabulous [Wai Ming] jumpsuit that I wore with a leather blazer in the fall, and now I'll go for its off-the-shoulder look for spring," Berger says.
To showcase her vast fashion collection, Berger pairs vintage treasures with modern masterpieces. "Velvet is back, so I recently brought out a Versace velvet blazer from a decade ago," she says. Among the fashionista's other go-to pieces are an Alexander McQueen peplum blazer, a Jonathan Simkhai fitted dress, a Proenza Schouler contemporary handbag and a SKIF International knit sweater. To complete her head-to-toe look, Berger loves slipping on a pair of pumps from Valentino, Manolo Blahnik, Balenciaga or Sergio Rossi.
Berger believes women should dress for their personalities and bodies. "Most people really know what works for them," she explains. "Sometimes it can feel redundant, so you can reinterpret it – add jewelry or a beret, add a red shoe to an outfit, or a bootie to a midi-skirt." And whatever your style, she says the secret to any look is immaculate tailoring for the perfect fit.
St. Louisans can catch Berger and her fabulous fashion sense around town at art and fashion shows and charity galas. Next, she will be co-chairing an event where both fashion and music take center stage: Chamber Music Society of St. Louis' 10th anniversary gala, Notes Ffrom Hollywood – The Sequel, at the historic Sheldon Concert Hall & Art Galleries on May 21, of which she says: "I'm already excitedly picking out my outfit."