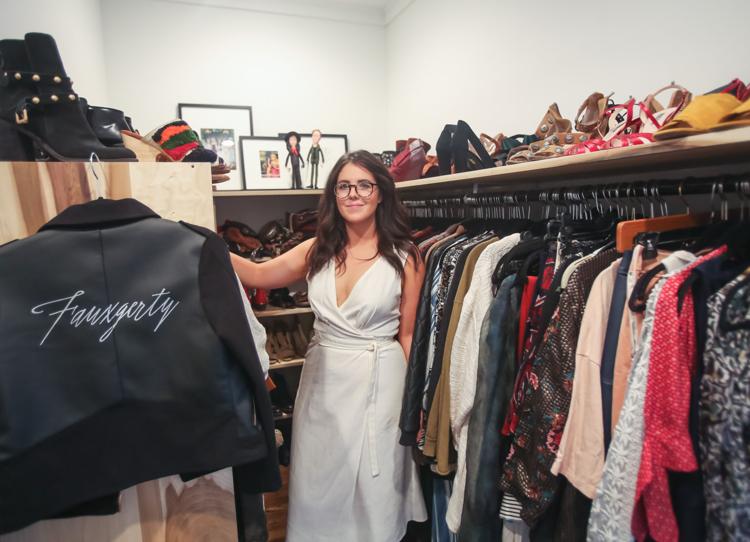 With her boho accessories, wide-brim hat and moto jacket, Chrissy Fogerty looks the quintessential cool kid. The CEO and designer behind one of the Central West End's top boutiques, Fauxgerty, she carries the brand's level of "It Girl" elegance from the showroom to her closet. Words like edgy and artistic come to mind when admiring one of her outfits.
But how does Fogerty define her personal style? She says it depends when you catch her.
"On a busy day, I am in denim, a Fauxgerty jacket and a wide-brim hat," Fogerty says. "But my favorite outfits are a mix texture, print and have an ease to them. I love flowy dresses, special jackets and bodysuits. I would say my style is over-accessorized minimalism that airs on the side of quirky."
Outside her own boutique, Fogerty says she likes to shop locally at May's Place – a vintage store in South City – and, for menswear, East + West, which lies down the street from her own storefront. "East + West has such a wonderful collection of apparel and skin care," she says. "And they support indie designers, which I really appreciate."
Fogerty notes the midi dress as her top summer silhouette, pointing out the Fauxgerty Florence Midi as a favorite. This wrap dress is made of sustainable hemp and lined with a vintage fabric – and is even sewn here in St. Louis.
"That combo with boots and Dannijo earrings, which is my absolute favorite jewelry designer, is a summer uniform for me," she says. "I also have to echo my love for a wide-brim hat. I wear them a little too often. I have been wearing the same Brixton brown felt hat for a few years, and it's becoming a signature."
Outside of Fogerty's – as she puts it – hat obsession, she cites jewelry as her accessory of choice. "Right now, I am into statement earrings, because I find them less annoying than a long necklace," she says. "I have a rotation of three pairs as well as gold hoops that I regularly adorn." Moving down from the ears, Fogerty doesn't forget the fingers, noting her wedding rings and a vintage pinky ring as staples.
For style inspiration, Fogerty mentions fashion designer Jenna Lyons and actresses Sienna Miller and Kate Hudson, but adds that her inspiration frequently focuses on a broader lifestyle. Often this means turning to Instagram. "I tend to be inspired by a lifestyle, so I love looking at how everyday women incorporate the essence of themselves into their daily wardrobe," she says.
Fogerty's store, Fauxgerty, is best known for its "better leather" vegan leather jackets. So what does the designer behind them wear in the summer? Like so many fashionistas, she wears what she wants, regardless of weather.
"I am a 'more-is-more' kind of dresser, so I layer a jacket year-round," she says, noting Fauxgerty's spring jacket options like the Dolma moto and Mootom bomber. "But I do gravitate toward a shoulder-drape rather than a full-on coat experience in the summer," Fogerty confesses.
She references her 2016 nuptials, a two-day affair profiled by the quarterly magazine Martha Stewart Weddings, and says she and her groom wore custom Fauxgerty jackets – in the triple-digit June heat. "I definitely prioritize an outfit over the climate," Fogerty concludes.