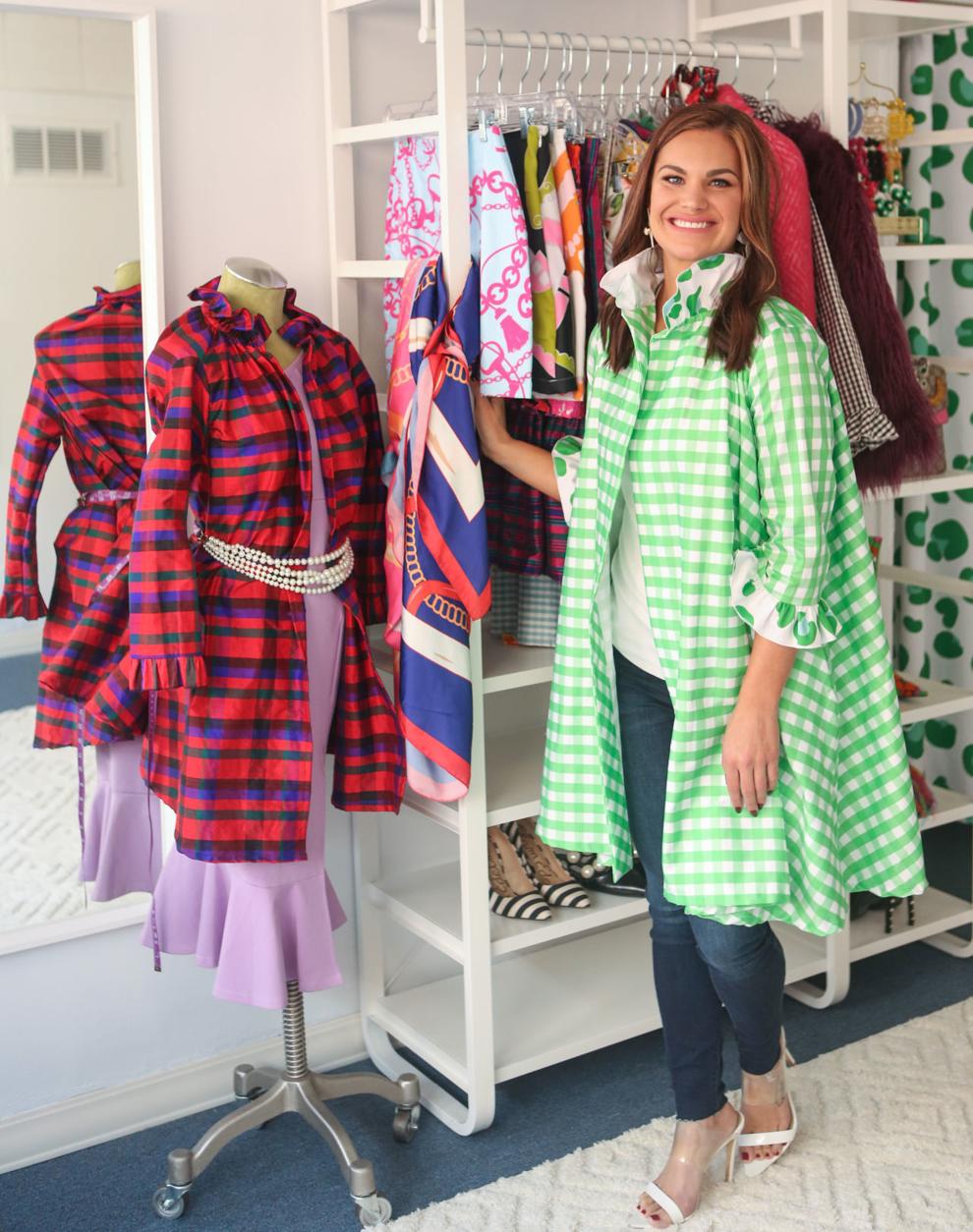 It comes as no surprise that the designer behind bright pineapple-adorned textiles would favor fun and festive over muted and ordinary.
"I love nothing more than dressing up," Blair Dobson admits. "I am 5-foot-4, so you will either see me rocking a sheath dress and 5-inch heels or something crazy like our pink cheetah leggings and cowgirl boots. I love showing customers fun and unexpected ways to wear our pieces."
Dobson's lifestyle brand, Hello Dobson, offers a modern take on preppy classics. Started at the end of 2016, Hello Dobson is known for its colorful apparel, bold accessories and eye-catching home goods.
Although she helms St. Louis' premier preppy fashion brand, Dobson describes her own personal style as more unpredictable, evoking a Carrie Bradshaw-meets-Jackie Kennedy vibe.
"If I'm in the mood to wear a tulle skirt, ostrich-feather heel and tank top braless, I wear it," she says. "If I want to wear a striped boatneck with loafers, I wear that, too."
A fan of thrifting, Dobson loves Retro 101 and discovering designer finds from The Vault Luxury Resale. She notes Moda Operandi for its designer capsule collections and Zara for trend-forward pieces. Other shopping go-tos include Ladue staple Ivy Hill, as well as J.Crew, Roller Rabbit and Serena & Lilly.
Also found inside Dobson's closet – a space she describes as organized chaos – is a section of clothing that you wouldn't be able to find in anyone else's: a collection of custom miniskirts fashioned by her sewing team at City Sewing Room using every Hello Dobson print she's ever created. "It's like a time capsule of all the prints we have ever done," she says.
In designing her own textiles, Dobson finds inspiration everywhere – admitting that that means she is almost always working in some capacity, but that's something that she doesn't mind. "To find something that you actually love doing and that doesn't feel like work is a win-win," she says. Travel, in particular, informs her work. A recent trip to Aspen, Colorado, will come to life in her athleisure leggings: Think gondolas and après-ski.
Heading into the end of fall, Dobson predicts plenty of plaid, along with metallics, a Western influence and ample animal prints. One trend she's not about to back? The bulky, white 'dad sneaker' movement. "It's literally called the 'ugly sneaker' trend," Dobson remarks. "Yuck!"
And just because the weather has started to feel wintery doesn't mean you have to tone down your wardrobe. "I love it when neons and bold colors are paired with traditional fall hues: [a] hot-pink wool skirt with army-green knit sweater or red and hot pink, which is always festive," Dobson says.
On the business end, Dobson is very much a hands-on owner, still packing every order and posting daily on social media platforms. Future plans for Hello Dobson include expanding its offerings into new accessories like scarves, duffle bags and jewelry, as well as a line made for the tiniest lovers of color, Hello Baby, which will offer baby bedding, blankets and accessories. Dobson is also looking forward to settling into her own space in St. Louis.
"We hope to have an office soon that will have a small storefront and allow local customers to shop, try on items and attend local events at our shop and release parties," she says. "I hope to be one of the designers to help pave the way for other fashion-related businesses in St. Louis."