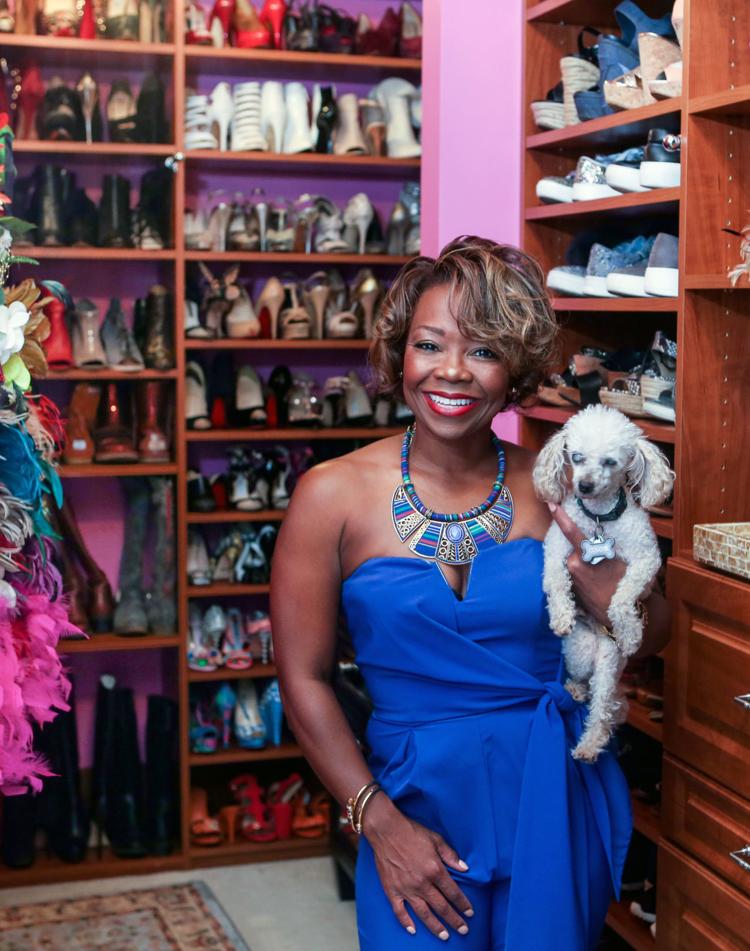 As vice president of Visions Management Group, an entertainment firm she co-owns with her husband, Eric, Angela Rhone relies on her personal style to pack a powerful punch.
"In entertainment, we can get a little more fashionable with what we're wearing," she says. "To be honest, if I wear a business suit and look [too buttoned up], people might wonder if I'm too stuffy."
Describing her aesthetic as professional chic, Rhone likes to find ways to stand out, such as adding a ruffle to an off-the-rack skirt, embracing trends – right now her favorite is the resurgence of palazzo pants – or completing ensembles with one of her eye-catching feather pins. A self-proclaimed shoe-lover, she counts Jimmy Choo as a favorite designer for comfort, and she's also fond of Sophia Webster shoes.
"I love how whimsical they are," Rhone says. "I love the colors and the styles, and I love the fact that she only makes a few pairs of each, so once they are gone, you can't get them anymore."
Rhone cites Nordstrom as her most-frequented area shopping spot – though she also loves local boutiques, especially Shine, for accessories. She counts Ted Baker, Maggy London, Theory, Julie Vos and Alexis Bittar as go-to brands, but she just recently discovered her absolute favorite, MAX&Co. (part of the Max Mara Fashion Group), during a trip to Italy. MAX&Co. is more difficult to locate stateside presently, but Rhone appreciates that the label more readily caters to petite ladies like herself.
"I'm 5 feet, so I'd say about 95 percent of what I buy has to have alterations," she says. "It's really hard for me to find clothes, but I don't view it as a problem. I take it as an opportunity and a challenge."
When it comes to style inspiration, Rhone looks to Michelle Obama – despite the height difference – admiring the former first lady's penchant for mixing and matching and incorporating statement details when others would go the more traditional route.
Outside of work, you could find Rhone volunteering (her go-to casual outfit, she says, would be skinny jeans and a funky top) or spending time with her husband and sons.
"My husband is an impeccable dresser, so I don't have to help him," Rhone says. "In fact, he picks things out for me a lot of the time. But for my little guys, one of my rules is iron your clothes. And then at this point, I'm trying to teach them to match and coordinate. It's a little bit of a struggle because I have one guy that will walk out with green socks, a blue shirt and orange pants."
And her rules for style in the workplace for other aspirational boss ladies? First, a versatile dress is a girl's best friend during the often-sweltering summer months in the area. Second, read your room.
"Especially if you are younger and starting out, I would say learn the norms of the company that you're working for," Rhone says. "Then add your own flare, but with moderation."