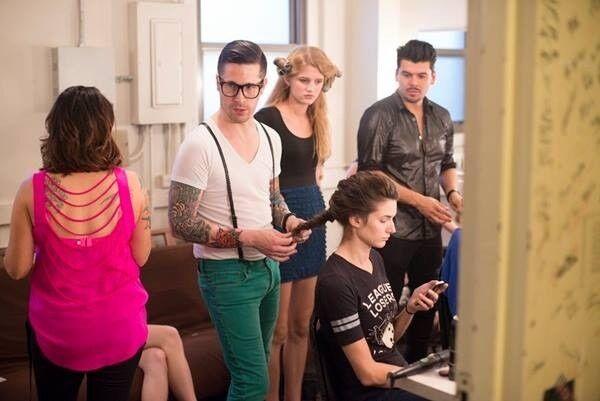 You might be making New Year's resolutions to improve your diet, exercise routine, meditation practice, work-life balance and more. These are all important to overall health and wellbeing, but this year, give your hair some love, too.
Josh Nichols, who refers to himself as a "headmaster," has some advice for hair health as we begin a new year. "Do less," says the co-owner and stylist at Kink in Clayton. "Especially when the air is so dry in winter, people tend to wash their hair too much and strip it of its natural oils, and dryness is the enemy of body, wave and curl."
Moisturizing hair is as important as moisturizing skin. To help your hair maintain its best condition, Nichols recommends concentrating shampoo on the scalp and conditioner on the ends. "Most conditioners have some cleansers in them, too, and they'll help clean the ends without overdrying them," he says. However, look for conditioners that do not contain heavy silicones because they tend to coat the hair and prevent moisture from penetrating. If you do use one of these products, use a clarifying treatment once or twice a month to remove buildup.
When it comes to specific products, recommendations depend on your individual hair type, and your stylist can make suggestions, Nichols says. Product choices can change with the seasons, so a moisturizing shampoo can be best for use in winter but unnecessary during summer's humid months.
One product that Nichols recommends year-round is heat protectant for those who blow dry or use heated styling tools. "At least a leave-in conditioner will help protect hair," he says. "For a specific recommendation, we need to assess your hair's texture and condition, and most salons will offer a free consultation to do that. We're one of the friendliest industries out there."
If you're looking for 2023's "it" style, the less-is-more mantra still applies.
"People want styles that can air dry but still look good," Nichols says. "Less styling will keep your hair healthier, but you still need to use a product to maintain good texture as your hair air dries. Finding what works for people is our passion as stylists, so don't be shy – we'd love to help you out."
Kink Hair Salon, 41 N. Central Ave., Clayton, 314-721-5465, kinkhair.com