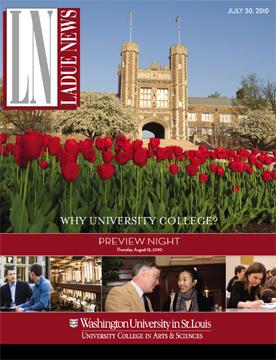 As the world becomes ever more environment-aware, new opportunities will arise in green living, working and playing. University College, the evening and continuing education division of Arts and Sciences at Washington University, is poised to prepare St. Louisans for those opportunities with a new degree, the Bachelor of Science in Sustainability.
The new program provides an interdisciplinary approach to understanding and resolving complex environmental, economic and social challenges, explains dean of University College Robert Wiltenburg. "The challenge of climate change is one of the great issues facing our generation," Wiltenburg says. "University College is poised to work across disciplines and bring together perspectives from around the university to address these complex issues, and to prepare students for jobs and careers in these new fields." It's designed to prepare students to help businesses develop sustainable practices for a global marketplace, while helping to preserve natural resources and strengthen community, he adds.
The program came about as a way of thinking about an interdisciplinary and cross-school approach to environmental issues, explains Steve Ehrlich, associate dean for academics. "The program treats sustainable living from multiple perspectives—environmental, political, economic, social, historical, philosophical, anthropological and literary. We envisioned a program that incorporated those concepts, offering flexibility for people from different disciplines," he notes.
Students in the sustainability program can choose from three concentrations for greater in-depth study, says Ehrlich: sustainable environment and science, which is focused on environmental sciences, natural resources, and energy; sustainable management in organizations, which concentrates on business strategies; and communities and development, which emphasizes the design and management of sustainable spaces in cities and neighborhoods.
"The courses reflect the interdisciplinary approach of arts and sciences degree programs," he says. "Depending on the area of concentration, there are courses in historic preservation, political theory, chemical engineering and nature writing."
In addition to the bachelor's program, University College also offers a certificate in sustainable communities and development, says Ehrlich. "The certificate provides students with credentials that verify competence and skill, with courses specifically focused on the core issues. This is an option for those who already have a degree and don't want or need to be enrolled in another degree program," he says. "These seven focused courses will effectively hone your professional skills in this area of interest." Ehrlich adds that the certificate courses were designed by faculty at the Washington University School of Architecture.
"Part-time, evening, and summer-school students of all ages attend Washington University through University College, says Ehrlich. "University College makes quality education accessible and affordable."
---
On the Cover: University College, the evening and continuing education division of Arts and Sciences at Washington University, is sponsoring a preview night for prospective students on Thursday, Aug. 12, to meet faculty, advisers and other students. The doors open at 6 p.m. and the event begins at 7 p.m. in Holmes Lounge, in Ridgley Hall on the Washington University Danforth campus. For more information call 935-6700 or visit ucollege.wustl.edu/preview_night. Cover design by Dawn Stremlau
Be the first to know
Get local news delivered to your inbox!