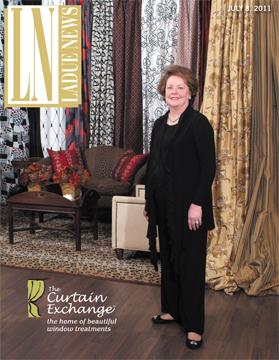 In 2005, while waiting for a haircut, Ellen Ross flipped through Traditional Home magazine and saw an ad for a New Orleans-based company offering custom and ready-made window treatments. "I remember thinking, They can't possibly be as beautiful as they look in these pictures, and I forgot about it," Ross says. "And then, six weeks later—same salon, different magazine—I see the ad again. This time I made note of the website." When Ross visited the site, she learned that the company wanted to open a franchise in St. Louis. As it happened, Ross herself had been looking for a new venture. "After I inquired, they contacted me immediately, and I flew to New Orleans. It was crazy!" she says. "That was in March, and The Curtain Exchange opened in October."
    Almost six years and many delighted customers later, Ross couldn't be happier with the serendipitous path. "I'm having a great time! The fabrics are so beautiful and the workmanship is superb. Customers love the flexibility of being able to take ready-made curtains home immediately or have something custom-made," she explains. "And you have the confidence of knowing you can't make a mistake, because you can take panels—not just fabric swatches—home with you and see how they look with your furniture, colors and lighting."
    There are about 150 samples in the store, Ross notes. "And we have access to more than 800 fabrics, so if a customer sees something they like and we don't have the full panel, we can find it. That way, they can see it in their home. And of course, there's no obligation." If a customer is still uncertain, The Curtain Exchange also provides in-home consultations. "We can help with paint colors or upholstery, too—not just window treatments."
    Fabric choices include beautiful silks from India, Italy and Thailand, handmade crewel from Kashmir, cotton prints from the United Kingdom, and linen from Turkey and Holland. "Many of our fabrics are made just for us," Ross explains. "But all the curtains are made in our American workrooms by experienced seamstresses."
    The boutique is located in Clayton, but the design services are not limited to customers who live in St. Louis. "We just did a cabin in Vancouver, British Columbia," Ross says. "We had done the owners' home here in St. Louis and they loved the results. When they got the cabin, they came back to us and gave us the measurements. It turned out exactly the way they envisioned it!"
    Ross believes the store creates "the best-dressed windows in St. Louis," adding that The Curtain Exchange offers a comprehensive line of other products, including Roman shades, wood blinds, pillows, trims, table coverings, custom headboards, valances and an extensive line of hardware, plus personalized, worry-free customer service.
    "You can take your curtains home and hang them tonight," Ross says. "Or we can customize them, combine fabrics, add tiers and trim, and create something that you'll never see anywhere else!"  LN 
---
On the cover: Offering an impressive selection of fabrics and designs at a great value, The Curtain Exchange, located at 8119 Maryland Ave., has both custom and ready-to-hang window coverings. For one-stop convenience and whole-house design, the Clayton boutique also offers shades, cornices, pillows, headboards, hardware and more. For more information, call 863-1112 or visit thecurtainexchange.com/stores/stlouis.