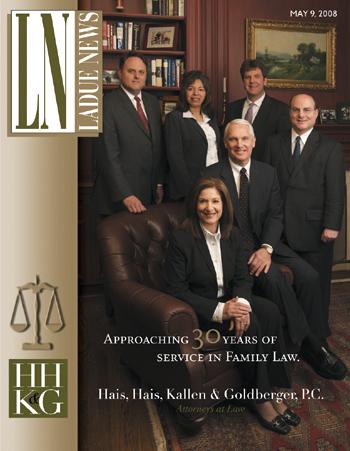 In the practice of law, some firms, like transactional attorneys, thrive by becoming 'mega-firms.' But in the highly personalized atmosphere of divorce and divorce-related litigation, the goal is to grow big enough to offer a complete range of services, but stay small enough to give clients the personal, confidential service that makes them feel protected.
"What we endeavor to do at all times is to fight hard to achieve the best possible results for our clients, while also positioning them for a stable transition to a solid and happy future, post-divorce," says attorney Susan Hais, founder of Hais, Hais, Kallen & Goldberger. "Our goal is to do everything in our power to minimize the devastating effects of the dissolution of a marriage, so that our clients will remember us not only as their advocate and protector, but as a facilitator of their future well-being."
Hais believes that mission has contributed to the firm's success for nearly three decades. In 1979, she opened what was then a one-attorney, one-secretary office. It has since evolved into one of the area's most comprehensive, strictly divorce law firms, with six attorneys and seven support staff, plus a wide array of adjunct professionals. "We only do domestic relations law, so we thoroughly understand that area of law," Hais notes. "Over the years, we have observed how different judges in Family Court have applied the many domestic relations legal doctrines in their own discretionary fashion, and we are able to appropriately advise our clients in these ways in order to provide more predictability to the legal process of divorce."
A key component of that advantage is Hais' managing partner and husband of almost 29 years, Sam Hais. "Sam was on the bench as a Family Court judge until 2002, when he came to work here," she says. As managing partner, her husband is primarily involved with the business aspect of the firm. "He's good with the clients and staff, and he has the ability to make things run smoother." But more important, she adds, is his ability to weigh in on the legal issues from a judge's perspective. "He's involved in a lot of the cases, a lot of people come to him because of his experience as a judge," Hais says.
For his part, Sam Hais is focusing on the firm's next 30 years. "We want to continue to provide the highest quality, most cost-effective legal services to clients," he says. "Having grown over the years to its present mid-range size, our firm remains small enough to keep its services personalized and retain its 'boutique' character." He adds that the firm's partners, associates and legal assistants work together in a collaborative effort to carefully shepherd clients through the pitfalls of divorce. Partners include Craig Kallen and Elliot Goldberger and associates Amy and Robert Dennis, the other husband-and-wife duo.
As the firm approaches its 30-year anniversary, Hais, Hais, Kallen & Goldberger is broadening its client services to include extended hours, 24-hour telephone contact availability and expanded Web-based capabilities, reports Sam Hais. "The improved services are designed to make the often, difficult process of divorce smoother, simpler and less traumatic for our clients."