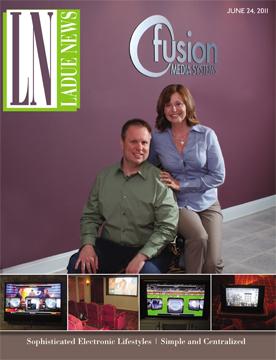 Pull in the driveway at the end of a long day and relax, because the lights are on, the house is just the right temperature and you already know your teenagers are safely home, even though they forgot to call—again. With a home automation system customized for your family and your lifestyle, life is just a little less complicated.
    The best home automation systems integrate myriad home electronics—lighting, security, audio/visual, communication and media—so they can be operated from a single, easy-to-use device. "That's the most requested feature: a manageable system without several different remote controls," says Shawn Hagan of Fusion Media Systems. Using the latest technology, Fusion designers create systems that can be operated from an Apple iPad, iPhone or iTouch. "We offer a training class for clients after their system is installed, and they often call us and say they don't need it because the operation is so simple. We have clients in their 80s, and children as young as 5 who figure it out quickly!"
    Hagan and her partner, Jeff Praechter, combined their extensive industry experience to form Fusion almost three years ago. "We were both with the electronics division of another local company," Hagan explains. "I was there 14 years, and Jeff for six. We've recruited some of the best employees in our industry, not only from the companies we have acquired, but also from our competition. It's a highly skilled group with a diverse background."
    Describing the naming of their company, Praechter says the pair wanted to emphasize the 'integrated' aspect of different electronics. "There are very few companies that do what we do. Often you have to call multiple companies: one for the security system, another for the audio/visual, and others for lighting and phones. Our designers work closely with our clients, learning their lifestyle and needs, and designing one system to manage every detail. We're also the only company in town that utilizes two of the most recognized industry names: Savant and Crestron."
    A well-designed home automation system uses the latest generation of electronics to serve every generation in any household. "Your kids can record a TV program from a cable box in their room, and watch it from anywhere in the house," Hagan says. "If you have an elderly parent living alone, a security system can monitor a door being opened, and then send a text message or email alert to your iPhone." A complete automation system can be incorporated into new construction or installed in an existing home of any age, she adds. "We've done many homes in Brentmoor Park, for example. The equipment is installed to blend seamlessly into the home."
    The Fusion team has installed systems in some of the city's most prestigious properties, including The Crescent, Maryland Walk and 4545 Lindell. "One summer we had four projects going in Huntleigh Woods at the same time!"  LN
---
On the Cover:     Fusion Media Systems specializes in the design, installation and programming of cutting- edge automation systems for residential and commercial properties. The showroom is located at 11042 Manchester Road in Kirkwood. For more information, call 395-8888 or visit fusionmediasystems.net.