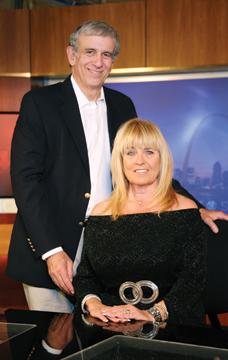 "It's impossible to say no to Roberta!" That's the general consensus from the countless volunteers and charitable supporters recruited by Roberta Cohen since she moved to St. Louis in 1980. Cohen and her husband Allan, president and general manager of KMOV-TV, are recognized throughout the city for their tireless efforts on behalf of Saint Louis Crisis Nursery, Paraquad, the Jewish Book Festival and the United Negro College Fund, to name just a few on an impressively long list. But it is her work on behalf of the Missouri chapter for the Children's Heart Foundation that is especially fulfilling, Roberta says.
    "Congenital heart defects are the No. 1 birth defect in the U.S. and around the world," Cohen says. "Our grandson Killian—his name means 'little warrior'—was born with a congenital heart defect and had his first open heart surgery when he was 13 days old." The Foundation is the country's leading organization solely committed to funding research for congenital birth defects, she explains. "So when I was approached, you can see why it was so important to be involved." And after two more open heart surgeries and five heart catheterizations, Killian is a very active 7-year-old with no physical limitations. "He's fabulous!"
    As chair of the Foundation's newly formed Missouri chapter, Cohen will lead the effort to secure sponsors and donors for the inaugural 'Saving One Heart at a Time' Congenital Heart Walk in Creve Coeur Park on Aug. 28.
    Although both Cohens are supporters of the Children's Heart Foundation, Roberta says they don't collaborate on most of their charitable efforts. "We each do different things, for the most part. When I am invited to work on a project, I explain, You get me or Channel 4, but not both. Allan and the station use their resources for whatever they choose to do. It's rather like church and state: we prefer to keep it separate."
    Roberta has chaired many events through the years in conjunction with the annual Jewish Book Festival. "The Festival is a gift to the community! It brings in more than 30 authors and their programs, runs for 10 or 11 days and is very inexpensive to attend. There's just something about hearing an author speak—you get a new perspective about why they wrote their book and what they were thinking at the time." Cohen loves a good novel and says Wicked: The Life and Times of the Wicked Witch of the West, is a favorite.
    When the Cohens moved to St. Louis from the east coast, Roberta says, they weren't sure what to expect. "I thought we'd live on a farm, show the kids where milk and eggs come from, and then get out as soon as we could." Now, 31 years later, she is very proud of her adopted hometown. "I don't think the rest of the country appreciates the cultural and social opportunities we have!"
    Describing her life in St. Louis, Roberta quotes author Douglas Adams by saying: I may not have gone where I intended to go, but I think I have ended up where I needed to be.  LN