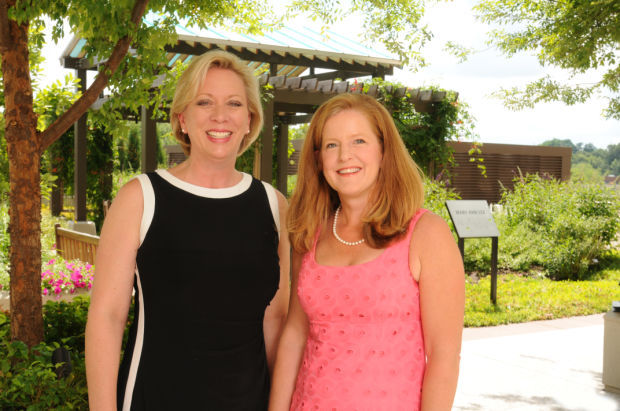 Imagine a world with no cancer.
We're not there yet, but doctors and researchers around the world are working to make that vision a reality. St. Luke's Hospital is similarly thinking big with its Imagine Gala, which will take place Sept. 20 at The Chase Park Plaza to benefit the St. Luke's Center for Cancer Care.
"They provide great services at St. Luke's—the nursing staff, the administration—everything is just top-of-the-line," says Beth Schroeder, who is co-chairing the event with Katie Reed. "They imagine: They dream big, and just go beyond what is expected."
Cancer care has made huge strides in recent years, with targeted therapies that provide improved treatments with better outcomes for many forms of cancer. "Today's treatments are less debilitating and the side-effects are better controlled, so that people are in better condition once they get through it," says Dr. Albert Van Amburg, director of medical oncology for St. Luke's Center for Cancer Care. "The big push nationally is to develop a survivorship program, so that once patients get through therapy, they continue to follow up as appropriate and get the rehabilitation they need to get back into a normal lifestyle. They also need to continue to get screening for other cancers. That's what we're trying to do, in addition to keeping up-to-date on treatments."
Another way the Cancer Center strives to imagine beyond-the-expected care is through its Life and Hope Fund, Van Amburg says. The program started more than a decade ago to offer discretionary funding to cancer patients who are having trouble making ends meet as a result of their illness. "All the money goes to the patients, because there's no overhead," he explains. "It goes to a variety of things—sometimes it helps them maintain their insurance payments, rent, air-conditioning bills or gas money."
The hospital's intimate setting also has allowed its physicians to work together even more effectively for the benefit of patients, Van Amburg notes. "The reason I joined the practice here is the collegiality among the physicians, the administration and the staff—everyone is on the same page. Everybody is trying to do what's best for the patient: If you call in a colleague, they don't just focus on their specialty area; they put it in context. So in a certain situation, you might typically do one thing, but for this situation and this particular patient, you might need to do it differently. Everything is not cookie-cutter; you go out of the box to help patients."
Festivities at the upcoming gala will include a lot of 'wow' factors, mirroring the exceptional work being done at the hospital, Schroeder says. Entertainment will be provided by William Close, a former finalist on America's Got Talent who invented the Earth Harp. The unique instrument fills the entire stage and goes out into the ballroom, over the heads of the audience. "This person imagined beyond a traditional instrument to create this enormous Earth Harp, and we've seen and heard that he is an incredible performer," Schroeder says. The gala also will include a tribute to Gary Olson, the hospital's retiring president and CEO. "We'll be honoring him for his many years of service," she says. "It's going to be a fun-filled, jam-packed, really exciting night."
Be the first to know
Get local news delivered to your inbox!