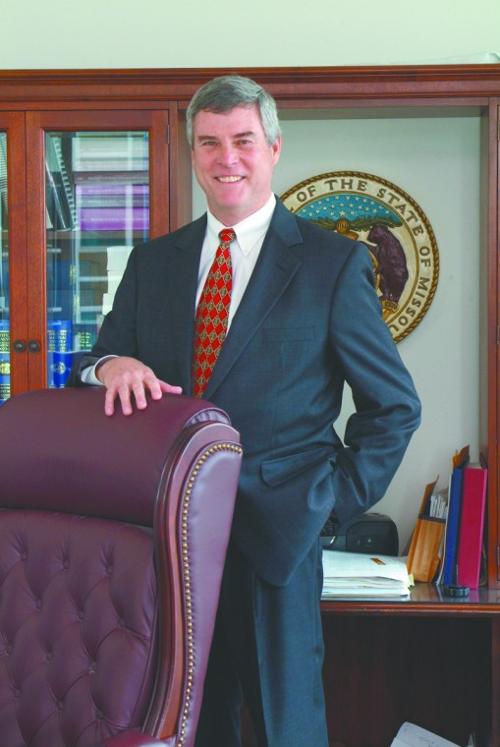 I have always thought that Bob McCulloch was one of the toughest guys in St. Louis— he has to be. He's been St. Louis County's prosecuting attorney for more than 20 years, and has sent some of the most vicious criminals to prison and to death row. As a reporter, I don't know how many times I was there for press conferences to hear him announce yet another arrest or conviction for some insidious crime. He's seen it all and remembers most of the awful details that I have always tried to forget. It has made him a very tough person; and yet through it all, I always knew there was another side to him, one that viewed the world through a different set of eyes.
McCulloch is one of those people who always seems to have just a hint of a smile on his face, no matter the circumstance. Maybe it's there to cover up all the awful things he's been through, both professionally and personally. Or maybe it's there because deep down, he knows he's had a wonderful life, despite it all.
I went to meet McCulloch in his office recently, the first time I'd been there in a long time. The walls of his corner office at the Justice Center are covered with pictures: family photos, as well as pictures of him with governors, senators and presidents. Since we're both St. Louisans—and north-siders at that—we talked about high school. He told me he wanted to go to McBride but couldn't get in, so he took a bi-state bus every day to Augustinian Academy all the way across town. He paid his way through school working different jobs, but loved his time as a guard at Busch Stadium during the Cardinals' glory years in the '60s. "I got to see every pitch of every game," he says with a huge kid-like grin.
It was also in the '60s that his life changed forever. McCulloch grew up on the border between St. Louis and Pine Lawn in the shadow of the old ammunitions plant just off Goodfellow Boulevard. His dad was a city cop, one of the first K-9 officers in the department. "July 2, 1964: My dad was 37 years old, I was 12." It was the day his father was killed in the line of duty trying to arrest a kidnapper. "He was in his police car and heard a call for an officer in need of aid at the old Pruett-Igoe housing project. He wasn't far from there, and when he arrived, he saw one officer was down and another officer was chasing a guy," he explains. "They went around a building, my dad went around the other way and they got into a shootout—my father got shot." Officer Paul McCulloch left behind a wife and four children. Bob McCulloch, the future prosecutor, was now a crime victim. "It had a huge impact on me in the long run. In the short term, at that age, it's hard to comprehend the finality of death and so that took some time to sink in. My mother was a great woman, very strong and made sure we all toed the line."
There would be more difficult days ahead. Five years later, during his senior year at Augustinian, doctors discovered he had a rare form of bone cancer, making it necessary for his leg to be amputated at the hip. A couple of years after that, his best friend—the chum who had always been there for him since kindergarten— died in an accidental drowning. For a lot of us, it all would have been too much to withstand; instead, McCulloch grew from it. "It sounds like a cliché, but it builds character," he says. "You have these things and you suffer through them and deal with them. You don't forget or act like they never happened, but you try to understand them. I think all of it gave me great empathy for victims."
He went on to law school at Saint Louis University, married his wife, Carolyn, and they had four children. He was elected prosecuting attorney in 1991. The lessons he learned about the evil that is in the souls of some criminals and the scars they leave in the hearts of their victims still guide him to this day. "I look back at the case of a guy who raped and killed a little girl, Cassidy Senter. He was sentenced to death and when I walked out of the courtroom, Cassidy's mother gave me a hug. Jeez, it makes me cry now." McCulloch takes a breath and continues to remember. "Looking over her shoulder, my daughter was there—my daughter and Cassidy were the same age—and so every time since then, when my daughter hits a milestone age, I think of Cassidy. She ought to be here, too."
It was yet another profound moment in what has already been a remarkable life. I ask him straight up, Are you a tough guy? "No," he quickly answers, adding, " I just hate people who prey on the helpless." I still think Bob McCulloch is one of the toughest guys in St. Louis. He has to be, and now I understand why.
Native St. Louisan Paul Brown is a lifelong journalist, and previously served as a broadcaster for KMOX and KTRS radios and ABC 30. He also worked as a freelance producer for programs on the Speed TV network and as a media relations consultant specializing in political campaigns.