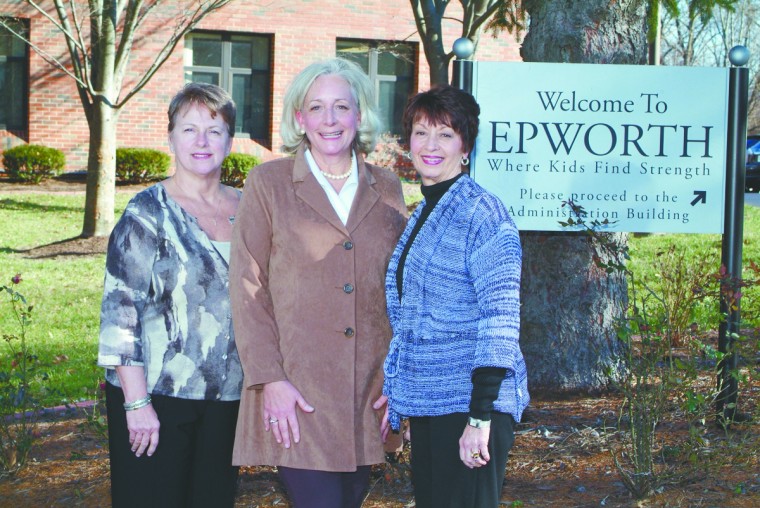 Although it's often remembered as a carefree and innocent time, memories of childhood may include the occasional rough patch that required the support and intervention of a strong, nurturing parent. But what happens to the children who struggle alone, perhaps facing abuse or abandonment by the very people who are supposed to protect them?
Since it was founded by the United Methodist Church as a haven for Civil War orphans 147 years ago, Epworth has provided shelter, special education, therapy, foster care and family reunification services. And since 1995, the volunteers of Friends of Epworth have supported the agency's work through a variety of efforts, including the agency's annual Pillar of Strength award dinner honoring those who exemplify the Epworth mission. Past honorees include ambassador George Walker and longtime Cardinals' GM Walt Jocketty. To recognize the work of the Friends of Epworth, the 2012 Pillar of Strength award will be presented to every member of the volunteer organization at the March 2 event.
Epworth director emeritus Barbara Bush explains that the idea came from Epworth executive director Kevin Drollinger. "He thought it would be a great idea to honor the Friends, and I thought so, too," she admits. "But, of course, I was a bit prejudiced."
Bush is a co-founder of the Friends group, and remembers learning about Epworth when she was growing up. "I'd heard about it all my life! We lived in a small southern Missouri town, and they would ask for donations at our little church to help pay for an Epworth child to go to summer camp. And of course, when we moved to St. Louis, we learned even more about Epworth and how they advocate for children and families in the community. One of my good friends was tutoring in Epworth's school and thought the agency could benefit from a volunteer organization. She asked if I was interested, and that's how the Friends began."
Epworth offers emergency shelter and residential care for kids, and Bush says they are referred to the agency in different ways. "Quite often it's through the court system, for example if a child has been abandoned or is an abusive situation," she explains. "And parents have been known to just drop their children off with nothing more than a few personal items."
Although the histories may be unfortunate or even tragic, the success stories are abundant, Bush says, especially with the implementation of the independent and transitional living programs. "We can help kids who previously would've been 'aged out' once they turned 18." The programs are critical for kids without any family support system, she adds. "Most kids—even without enduring the things these kids have endured— are not capable of being on their own at 18."
When possible, kids under the care of Epworth services attend public school, and the Friends have established a Guardian Angel fund to assist them. "We want to help them fit in and feel as normal as possible," says Bush. "The fund takes care of things like sports equipment or a prom dress."
For children who might otherwise be forgotten and left behind, the Friends of Epworth are indeed a pillar of strength.
Be the first to know
Get local news delivered to your inbox!