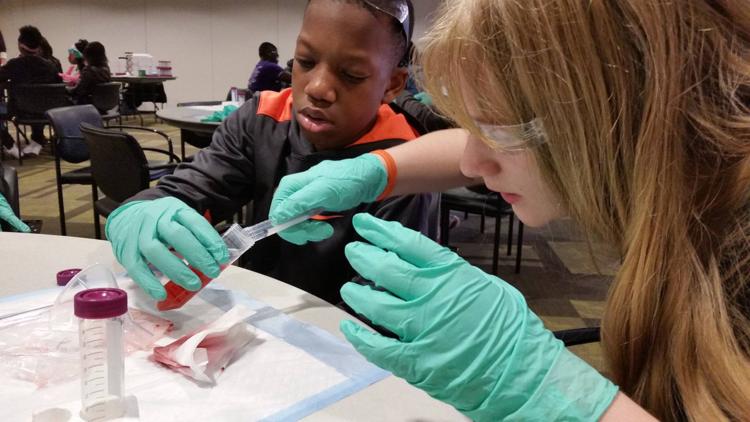 Middle school can be a tough time for even the most privileged children, but when life throws curveballs that create challenges at home and school, learning can take a back seat. Aim High St. Louis provides a tuition-free summer program for middle school students from area public school districts.
"Aim High empowers our students to grow and succeed, both personally and academically, by providing creative learning opportunities, abundant educational resources, exposure to new experiences and ideas, and committed and trusting relationships that are supportive," says Julie Angelica, the organization's executive director. She adds that Aim High was founded "in a belief in students' inherent potential to succeed, along with the absolute expectation that they will do so."
Achievers, as they are known at Aim High, apply as rising sixth-graders. Once accepted, they participate for four years, completing the program as rising ninth-graders. During the five-week summer program and monthly Saturday sessions throughout the school year, they experience a blend of academics, personal and cultural enrichment, and community building.
The Aim High curriculum focuses on key state-level academic standards, and participants benefit from college and career exploration, mentoring, tutoring, test-taking and study skill sessions, and leadership and volunteer opportunities as teaching assistants.
Yet Aim High isn't just a typical summer camp. "Essential to the relationship construct is the idea that this is a partnership that bears equal responsibility between the program and the participant," Angelica says. "Aim High's job is to provide resources, opportunities and relationships that will support a student to define and grow into the best version of themselves, while the student's responsibility is to put in the time and effort to maximize the opportunities and relationships that can help them succeed. And they do!"
Aim High is hosted at local schools, including John Burroughs and Saint Louis Priory School, and faculty members come from public and private schools throughout the metro area. The St. Louis program, developed by John Burroughs faculty members Ellen Moceri and Richard Sandler, launched in 1991, based on a similar program in San Francisco.
Angelica joined Aim High in 2009 and says there is no such thing as a typical day. With only three full-time staff year-round, she balances her time between financial and administrative tasks, programming, board support and management, fundraising and networking. "I work with an amazing board of volunteer directors, and although our central office team is small, it's pretty incredible what we're able to accomplish," she says. In 2018, more than 450 Achievers attended Aim High.
"Middle school is both a powerful and difficult time in adolescent development, and we believe reaching students before they have cemented their values and beliefs is critical to supporting their best vision of themselves," Angelica says. "Graduates have told us that knowing there is an entire community of people beyond your family who are invested in you and your success is life-changing."
Aim High St. Louis, 755 S. Price Road, St. Louis, 314-432-9500, aimhighstl.org
Volunteer Spotlight: Chloe Cherry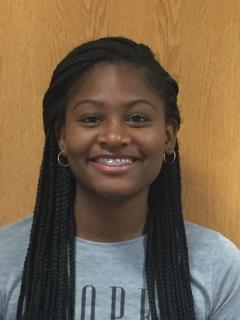 When Chloe Cherry talks about Crystal, you can hear the emotion in her voice. Cherry worked closely with Crystal, a young Achiever at Aim High St. Louis.
"She was very interested in poetry, and so when I started a poetry club for Aim High, I could just see how excited she was," says Cherry, who serves as a teaching assistant and mentor. "Working with her one-on-one, I saw her poetry really grow over the summer, and at the same time, I could see a positive change in her. It was really wonderful."
Cherry became a teaching assistant at Aim High prior to her senior year of high school at Collegiate School of Medicine and Bioscience in St. Louis. "My psychology teacher knew about Aim High and suggested I get involved," she says. "I love kids, and I really enjoyed it – so much I came back."
Currently a freshman majoring in psychology at Pennsylvania's Villanova University, Cherry returned to Aim High last summer as a head teaching assistant, in which position she oversees other TAs and floats between several classrooms at the program's Priory location.
"I think everyone involved gets so much out of it," she says. "All of the kids have teachers and mentors giving them attention, and we try to cultivate and boost their confidence. And as a teacher's assistant, I can tell that the teachers and TAs involved get so much out of it as well, being a part of a child's growth and seeing their success."
Cherry is looking forward to another summer at Aim High, renewing old friendships and building new ones. [LN dingbat]