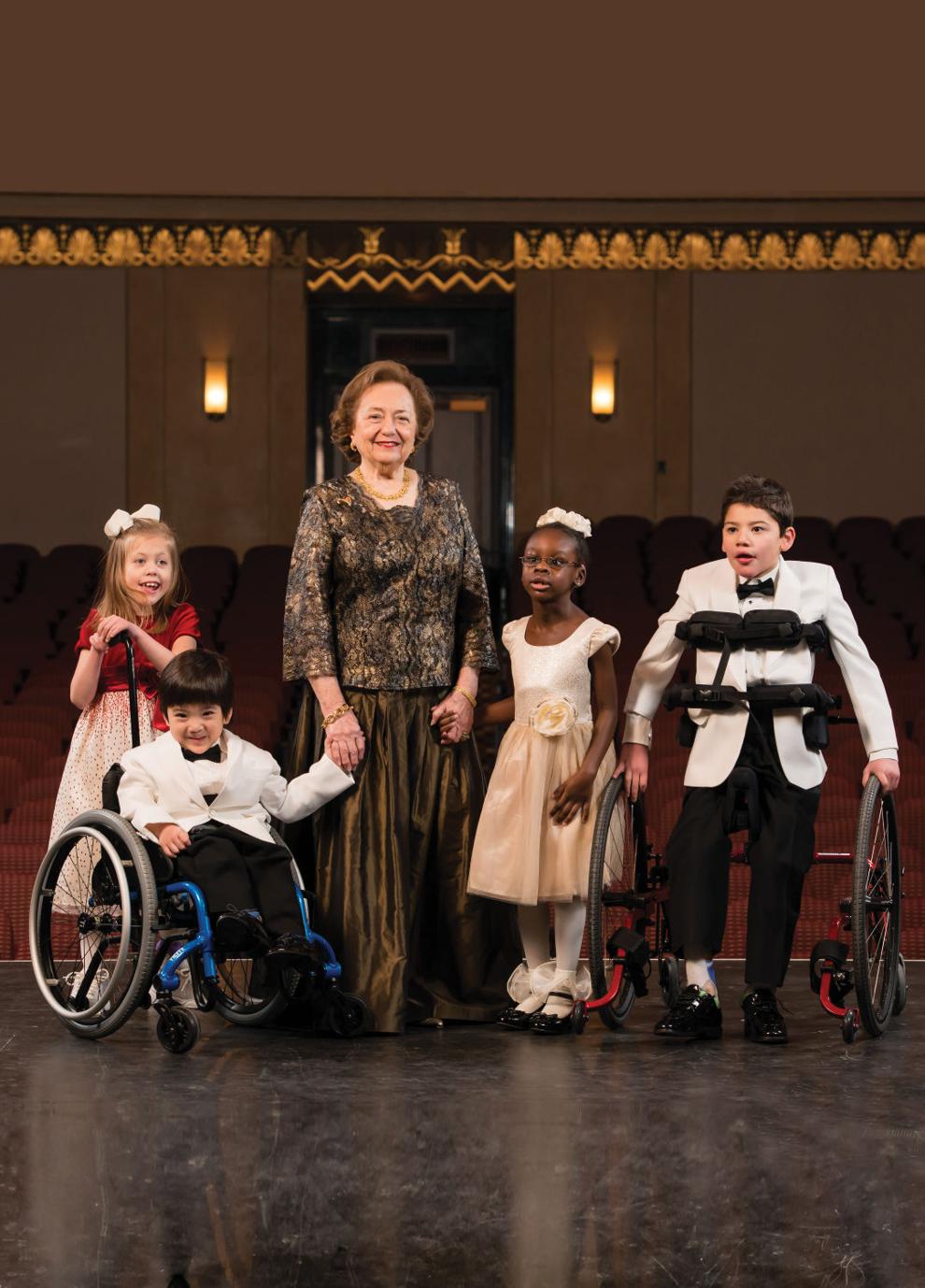 Variety the Children's Charity of St. Louis has long been a familiar name in the region, and its annual event, Dinner with the Stars, is known throughout St. Louis as one of the city's premier galas. Yet, the work Variety does in the community deserves a spotlight of its own. "We're very famous for our big telethon back in the day," says chief executive officer Jan Albus. "A lot of times, people don't know what we do for the children." LN is rolling back the curtains and cueing the music to showcase the organization's tremendous impact on the St. Louis area.
"We provide services to a specific population of the community," Albus says. "Children from birth to age 21, who have disabilities, are served holistically. They are paid attention to their whole lives as we put forth services and programs to complement them and help them reach their full potential."
Variety's clear-cut mission has made quite the impression throughout the community, and even the nation, as big-name talents have pledged their time and talents to the organization's main fundraiser, Dinner with the Stars. Marilyn Fox is celebrating her 20th year as event chairman. "It started out in '32 and remained true to its entertainment roots with first-class stars," Fox says. "In '66, the 24-hour telethon began. Sammy Davis and Tony Bennett came on and it's continued since." In the past, headliners have included Ray Charles, Carlos Santana, Harry Connick Jr. and most recently, Toni Braxton.
Even with such major talents, the real stars of the show are always the children. "The kids are involved. You'll see them on the stage. You'll see them in the chorus," Fox says. "They are able to be a part of things that go on normally. It is so touching to see this – to see them – able to [take part] and enjoy themselves. They have a great time."
Variety's all-inclusive approach enables those with disabilities to particpate in everything that life has to offer through a five-step process known as TREES. "T stands for therapy; R for recreation; E for education; E for equipment and S for our Sunshine Coach Van Transportation," Albus explains. "All of our work fits into that acronym."
Variety's comprehensive focus stands apart from other organizations by aiding children with a wide range of disabilities. "A child could be at our summer camp and the next month need a wheelchair. A child could be in our theater program and also need speech therapy," Albus says. "We just feel that, in the life of a child with a disability, you never know how and when they'll need help. There are stories about how these children's lives are extended. They're living longer and realizing they have special talents, [like] a child in our theater program who has extreme stage presence."
Dinner with the Stars may be Variety's biggest night of the year, but the fundraising begins a week out with a docket full of exciting events. It kicks off on April 9 with a couture fashion show, featuring celebrity fashion designer Carmen Marc Valvo. Next is the callathon for Help a Variety Kid Day with FOX2 and St Louis Post-Dispatch,, followed by Imo's for Kids Day and Night of the Rising Stars, focused on recruiting local young professionals. The week culminates on April 16 with the 50th annual Dinner with the Stars. Taking place at the Peabody Opera House this year, the celebratory evening also recognizes two notable St. Louisans for their admirable philanthropic efforts as Man of the Year and Woman of the Year.
The funds raised for the event will benefit the community's children through medical equipment, therapy, recreation and educational services designed to improve each child's quality of life. "These children might have Down syndrome, cerebral palsy or autism. Some have a dual diagnosis. It doesn't matter to Variety," Albus says. "We want to improve four core competencies: independence, socialization, self-esteem and skills. There are 53,000 children in our service area and our goal is to serve all of them."
As Marilyn Fox can attest after 20 years of organizing Dinner with the Stars, Variety's mission and work naturally tugs on heart strings. "It really changes a child, don't you think? I'm really hooked on it," she says. "There is this marvelous, wonderful group who works hard to make [these changes in a child's life] happen."
Snag your tickets for the Dinner with the Stars black-tie gala by visiting varietystl.org or calling Linda Sanders at 314-720-7712 to purchase a table. Tickets also are available for the headliner show alone and regular tickets are available through ticketmaster.com. Visit Variety's website to learn more about becoming a volunteer."
2200 Westport Plaza, STE 306 | 314-720-7700 | varietystl.org
And this year's Man of the Year and Woman of the Year awards go to…
Ken Kranzberg and Judy Jones!
"Ken is most noted for two things: his work at the Jewish Federation and at Grand Center," says Variety chief executive officer Jan Albus. "He's been very instrumental in bringing Grand Center to where it is today as a true city gem. Judy is very much responsible for Junior Achievement of Greater St. Louis and the Dennis and Judith Jones Variety Wonderland inclusive playground in Forest Park. They're both recognizable for what they've done in the community."