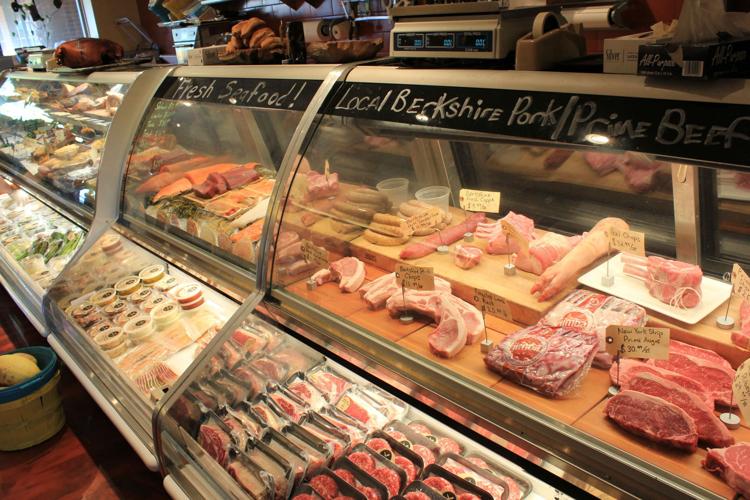 It's hard to believe that there are less than two months left in 2016, let alone that the holidays are right around the corner. Luckily, Truffles Butchery can help families prepare for the holiday season by lifting some of the stress off of cooking.
Butchery, an extension of Truffles restaurant in Ladue, offers a variety of Thanksgiving packages. Whether customers need a full Thanksgiving meal, just a few sides or some smoked turkey breast, they can find exactly what they're looking for locally.
Butchery executive chef Steven Caravelli says Butchery offers local turkeys from California, Missouri, which are "supertasty."
"A lot of people are preordering their turkeys again for this year because of how popular they were last year," Caravelli says.
Along with turkey, Butchery offers Brussels sprouts, green bean casserole, mashed potatoes, stuffing, gravy, cranberry sauce, and pecan and pumpkin pies. All are made in-house. Caravelli encourages customers to get their Thanksgiving orders in early, citing a Nov. 16 deadline with a Nov. 22 or 23 pickup.
"Thanksgiving was probably our busiest week ever," he says. "Whether you need a full meal or just a few parts of the meal, we can help."
Caravelli says there's another aspect Butchery offers that can help take the stress off the holiday season.
"We also have our daily prepared meals going strong," he says. "We offer many options not just for the holidays, but for a quick meal. During the holidays, we have a lot of things ready to pick up fast, like barbecue, that can take some pressure off the cook who's already going to be doing enough work."
Aleks Jovanovic, general manager and wine director at Truffles Butchery, notes the selection of seafood the stores also carry.
"Not many people realize the full array of the seafood program through Butchery," he says. "Butchery has access to the freshest seafood in town. Anything we don't sell in Butchery during the day is sold through the restaurant in the evening, so you never see food that's a few days old in our display cases."
Though they don't advertise it much, the stores also offer catering by request.
"We can do anything from a simple sandwich-style office party to fine foods and higher-end items in people's homes or at larger events," Jovanovic says. "Anything we offer year-round is available as a catering option."
Regardless of what you're looking for to feed your guests this holiday season, Truffles Butchery can help.
"For anything customers may want, it's a simple phone call away," Jovanovic says.
9202 Clayton Road, Ladue, 314-567-7258, todayattruffles.com