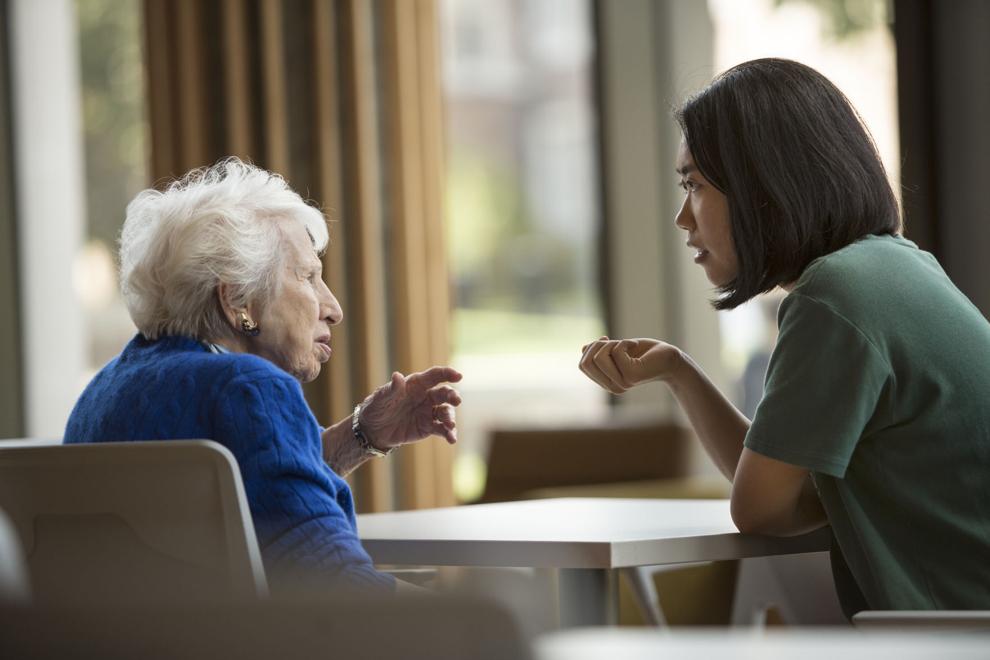 Table Wisdom, a new program and social enterprise at The Gatesworth, is bringing together English-language learners and older adults.
When The Gatesworth first announced its new program to its residents a few weeks ago, residents Gladys Barker and Allen Furfine were interested in learning more. Then Barker went to a meeting with local Chinese students and says she "gravitated" to a young woman named Eryao "Ivy" Huang.
"It's been so rewarding participating in this program," Barker says. "I've learned so much, and I think she has, too."
Every Tuesday at 3 p.m., Barker and Huang sit outside and enjoy tea and cookies. Barker calls her time with Huang "a breath of fresh air because [her] environment is so different from mine."
Barker says Huang told her about how when she was born in China, the law was still "one child per family." Though the law has since been lifted, Barker says Huang didn't always have a lot of people to relate to in her generation.
"I found that so interesting," Barker says. "She doesn't have any brothers or sisters or hardly any cousins."
Barker and Huang have been meeting for about a month, and the program lasts eight weeks. All the students participating are local graduate students studying social work.
"When she gets her master's degree, she wants to go to Africa and help people there," Barker says. "I would love to keep in touch with her. I look forward to every Tuesday."
The Gatesworth | 1 McKnight Place, St. Louis | 314-993-0111 | thegatesworth.com