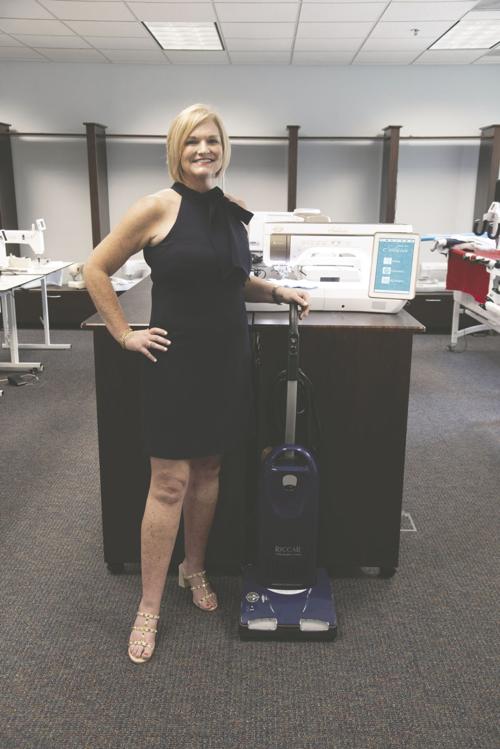 Finding the highest quality in both product and customer service in your backyard sounds impossible, but Tacony Corporation has been distributing and manufacturing the best in sewing machines, cleaning products and floor care out of Fenton for 75 years. This third-generation company values its humble, family-centric culture as much as its commitment to its customers' success.
"It's really an honor to be able to carry on the legacy of my grandfather and then my father and to keep that journey going," says CEO Kristi Tacony Humes, who took leadership in 2016. "My grandfather was an entrepreneur at heart. He had an 8th grade education and a dream; this culture is just a compliment to my grandfather and my father and has attracted a lot of great people."
Brands produced and distributed by Tacony Corporation include Baby Lock sewing machines; Koala sewing furniture; Riccar and Simplicity vacuums; and Tornado, Powr-Flite, CleanMax, Truvox and Cimex commercial floor care, the last two of which are the company's international brands.
"The commercial floor care divsion is focused on schools and contractors," Humes adds. "We work to make facilities clean with scrubbers and extractors. It's a little different than our retail side, but it's a growing area and a nice extension of what we're doing today."
Tacony Corporation supports its customers not only through providing high-quality products that they can benefit from selling but also through working with them from the beginning through to after every sale, with an additional focus on educational training. "It's really about that customer experience, giving them superb products and making our independent sellers profitable with training," Humes says. "It's that support that sets us apart."
While Tacony Corporation has eight offices across the country, it remains committed to supporting the metro area community and giving back. Tacony Family Foundation partners with local charities, and even when company leaders were unsure about their business during the height of the COVID-19 pandemic, as a sewing and cleaning company they were able to give donations for mask-making and cleaning products.
"Our efforts stayed up even when times were unsure," Humes confirms. "We really want to give back to the community we're in."
Tacony Corporation, 1760 Gilsinn Lane, Fenton, 636-349-3000, tacony.com