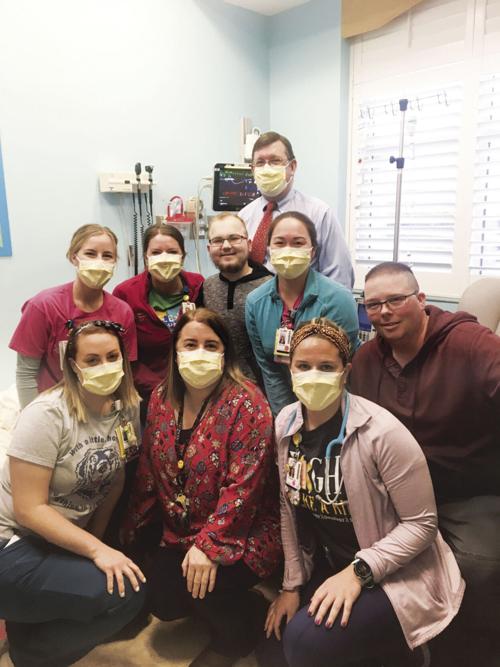 For children and families who are fighting for their lives, SSM Health Cardinal Glennon Children's Hospital is not only the place to get better – it becomes a sanctuary. A pioneer in health care, the hospital uses front-line medicine to provide the best quality of life for its young patients.
"No family, no child wants to see a hematologist or oncologist," says Dr. Bill Ferguson, pediatric hematology and oncology. "We never treat things that are not serious. If you need a doctor in those areas, you need a facility that treats the child, [not just the medical issue]. We deliver two aspects of care: State-of-the art medical care [and] a uniquely supportive atmosphere for families and kids."
That first aspect of care is furthered by SSM Health Cardinal Glennon Children's Hospital's involvement with other groups of hospitals, allowing it access to "cutting-edge medicine, so we can continue pushing the frontiers [of health care]," Ferguson notes.
According to Ferguson, when treating hemophilia, a bleeding disorder that appears almost exclusively in boys, waiting to treat bleeding episodes often resulted in damaged joints and long-term disability. Preventing bleeding episodes, with clotting factors, requires around three intravenous injections a week.
"In late 2018, a new drug was approved," he describes. "It's not a clotting factor, but an antibody that acts like the missing factor in hemophilia. It lasts in the body longer, so patients only require an injection every two weeks or so – which makes a big difference."
In cases of neuroblastoma, SSM Health Cardinal Glennon Children's Hospital is the only center in the region to offer a new approach to improve patients' chances of avoiding relapse.
"We look for how genes are expressed in the child's individual tumor," Ferguson says. "All tumors seem to have some metabolic pathway that's turned on too high, but many of these can be potentially treated with newer, 'targeted' drugs. Combining these with chemo is a very promising approach to personalized medicine."
For a fairly common disorder, sickle cell disease, there are few drugs available to relieve symptoms.
Two new medicines were approved last year, which the Costas Center has been aggressive in introducing to selected patients.
"One is an oral drug taken daily; the other is intravenous and taken once a month," Ferguson describes. "They decrease the number of red blood cells that are being destroyed and the amount of pain that children might have. Our physicians move more severe cases to this treatment to increase quality of life for those kids."
Not only can families expect first-rate medical care for their children at SSM Health Cardinal Glennon Children's Hospital, they can trust that those watching over their children see them as people and not just as charts. It's a place that comes to feel like a second home, where children arrive for their visits and run to hug the nurses. This year's Glennon Glow, which will be hosted virtually, encourages the community to help recognize this institution's important work on behalf of children.
"Cardinal Glennon has been the beneficiary of the community's generosity for years," Ferguson adds. "We couldn't do what we do without our community and benefactors. There is so much not covered by insurance, and it can quickly overwhelm families. Having support makes a difference in our ability to treat children."
SSM Health Cardinal Glennon Children's Hospital, 1465 S. Grand Blvd., St. Louis, 314-577-5600, ssmhealth.com/cardinal-glennon
---
GLENNON GLOW | Friday, Nov. 20, from 7 to 7:45 p.m. | Exclusive Virtual Program
Care for the children's community by supporting SSM Health Cardinal Glennon Children's Hospital at the annual Glennon Glow. A gourmet, three-course dinner from Butler's Pantry, plus fine wine, will be delivered to the doorsteps of all guests who reside within a 50-mile radius of downtown St. Louis. Sit back in style as you join in watching this virtual event honoring Archbishop Emeritus, the Most Reverend Robert J. Carlson, with the prestigious Glennon Award, and a special appearance by Bob Costas. Register online at glennon.org/glow.
Be the first to know
Get local news delivered to your inbox!