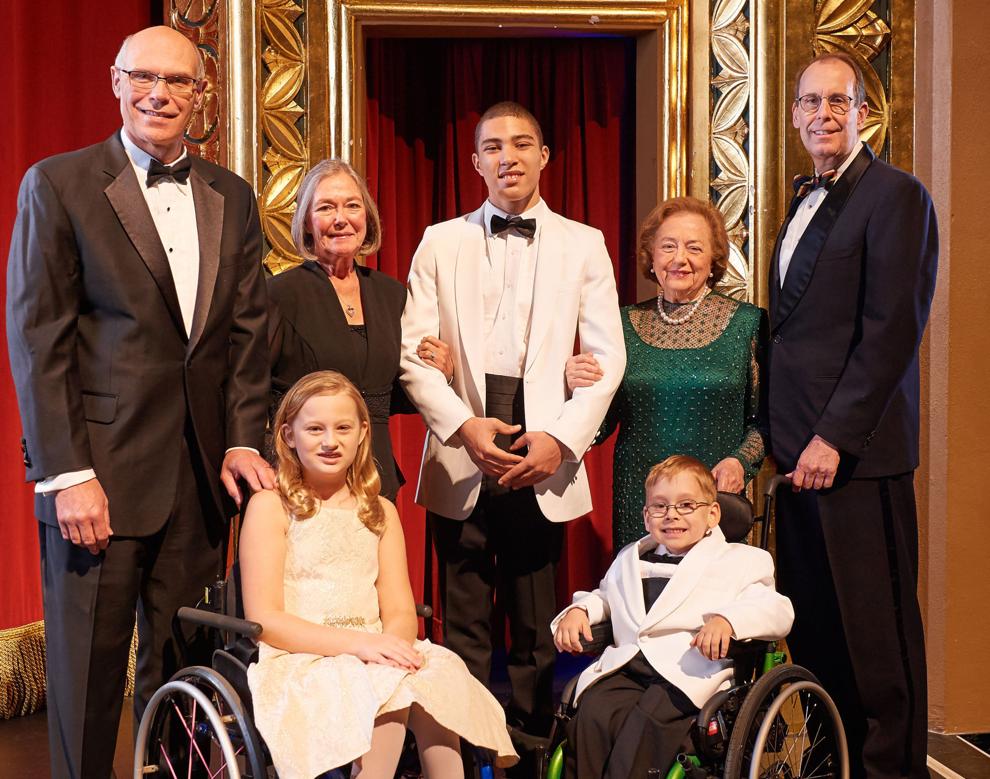 Variety the Children's Charity has what executive director Brian Roy describes as "our Variety methodology." "We help the community of kids with special needs to reach their full potential from the time they are born till they turn 21," he says. That assistance often comes in the form of medical equipment and services to increase independence and mobility, as well as educational and recreational programs. "At the end of the day, we want to improve these kids' skills, socialization, self-esteem and independence," says Roy.
Variety receives valuable support for its mission through numerous events, but one in particular holds a special place in the minds of the community. "This will be our 51st year [of hosting Dinner with the Stars], and when you think of any event that has that kind of longevity, you have to be creative and unique each year," Roy explains. "We've had iconic stars come in, which creates a lot of buzz. When we secured James Taylor [this year], that obviously was exciting! We are far outpacing any of the previous events with how quickly tickets are going!" The five-time Grammy Award-winning singer and songwriter naturally would be a big draw, but after Taylor secured a Kennedy Honor last year, 2017's Dinner with the Stars promises to be nothing short of impressive – and the children will play a big part.
"Variety Children's Chorus performs every year (preceding the show)," Roy says. "We share success stories and how support impacts [the children]. We explain the real gap in what's available to them and what they really need. And we make sure people's gifts are going to the right place. This event brings people together to celebrate the kids." For more details on the big event, check out the sidebar.
When asked if any stories about Variety have touched him, Roy answers, "Thousands of them. We get excited when we see results, and know how our programs and medical equipment help our kids – these are success stories. When you hear stories from parents about these life-changing moments, it sticks with you. Milestone moments, both big and small."
Those instances come in the most unexpected ways, serving as a reminder to be thankful for one's physical and mental health. "It's those small moments – everyday things – that parents can take for granted," Roy shares. "One mother told me she was driving her kid to school and heard him say through his communication device, 'I love you.' He never initiated saying that on his own before Variety purchased this communication tool. The mother cried at hearing those words. These moments may seem trivial to us, but to these kids and parents, they mean everything. If we can make moments like this happen, it makes it all worthwhile."
Variety the Children's Charity of St. Louis, 11840 Westline Industrial Drive, Suite 220, St. Louis, 314-720-7700, varietystl.org
What/When/Where:
RUNWAY LIGHTS FASHION SHOW: April 22 at Union Station
VARIETY FAMILY CELEBRATION DAY: April 23 at Chesterfield Athletic Complex
VARIETY IN THE MORNING: April 25 at FOX2
IMO'S FOR KIDS DAY: April 26 at any Imo's Pizza location
BANK OF AMERICA & VARIETY FIRST PITCH AT THE BALLPARK DAY: April 27 at Busch Stadium
DINNER WITH THE STARS
April 29 at Peabody Opera House
Man & Woman of the Year: Carol Voss & Warner Baxter
"We honor people who have changed the community for the better," Brian Roy, executive director of Variety the Children's Charity of St. Louis, says. "One of our board members recently said, 'You are not going to find two more genuine people.' Carol Voss personifies that commitment. Her passions are the arts and education. She and her husband campaigned STL250. Warner Baxter is active in our community, making St. Louis a better place to live. The guy is the ultimate problem solver. The community is way better when he gets involved with any initiative."
HOW TO GET INVOLVED:
Attend a Variety event or visit helpavarietykid.org, where you can donate to specific programs.
MANY THANKS
Thanks to the generous underwriting from Steward Family Foundation, Centene and World Wide Technology, all funds raised go to Variety children.