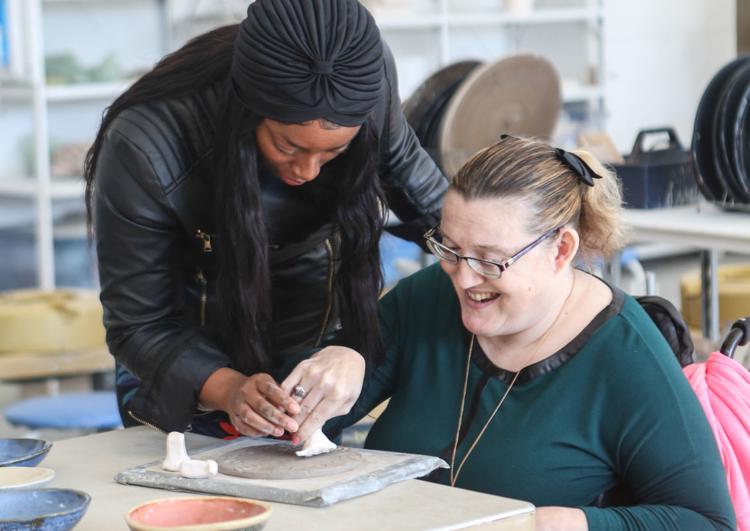 Understanding the lives of people living with disabilities helps everyone gain a broader sense of community," proclaims Brenda Wrench, president and CEO of the nonprofit organization UCP Heartland. Founded in 1953, UCP Heartland remains a vital resource for adults and children across Missouri who live with a spectrum of disabilities.
The nonprofit provides a comprehensive range of services that includes adult day programs and independent residential living, 24-hour respite care, employment assistance, early childhood education and youth camps, among others. Although headquartered in West St. Louis County, UCP Heartland maintains a presence across the metro area and the state, with sites in University City, Columbia and Jefferson City. The nonprofit also has plans to expand its footprint, especially in rural communities across Missouri.
"UCP Heartland focuses on strengthening life skills, maintaining range of motion and integrating people into the greater community in ways that provide purpose and a sense of belonging," maintains Wrench. The organization's Childhood Development Center (CDC) in Columbia, for instance, fosters a collaborative learning environment in which children of all abilities learn together in the same classrooms.
"The children in these classrooms no longer see differences," says Wrench. "They just see their friends. We're creating a world of tomorrow where everyone is loved for who they are." Children with and without disabilities emerge from the CDC not only better prepared for kindergarten, but also as more confident and empathetic learners.
The adult day programs operated by UCP Heartland at its Jefferson City, University City and West St. Louis County locations are equally designed to harness participants' unique talents and strengths, cultivating self-sufficiency and a sense of community through individual and group activities. Although the organization's day programs serve adults into their seventies and beyond, many of the participants enroll upon graduating from high school, when the need for habilitation becomes even greater.
"A key focus of our programs is taking our participants on community outings," shares Kathleen Beach, VP of marketing and communications. "This helps expand our program participants' worlds and allows people in the community to connect to their lives." For example, UCP Heartland works with the Overland, Missouri-based nonprofit Blaze STL, which operates a pottery and glass studio where adults and children of all ages can meet new people and nourish their creativity.
UCP Heartland also recently added a system navigator, an innovative new role to help individuals and families living with disabilities navigate the healthcare system. "Obviously funding and finding referrals are two of the biggest challenges," notes Beach. "People just don't know where to go for answers." Now, they will be able to call the System Navigator line and speak directly with senior VP Shari Clay, a 30-year veteran in the field.
"It's important that our community understands and supports families facing the high costs of services for loved ones living with disabilities," urges Wrench. "UCP Heartland needs volunteers, in-kind donations and financial support to maintain the highest standards of care."
Resources like the system navigator role, not to mention UCP Heartland's wide-ranging youth and adult programming, would not be possible without the community's involvement and generosity. On Saturday, Feb. 23, the nonprofit will host its annual Dream Gala fundraiser, whose theme this year is "Dreaming of Possibilities." Featuring a seated dinner, live and silent auctions, and musical entertainment, the evening will spotlight the tremendous technological advances made in care for people living with ambulatory and verbal disabilities.
"'Dreaming of Possibilities' will help you see what families hope and reach for in order to improve the lives of those they love," details Wrench.
---
2019 Dream Gala
6 to 10 p.m. Saturday, Feb. 23 at the Grand Hall on Chouteau
UCP Heartland is always "Dreaming of Possibilities!" Join the organization for its annual Gala, whose proceeds benefit numerous programs for children and adults living with disabilities. Pottery created by UCP Heartland program participants at Blaze STL studio will be available for auction at the event.
UCP Heartland, 13975 Manchester Road, Manchester, 636-227-6030, ucpheartland.org