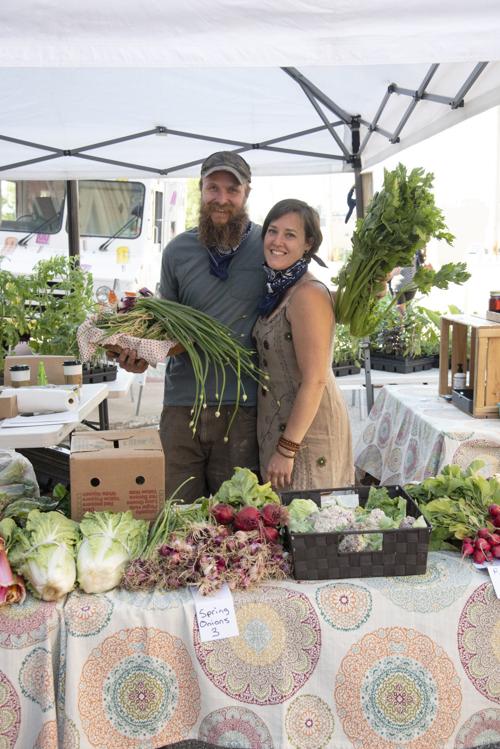 Summer has arrived, and with businesses beginning to reopen, many area residents are looking for ways to support local vendors and enjoy the weather. Farmers markets are one of the best ways to get out and give back.
"The shoppers are happy to have access to farmers' produce and shop in an outdoor environment," says Tower Grove Farmers' Market co-founder Patrick Horine. "It's a more comfortable space to shop in during a pandemic."
The Tower Grove Farmers' Market at The Boulevard shopping district in Richmond Heights has seen an influx of visitors to the weekly market since its reopening in May, while still maintaining social distancing guidelines to keep all shoppers safe.
"[The pandemic] has affected our opening timeline," says Horine. "We've opened more gradually, growing to our full capacity week by week. We've made changes to how we're laying out the market."
One way the layout has changed is by using one side of The Boulevard, instead of both, as the market has in past years. "This will allow for shoppers to line up and wait," Horine explains. The 6-foot social distancing is required and masks are strongly encouraged. Any special events hosted by the Farmers' Market at The Boulevard will also be postponed for this year.
"The reception has been very good so far," Horine adds. "Typically in the spring, there is a pent-up demand for some locally grown food. We normally see our biggest crowds at the initial market. That's one of the reasons we eased into it."
The market is open Sundays through the end of October from 9 a.m. to 1 p.m. "The best thing that people can do is come out and shop – support the farmers," Horine says. If people are unable or unwilling to get out, many of the vendors featured in the market also have ways to purchase online. More information on vendors can be found on the Tower Grove Farmers' Market website.
Tower Grove Farmers' Market at The Boulevard, 1 The Boulevard, Richmond Heights, tgfarmersmarket.com
Be the first to know
Get local news delivered to your inbox!