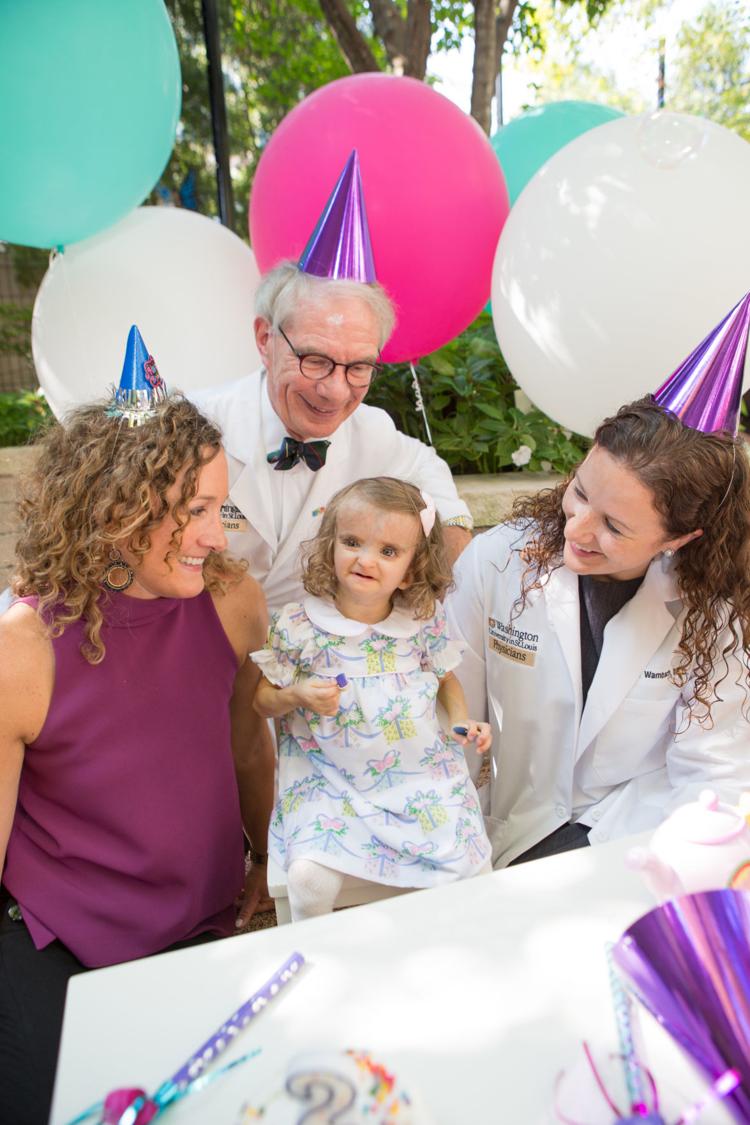 In 2016, Mike and Leslie Macari visited their doctor's office for what was supposed to be a routine sonogram. The imaging test, however, revealed abnormalities that left the couple with a host of unanswered questions and uncertainties.
Not only was their baby girl underweight, but her skull was also irregularly shaped, and she showed signs of heart troubles. Doctors performed an amniocentesis to rule out chromosomal abnormalities, but the procedure revealed nothing. Additional testing was also inconclusive, offering few answers to the Macaris about their daughter's condition.
Born on June 23, 2016, Gabrielle Macari weighed only 3 pounds, 12 ounces and was quickly transferred to St. Louis Children's Hospital, where pediatric specialists could help her grow stronger as they worked toward a diagnosis. But Gabby's unique constellation of symptoms proved difficult to identify. That is, until the hospital's expert genetics team arrived at a clinical diagnosis of neonatal progeroid syndrome, also known as Wiedemann-Rautenstrauch syndrome.
With unusually aged appearances at birth and severely-restricted growth, most infants suffering from this incredibly rare genetic disease do not live past seven months. Through St. Louis Children's Hospital, the Macaris nevertheless found a glimmer of hope: a clinical genetics study supported by the Children's Discovery Institute (CDI), an innovative research partnership between the hospital and Washington University School of Medicine.
Launched in 2014, the Genomics of Birth Defects project is spearheaded by a team of pediatric and newborn medicine specialists that includes co-principal investigators F. Sessions Cole, M.D. and Jennifer Wambach, M.D., as well as Dustin Baldridge, M.D., Ph.D. and laboratory manager Dan Wegner. Since its inception, the project has enrolled more than 100 children and their families, including the Macaris, and has given diagnoses to around 25 percent of its participants.
For the Macaris, joining the study meant analyzing the family's genome and uncovering that Gabby possesses variants in the POLR3A gene that are similar to variants seen in other children with the same syndrome. One of these children was 16 years old at the time – an optimistic sign for Gabby's prognosis.
In the meantime, Gabby recently celebrated her second birthday and will be celebrated at St. Louis Children's Hospital's fifth annual Play Date fundraiser on Nov. 17.
"Research and fun are in synchronicity at Play Date, which supports cutting-edge research at the CDI that transforms the lives of children like Gabby," emphasizes the hospital's chief development officer Malcolm Berry.
"Without the support of donors like those attending Play Date, specialized genetic research that leads to treatments and cures at St. Louis Children's Hospital would not be possible," adds Dr. F. Sessions Cole, chief medical officer.
Attendees to this lively "anti-gala" will be treated to an exuberant evening of dinner, drinks and plenty of activities. For event chair Alison Sheehan, the event's fifth birthday is a particularly special occasion: "We're recapturing the excitement of your favorite childhood birthday party, in the spirit of finding cures and ensuring that more kids get to experience birthdays of their own."
St. Louis Children's Hospital Foundation, 1001 Highlands Plaza Drive West, Suite 160, St. Louis, 314-286-0988, stlouischildrens.org
---
Fifth Annual St. Louis Children's Hospital Play Date
6:15 to 11 p.m. Saturday, Nov. 17 at the Four Seasons Hotel St. Louis
Join Children's Hospital at Play Date and help kids celebrate more birthdays! For more information or to purchase tickets, call 314-286-0970 or visit stlouischildrens.org/playdate.