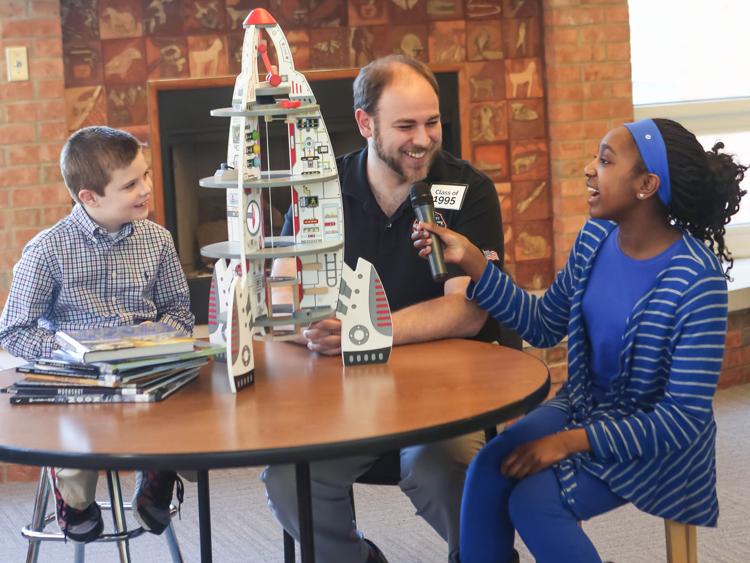 So much can happen in a century. But Rossman School in Creve Coeur has stood the test of 100 years, providing extraordinary education to kids age 4 through sixth grade. In summer 2016, the school began its yearlong celebration of this milestone, kicking off the party with a family picnic in September. Since then, the school has hosted a variety of events, including its big gala, a day of service and a spirit week in March.
Pat Shipley, Rossman's head of school, says the school was started in 1917 on the foundation of rigorous academics, and this is still a focus today.
"One hundred years later, we're that same school with a strong commitment to our academics," Shipley says. "It's part of the fabric of our school. We also live by our guide-words of honesty, respect, kindness and responsibility. Everybody knows those guide-words, from the youngest to the oldest students. It's a commitment for all of us."
The independent, coeducational prep school has around 225 students from 30 different ZIP codes. Shipley says Rossman is an "intentionally small" school, which allows the teachers and staff to get to know the students well and meet their academic needs during their years at the school.
"There are many opportunities our teachers have to get to know each child, like eating lunch with them and monthly gatherings for our School Family Program," Shipley says.
The March 11 gala was truly a night to remember for the Rossman family. It was the perfect opportunity for current and former members of the Rossman community to gather and celebrate what 100 years means to the school.
"It was such a fantastic evening," Shipley notes. "We had about 340 people present who have a special attachment to Rossman."
Though the year of celebration draws to a close this summer, Rossman still has plans for a Distinguished Alumni Awards presentation this fall. These awards are presented every five years to men and women who exemplify the values taught by Rossman: leadership, citizenship, creativity, humanity and love of learning. Past recipients include Kimmy Brauer, Senator Thomas Eagleton, Bill Orthwein, and the Buck family: Carole Buck, Joe Buck and Julie Brooks.
Rossman's small, close-knit community helps to build lifelong relationships between the school and many of its alumni. The centennial celebration provided unique opportunities for these former students to engage with current students. For instance, members of the school's 100th graduating class interviewed alumni from across the decades. To see what alumni had to say about their alma mater, visit rossmanschool.org/interviews.
As for the future, Shipley says she believes the school is "perfectly positioned" to launch into the next 100 years. With a five-year strategic plan, the faculty, staff and families of the school are ready to get started on the next century.
Rossman School, 12660 Conway Road, St. Louis, 314-434-5877, rossmanschool.org
Rossman School Alumni Spotlight
Brian Bauer | Class of 1995
"Rossman coaches students in ways to better themselves and prepares them for success later in life. I left Rossman with self-confidence, critical-thinking skills and a drive toward further learning and self-improvement that has served me well. With the right mix of inspiration and STEM education, current students will be able to work wonders in areas such as biomedicine, software, manufacturing, energy and space exploration. Their seats at the table are already starting to form; they just need the drive and education to be ready when they get there."
Brian Bauer is a systems engineer at the Johns Hopkins University Applied Physics Lab with more than a decade of research and design experience in the fields of space systems engineering, high-altitude ballooning and autonomous systems. As fault protection/autonomy lead, Brian played a critical role in saving NASA's New Horizons mission in July 2016 when communications suddenly stopped days before the spacecraft's encounter with Pluto.
Erin Engelhardt Orf | Class of 2000
"The 'Rossman Rules' – kindness, honesty, respect and responsibility – were deeply instilled in me while I was at Rossman. Having those core values influenced what I wanted to do, who I wanted to become and my desire to give back to my community."
Erin Engelhardt Orf is a pediatrics resident at St. Louis Children's Hospital. A graduate of Georgetown University and the University of Missouri-Columbia School of Medicine, she also is a former emergency medical technician and Washington University research technician. As director of the Engelhardt Family Foundation since 2010, Erin leads the foundation in its mission to support a number of causes, including education and the arts.
Lanny Jones | Class of 1955
"At Rossman, I had what I now know to be the single most important educational experience of my life: I learned to read. And I was taught by teachers who gave me the confidence to be curious and keep on reading. Books help the inner self make sense of the outer world, and for me, with unreliable hearing even as a little boy, reading was a particularly valuable tool in learning to grasp the world with confidence."
Lanny Jones is an award-winning author, former head editor of Money and People magazines and the winner of the 2015 Time Inc. Lifetime Achievement Award. Under Lanny's direction, Money won three National Magazine Awards, and People launched three new magazines: Who? Weekly, InStyle and People en Español. A professor of advanced nonfiction throughout his career, Lanny's book Great Expectations: America and the Baby Boom Generation coined the phrase "baby boomer."
Jessica Goldberg | Class of 2011
"In addition to fostering a lifelong love of learning, the rigorous academic program at Rossman inculcates time-management skills, organizational strategies and invaluable study habits necessary to thrive in a challenging and competitive secondary school. Additionally, Rossman's superlative character education program lays the foundation for its students to act honorably, responsibly and independently."
Jessica Goldberg, a John Burroughs School senior, co-founded Performing for Pencils at just 15 years old. The nonprofit organization provides disadvantaged students with the supplies they need to be successful learners by hosting an annual high school community talent show that has raised more than $73,000 in three years. For her work with Performing for Pencils, Jessica was recently honored with the Diller Teen Tikkun Olam Award and the Princeton Prize in Race Relations.
Ben Woods | Class of 2000
"Rossman, perhaps most importantly, taught me to write clearly. My teachers gave me the creative and analytical skills, which, honed at John Burroughs and later Vanderbilt, allowed me to pursue a career as a journalist despite having no formal training. Rossman also stresses the importance of empathy and respect for others. Only by valuing others as equals was I able to embrace the people and culture of Cambodia, a country still reeling from decades of colonialism, genocide and war."
Ben Woods recently returned to the U.S. after six years in Cambodia, where he was a journalist and later executive editor of The Cambodia Daily newspaper, as well as a photographer embedded with Cambodia's main opposition party. Now marketing director for the Camping and Education Foundation, Ben numbers among his accomplishments completing a 1,000-mile five-man canoe expedition to the Arctic Ocean in 2013.