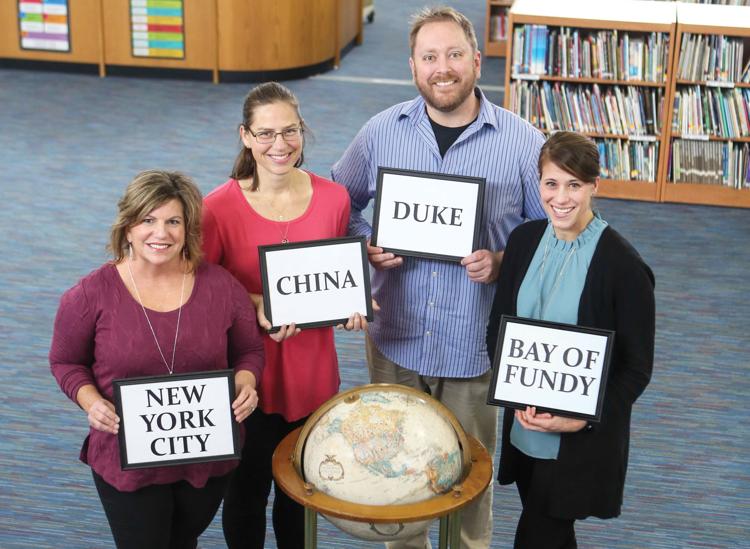 Fostering curiosity, collaboration and creativity, the curriculum at Rohan Woods School, an independent school that serves children ages two through grade six, develops a well-rounded knowledge base beyond the core subjects for its students. It is a result of the Project Approach method, developed by Lilian Katz and Sylvia Chard and introduced to the school in 2016.
"The Project Approach develops skills needed to become successful, vibrant adults," Sam Page, the head of school, explains. "Starting at a younger age affords kids a strong foundation for a secondary school, college and ultimately employment."
She finds that students prosper when the faculty and staff continue to develop professionally. "If you have faculty and staff who are lifelong learners, it not only serves them well, it also serves the student population," Page says. Four educators at Rohan Woods have recently found ways to expand and enrich their skill sets.
Science specialist Kim Breckenridge took fifth and sixth graders on a bi-annual expedition to the Bay of Fundy in New Brunswick, Canada, a coastal fishing village where they worked alongside and learned from scientists and marine biologists. The children gained valuable leadership experience while discovering current research and seeing the global effect of pollution on oceanic environments.
Art specialist Jennifer Burkert attended a seminar for the National Art Education Association in New York City, where she collaborated with colleagues from around the world. After observation and brainstorming with others in her field, Burkert plans to incorporate new concepts into the arts program at Rohan Woods.
Fourth grade teacher Matt Rowe visited Duke School in North Carolina, a lab school initially established in 1947 for Duke University psychology and education students, to learn from leaders in the Project Approach curriculum. Recently, two experts from the school visited Rohan Woods to complete on-site training with the entire faculty.
Early childhood teacher Liza Sullivan has been accepted into a program where she will help establish instructional strategies for teaching English as a Second Language in China this summer to native educators who work with small children. She will share her experiences with the Rohan Woods community upon her return.
The love for learning is palpable within the walls of Rohan Woods School, from the head of school on down to the youngest students. "Due to our small school environment, we know our kids [extraordinarily] well," Page notes. "We guide them academically and prepare them to become adults who will make a positive impact on society."
Rohan Woods School, 1515 Bennett Ave., St. Louis, 314-821-6270, rohanwoods.org
---
Open Houses
Featuring a Breakout Session at 9:30 a.m. on "Financing your Child's Independent Education."
9 to 11 a.m. Feb. 7
9 to 11 a.m. April 25
Contact Katina Truman, director of admissions, at 314-821-6270 or ktruman@rohanwoods.org to set up a private tour or learn more about Rohan Woods School's rolling admissions policy.