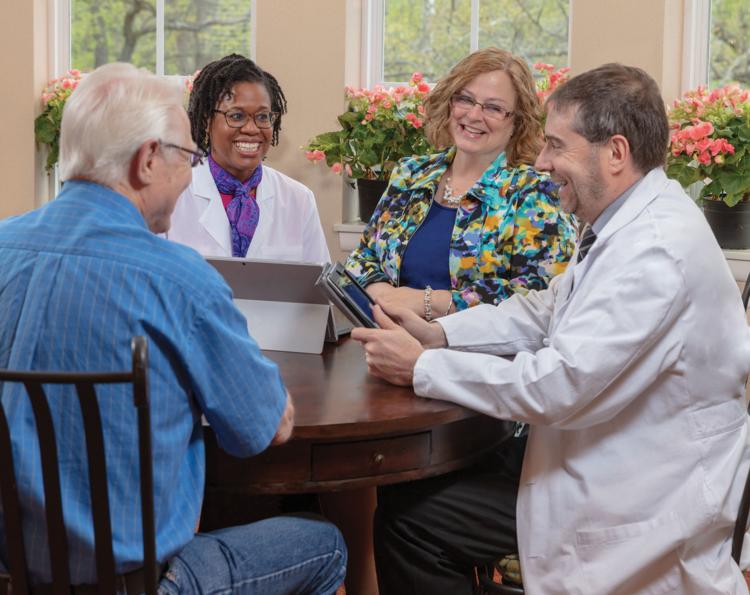 Life might be measured in years, but at Parc Provence, the St. Louis area's premier memory care community, there are many ways to measure one's life – and age has very little to do with it.
"You are much more than where you live or the number of candles on your birthday cake," declares administrator Kathy Aragon, RN, LNHA. "This idea is central to the mission of Parc Provence, which incorporates its residents' passions and hobbies into an individualized care model that helps seniors to live at their highest potential."
Parc Provence turns 15 this year. A grand fiesta is in the making to celebrate the community's residents, as well as the positive impact it has had on the St. Louis area. On Sun., May 5, guests can kick back and enjoy excellent entertainment by Bill Forness & One More Round, a popular Johnny Cash tribute band; jazz songwriter and singer Cheri Evans of Arvell and Company; and Luke Queen, covering songs from the 1960s on.
Guests also get to indulge in divine cuisine, including: shrimp cocktails, arancini, stuffed mushrooms with balsamic glaze, peach and pancetta torts, house-made Champagne liver pâté, asparagus wraps and decadent desserts, including lemon squares, cannoli, mini cheesecakes and more. The true reason behind the festivities is to honor and promote the leading memory care that Parc Provence provides.
"Medical director Dr. David Carr and associate medical director Dr. Lenise Cummings-Vaughn are leading specialists in Alzheimer's disease and geriatric medicine at Washington University School of Medicine," Aragon explains about the community's premier status. "Their expertise influences everything we do. The expert staff has completed extensive training in all aspects of dementia and Alzheimer's care."
One of the ways in which Parc Provence maintains its high level of care is by grouping residents according to their cognitive level, which promotes socialization and fosters friendships. In addition, the memory care community's award-winning household design "gives residents a cozy, familiar setting," Aragon notes. "They form a safe neighborhood with the kind of extensive programming and quality of care families want for their loved ones."
Each designated household boasts a living and dining room, an area that is oriented toward having fun and a patio area for residents to appreciate the outdoors. A dedicated staff commits to providing top care in a safe setting. Activities highlight opportunities for residents to pursue passions and explore new interests, from outings and gardening to art and music, plus a happy hour social. The key, Aragon notes, is to integrate residents' interests in their daily lives.
"As a resident declines, typically more medical care is necessary," Aragon adds. "A move from assisted living will be necessary or even emergent. Such a move is difficult for residents, especially for those with dementia. Moving into Parc Provence is one move that meets all needs along the way."
Another way in which Parc Provence rises to the top is through local ownership by the facility's original owners, which allows the community to maintain its exceptional service, as evidenced by the connection its staff makes with residents.
"We become a part of [our residents'] lives, and they become a part of ours," Aragon describes. "We are here for the families as a foundation and a resource while we take the best care of their loved one."
"Daily, I witness the true humanity of our staff with residents and families," she adds. "We live in a fast-moving world, so it is amazing to see the special moments in daily interactions. From taking the time to listen, to holding a hand or giving a hug, the staff makes each day a day of joy for our residents and their families."
Parc Provence, 605 Coeur de Ville Drive, Creve Coeur, 314-542-2500, parcprovence.com