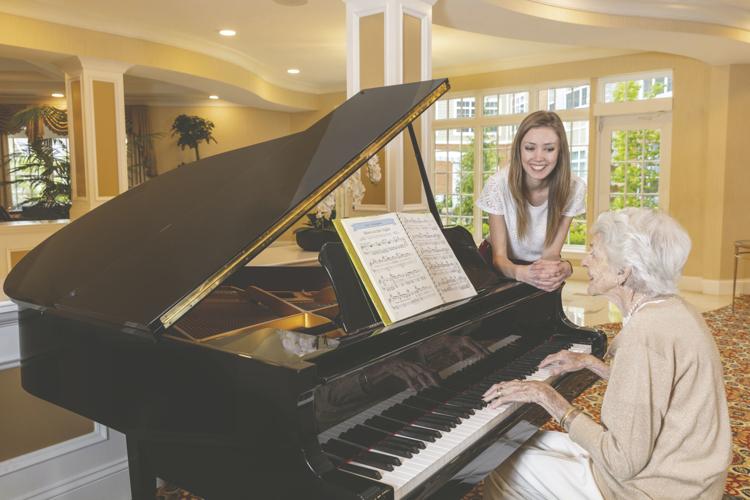 As you go about your day, you catch the snippet of a familiar song from a passing car or an open door – and it transports you to another place and time. Memories live in songs, from the melody that soothed your broken heart to the gospel choir that uplifted your spirit on a particular Sunday in church. And at McKnight Place, music has the power to engage residents of the assisted living and memory care communities.
"McKnight Place caters to the preferences of its residents, especially in art and music," music therapist Samantha Hinson describes. "Music therapy is often times used to reach non music goals. We work on memory recall, socialization and anything that lets residents express themselves creatively and have a good time."
Resident Virginia Gayou, better known as Ginny, has a deep appreciation for the role music has played in her life.
"I grew up with music, taking piano lessons," she says. "I have a sister and sister-in-law who play piano, and every time we get the family together, we sing and play and enjoy."
She has even passed along her music appreciation to a new generation. "My grandson, Sam, is in high school and has gone into singing," Gayou notes. "He often comes to visit me to sing and play."
Gayou is an active participant in a choir that Hinson conducts. "We have a variety of choirs in our community, such as the McKnight Singers Choir for both male and female residents, as well as a men's choir and church choir," Hinson details.
Gayou expresses an appreciation for seeing her fellow residents come together to sing. "I'm enjoying the whole thing," she declares. "Sometimes it's really good; sometimes it's funny. I like Samantha leading us. We're all having a good time!"
Hinson offers diversity in her programming, with a schedule of activities each week. From lectures on significant musicians and composers to historical examinations of music and even to incorporating games, like Bingo, Jeopardy, Wheel of Fortune or trivia, the music therapy offered at McKnight Place has proven to connect residents with their families.
"It's heartwarming to see family members connect with their loved one again," Hinson shares. "Some people with Alzheimer's disease and dementia cannot connect as well anymore. There are a couple of spouses who come every day to participate in our music classes. Music bridges that gap, and for them, to share an experience is important."
Music, after all, has the unique ability to express emotions in a profound and beautiful way through sound. Hinson uses it as a therapeutic tool to help residents meet group and individual goals through activities and private sessions. She is delighted to discover how much her residents can teach her as well. Hinson makes a concerted effort to learn as many songs as they will share with her.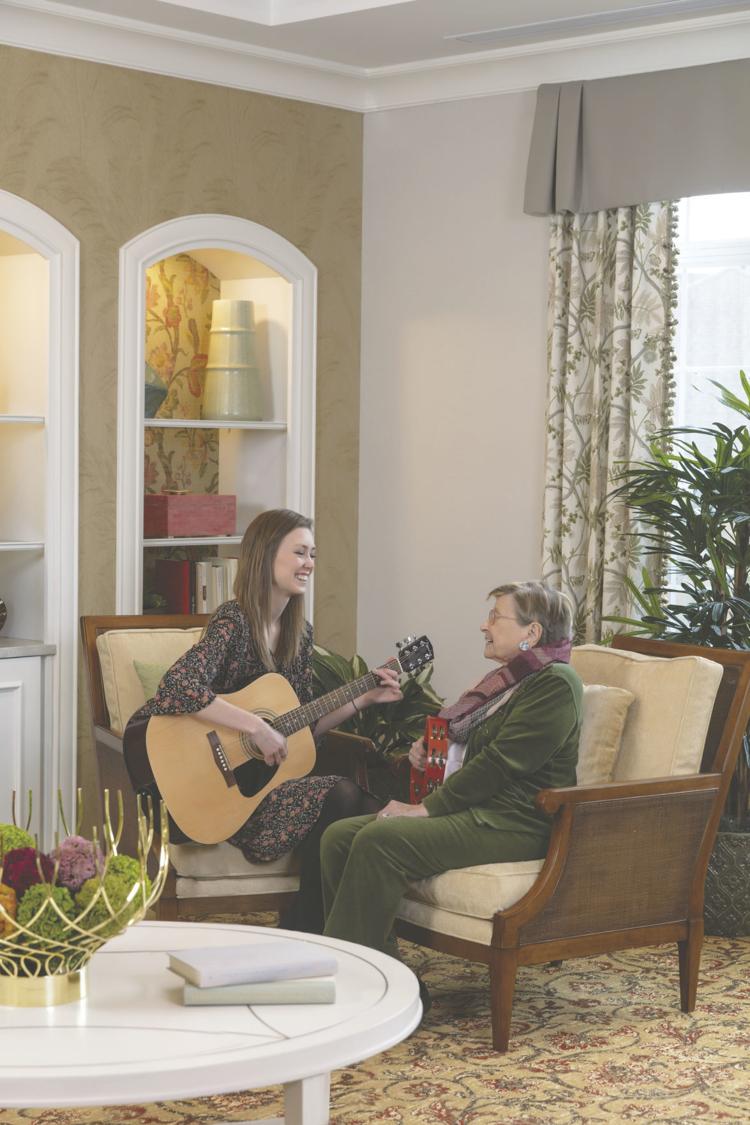 "I love to learn the residents' interests and cater my lessons to them," she says. "I take their suggestions for topics and learn a lot about each person's individual tastes, which can be so different. I try to honor the things that are important to residents so they can feel included and want to participate. We've gotten a good response from both residents and their families. The residents keep coming back."
Hinson cherishes music for its ability to unite individuals from every background. "Music is such an avenue for so many people," she describes. "It is an emotional experience, and everyone has a connection to music in some way. Even if someone has dementia, they can still engage in music. That's amazing to see and a great thing to be a part of."
The next time you go about your day, perhaps you'll find yourself drawn to McKnight Place, where a union of voices serenades you and inspires a fond memory.
McKnight Place, Assisted Living & Memory Care, Three McKnight Place, St. Louis, 314-993-3333; mcknightplace.com