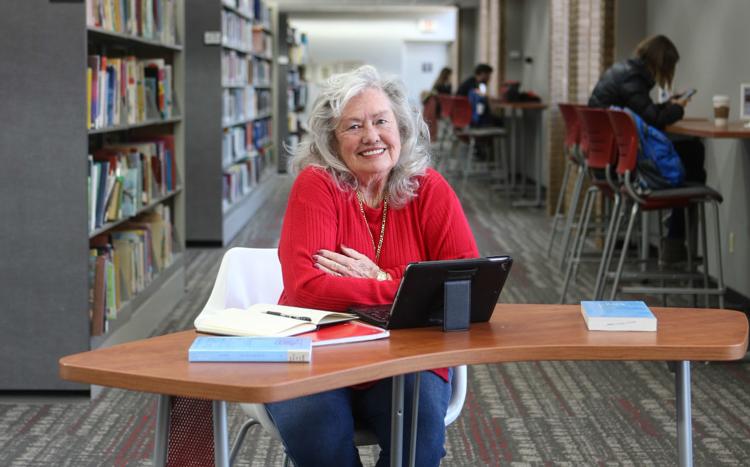 "Once you stop learning, you start dying," Albert Einstein once said. For Sharolyn McCoy, that proved to be frighteningly true when a routine scan found an aneurism that had yet to erupt just beneath the bountiful curls that frame her face.
"I had brain surgery," the 75 year-old grandmother states. "They put me on blood thinners and, five days later, filled that area up with coils and a stent."
With a new lease on life, McCoy found the initiative to pursue something she had always hoped for: a college education. "Everyone in my family was educated except for me," she recalls. "When I recovered, I wanted to finish. So, I sat down with my laptop and submitted my application to Maryville University. I was accepted in August 2017 – and I've never looked back."
Maryville University had a certain appeal to her. For one, she lives in Ballwin, close to campus. For another, her twin grandchildren introduced McCoy to the university when they brought her and her husband to their freshmen orientation.
"We're all really close in my family," she smiles. "I don't have any classes with my grandchildren but, when we see each other on campus, we hug. All of their friends are my friends. It's wonderful."
The twins, meanwhile, were blown away when their grandmother, who is pursuing a major in English literature and a minor in history, made both the honor's roll and the dean's list. McCoy's family is not alone in cheering her on in her academic pursuits.
"The support from Maryville University is just magnificent," she gushes. "There isn't anything I have needed that hasn't been provided, whether it's a life coach or an advisor."
McCoy finds that age is a state of mind at the university, where no one questions her initiative to be there as a student. She fits in effortlessly with peers and even with the latest gadgets utilized on campus. Through the Digital World program, all traditional, full-time undergraduates are gifted an iPad that is theirs to keep upon graduation – free of charge. In addition, McCoy has found a place of welcome at the office of service and spiritual life.
"McNally House is my work-study," she shares. "It's a spiritual hub for whatever your religion is, with a Catholic and Jewish representative, and a Muslim prayer room. I have learned about all the different cultures and faiths – and we're all friends."
McCoy is already putting her education to good use with a small publishing company she launched in recent years, Three Sons Publishing, Inc., which produces historical nonfiction.
"You have to have an impetus to complete your education," McCoy stresses. "When I got well after the brain surgery, oh the impetus I had to go to school! If you're thinking about going back, do so. You will be so glad you did."
Maryville University, 650 Maryville University Drive, St. Louis, 314-529-9300, 800-627-9855; additional locations at Lake St. Louis, Scott Air Force Base and Sunset Hills; maryville.edu