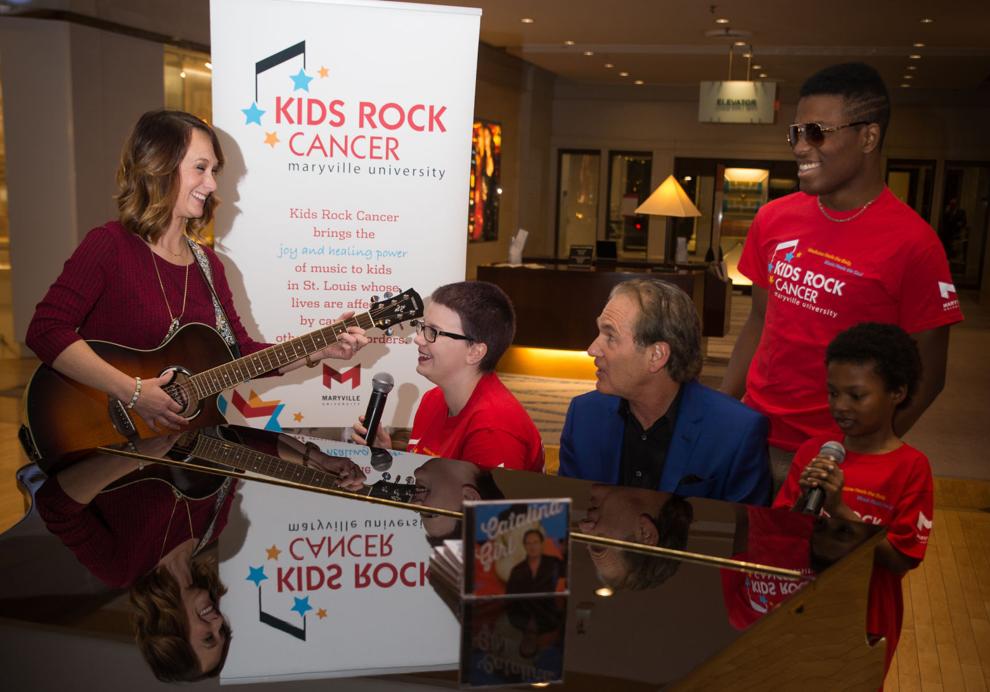 Music heals.
In St. Louis, this is evident every day in Maryville University's Kids Rock Cancer program. Kids Rocks Cancer is an innovative program that helps children successfully cope with the unique emotional challenges that accompany a cancer diagnosis. The program provides a vehicle for self-expression, a sense of self-esteem and accomplishment, a distraction from physical and emotional pain, a sense of joy and optimism, and so much more.
Liz Haynes, director of special programs, says Kids Rock Cancer launched in 2009 after hearing about a similar program in Texas. Because Maryville University has one of the only music therapy programs in the area, it was able to hire a Maryville graduate as a music therapist to put the idea in motion.
Since its inception in 2009, Kids Rock Cancer has served more than 983 participants, who have produced 752 original songs.
Because of the success of the program, Maryville University has hired a second music therapist to help with the process. In one or two sessions, typically an hour or two, a board-certified music therapist helps the child express a set of thoughts and ideas that can be turned into lyrics for a song. The child and therapist work together to compose a tune for the lyrics. The child then sings into a microphone and "stars" in the song he or she has written, complete with instrumentation provided by guitar, keyboard and computer software. At the end of the session, the child receives a CD of his or her song that he or she can keep and cherish.
"The child really drives the process of the music," Haynes says. "These are the words and thoughts of the child transformed into a song, and it's such an outlet and coping mechanism for what they're going through."
Since Kids Rock Cancer is a 501(c)(3), the ability to work with a music therapist to create music is a free service. Tom Eschen, vice president of institutional advancement for Maryville, says the program has an unusual structure since it's part of the university through the music therapy program, but it is also through SSM Health Cardinal Glennon Children's Medical Center, St. Louis Children's Hospital, Cancer Support Community of Greater St. Louis, Mercy Hospital St. Louis and Ronald McDonald House.
"Children are coming from all over the country," Eschen says. "All of their songs are on our website. It's been phenomenal to watch over the years."
In June, the organization hosted a talent show, with 20 children participating. Madeline Dames, who works with Kids Rock Cancer, says the kids had never met before the talent show, but they found solidarity in one another.
"It was such a meaningful event," she says. "There wasn't a dry eye in the room."
This past year has been a big one for Kids Rock Cancer. The organization partnered with The Fabulous Fox Theatre for its run of Tyler Perry's Madea on the Run, which had five sold-out shows. Kids Rock Cancer received a portion of all ticket sales, and it even hosted a cast party.
"Everyone but two of the cast members attended," Haynes recalls. "They were all so excited and wanted to know more about our work. We were so excited to partner [with the Fox] on such a notable and wonderful event."
In addition, Kids Rock Cancer partnered with the St. Louis Cardinals and had a Kids Day Out at the July 7 game against the Pittsburgh Pirates. Kids Rock Cancer received a dollar from every ticket sold, and one of the "rock stars" threw out the first pitch.
As 2016 comes to a close, the organization looks to kick off 2017 in fine style.
Al Hammerman, one of the original advisory council members and longtime friend of the organization, has donated 100 percent of the proceeds of his new album, Catalina Girl, to Kids Rock Cancer. The album is a jazz-pop CD of original compositions, and it can be purchased on iTunes.
"It's been an honor and a joy to help further the mission of Kids Rock Cancer," Hammerman says. "The emotions that music evokes in all of us are undeniable."
To learn more about Kids Rock Cancer, visit kidsrockcancer.org or call 314-529-9580.