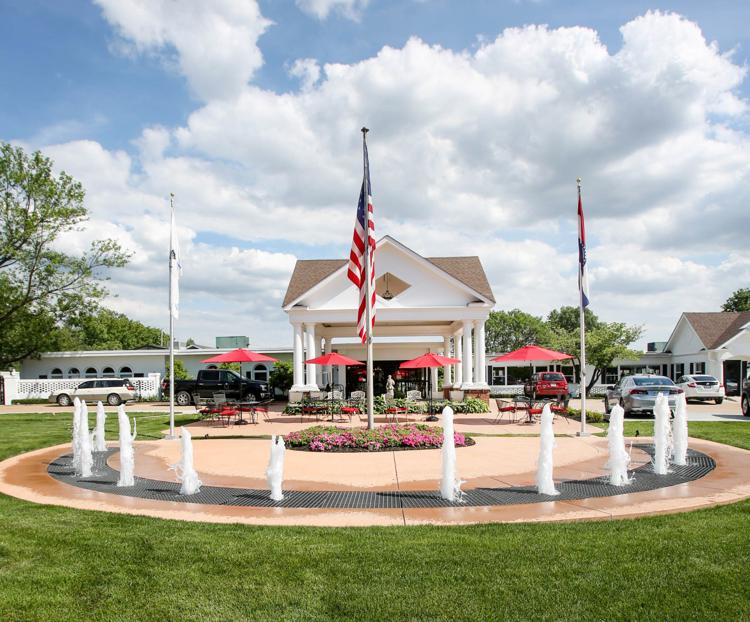 Approaching 60 years of age in March 2020, Mari de Villa wears its years with a grace and polish that breathe new life into all who visit. Serving the families of St. Louis and its surrounding communities has been the Wiesehan family's true pleasure.
"Every day, we commit to providing the best care," president Fred Wiesehan says. "Caring for the guests and families of Mari de Villa has been the life's work for the management and many of our staff."
The team at the senior living community proves it, too, with numerous members having spent a decade or more, even up to 35-plus years, of their careers at the unique community, located in Town and Country on a 21-acre campus. Mari de Villa's levels of care allow guests to age in place, from independent living in the Villa Estates to 24-hour care, skilled nursing, memory care and skilled rehab in Villa West, Villa East and the Waterford building.
"As one ages, a resident's needs can increase," Wiesehan explains. "We adapt to these changes with little disruption to their lives and provide this care at an all-inclusive rate."
That pricing for Villas East and West, and the Waterford building, also accounts for all meals, including snacks; daily housekeeping and personal laundry; amenities such as cable television and Wi-Fi; weekday transportation, though some restrictions may apply; 24-hour nursing care; and all activities and social hours; and much more.
The Villa West, Villa East and Waterford communities provide a warm, caring atmosphere, with 24-hour nursing care. The Villa Estates, located on a separate part of the expansive campus, can be customized to the preferred style of each resident. These independent living units showcase deluxe appointments, such as hardwood flooring, granite counters and stainless steel appliances.
"The Villa Estates club holds regularly scheduled dinners, parties and brunches," Wiesehan details. "This past Mother's Day, we hosted 140 guests and their families."
From complimentary water aerobics classes, wellness classes and bridge clubs to book clubs and guest speakers, residents find much to enjoy. A Mercedes motor coach extends social opportunities with trips to The Fabulous Fox Theatre; the Missouri Botanical Garden, with a private, narrated tram; Grant's Farm, also with a private, narrated tram; the Missouri History Museum; and numerous popular restaurants.
"The senior living landscape can be very confusing for families who are trying to navigate through their options," Wiesehan notes. "Here at Mari de Villa, we welcome the opportunity to tour families and address any questions. We are confident you will be pleased with what you see."
It appears all birthday wishes are coming true at Mari de Villa, so drink a toast to the next 60 years!
Mari de Villa, 13900 Clayton Road, Town and Country, 636-227-5347, maridevilla.com