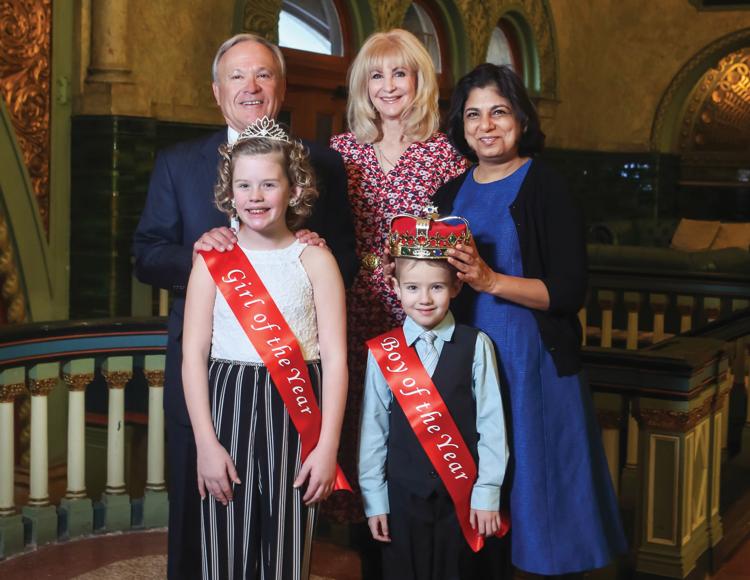 Cancer can be an ugly word, yet beautiful spirits are often revealed in those who receive a diagnosis. They serve as symbols of hope because of their incredible strength of spirit. The Leukemia & Lymphoma Society (LLS) spotlights two such role models at its annual Man & Woman of the Year celebrations.
At age 11, Ashlynn, the 2019 Girl of the Year, is known for her selflessness. She and her parents discovered she had large B-cell lymphoma. "She was so strong in the hospital and always had a smile on her face," her mother, Amanda Warren, recalls. "She's an inspiration for everybody, including myself."
Ashlynn's enthusiasm for life has not slowed down. The cheerleader, competitive dancer and athlete has decided to pursue nursing, a natural choice for her, as a career. "The amount of people coming out to support Ashlynn with kind words has been overwhelming," her father, Keith Cimera, states. "She's like a little rock star."
At age 6, Caleb, the 2019 Boy of the Year, continues to inspire his family and loved ones. After a tough recovery from a tonsil removal, he was diagnosed with acute lymphoblastic leukemia [ALL].
"LLS has come to mean many things but the biggest thing is hope," Hellen Kinast, Caleb's mother, says. "Through them and their research, it has become possible for many kids to beat cancer and live long lives."
Man & Woman of the Year encourages the community to join families, like Ashlynn's and Caleb's, in the fight against cancer. Candidates host events to raise funds and awareness for LLS, which offers emotional and financial support, access to educational and medical resources, and facilitates research to find cures.
The kickoff to the competition began on March 6 and will culminate in a grand finale on May 17 at St. Louis Union Station. In addition to announcing the 2019 Man & Woman of the Year, two individuals will be recognized with the Legacy Leadership Award for their significant contributions to improving the quality of life for patients.
"I saw firsthand the devastating impact of childhood cancer on patients, families and caregivers," explains honoree Lee Fetter, who recently retired as president of St. Louis Children's Hospital. "The hospital became their second home. When you get to know these families, you can't help but be inspired."
Honoree Dr. Deepika Bhatla specializes in pediatric hematology and oncology at SSM Health Cardinal Glennon Children's Hospital. "I am incredibly humbled," the honoree says. "It's a privilege to be able to take care of these children."
What most impresses Bhatla about the noble work of LLS is its medical research funding, which is second only to the National Institutes of Health and has aided in advancing many life-saving treatments.
"Underwriting research for cures is important to St. Louis' two medical schools and four teaching hospitals," notes Fetter. "Cancer is a life-altering diagnosis, and treatment can impact families in unexpected ways. Any form of support goes a long way."
Leukemia & Lymphoma Society – Gateway Chapter, 1972 Innerbelt Business Center, St. Louis, 314-590-2230, lls.org/gateway, mwoy.org/gateway
---
Man & Woman of the Year Candidates
Pete Benoist, VP of customer relations at Environmental Management Alternatives, Inc.
"I've had cancer. No one should have to go through the anguish cancer brings upon families. Jim Valvano's motto, 'Don't ever give up,' should shine through every patient and survivor."
Kate DeWulf, VP, Product and Customer Experience at Well Principled
"After experiencing the impact a cancer diagnosis had on my family, I feel compelled to take action in this fight [for a cure] and invite you to do the same."
Mark Hannah, Managing partner at Evergreen Wealth Strategies
"We lost my father to myeloma and saw firsthand the devastation that cancer brings. I am committed to finding a cure so that others do not have to experience that same ending."
Lalage Katunga, Medical science liaison at AbbVie
"As a scientist, I devote my career to researching treatments. I run to ensure funding does not stand in the way of a cancer-free future."
Jake Schlitt, Operations team lead at Bayer CropScience
"You don't have to look far to find friends and family that have been impacted by cancer. LLS fights for a cure, and I couldn't be more honored to support [its efforts]."
Kim Chisholm, Operations insurance specialist at Chubb
"I have fought and beat lymphoma. I want to extend my blessing through this campaign to help those who are going through the same journey."
Alex Gillette, Senior consultant at Daugherty Business Solutions
"LLS has a proven track record of battling cancer. We are bringing the fight to these horrible diseases – and giving hope to those in need."
Jaymie Hauversburk, Tissue regeneration specialist at Organogenesis
"I run in honor of my stepdad, who has multiple myeloma, for his sister and for many others. Cancer affects each and every one of us. Let's find a cure together!"
Libby Powers, Channel partnership consultant at BizLibrary
"My 3-year-old son was diagnosed with ALL. He is going through three years of treatment to beat this monster. I fight for him and everyone who battles [cancer]."
Claire Ziegler, Key account manager at Nature's Variety
"My mom lost her battle with acute myeloid leukemia. Her sacrifice went beyond family when she participated in [clinical] research trials. LLS gives me a greater purpose and continuesher legacy."