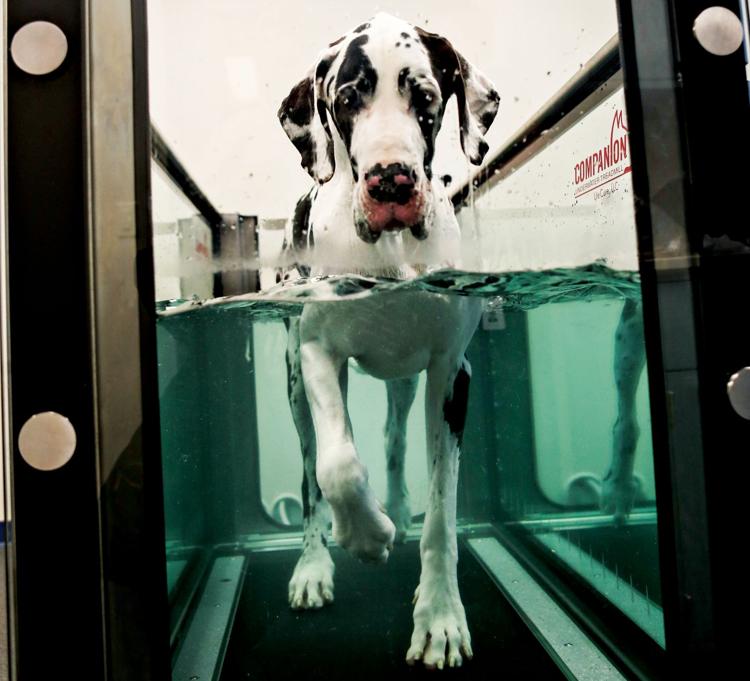 A crick in your neck caused by a bad night's sleep. Or, a bone spur on the bottom of your foot from running too many miles. Humans can often pinpoint the sources of their pain, but what about pets? Although it's impossible to translate Fido's barks and Felix's meows, the Humane Society of Missouri's (HSMO) new Integrated Veterinary Pain Management Center offers hope to owners with pets in pain.
Accredited by the American Animal Hospital Association, HSMO's Animal Medical Center of Mid-America is a full-service veterinary clinic and hospital open to the general public. AMCMA provides the highest level of veterinary care to pets across the area, with locations in Chesterfield Valley, Maryland Heights and St. Louis City.
Opened in April 2017, the Center's newest outpost in Maryland Heights replaces a much older and smaller nearby clinic. With six exam rooms plus on-site radiology, ultrasound, laboratory and pharmacy capabilities and 3 dental and surgical suites, the new facility provides vastly expanded veterinary care services. These services include a state-of-the-art Integrated Veterinary Pain Management Center, one of only a few such centers in the United States.
"Over the last 10 to 15 years, sensitivity to pain in pets has become a more prominent issue," says Dr. Kelly Ryan, AMCMA director. "Because of the nature of how pain comes about, there's not always one approach that will work for each patient." That's why the Center offers a range of diagnostic technologies and treatment options for animals in pain.
The first step for new patients is a consultation and pain assessment with the veterinarian. This appointment may involve the use of an infrared camera or the Stance Analyzer, a machine that assesses the weight borne by each limb. Both of these technologies help veterinarians detect the location of an animal's pain more precisely.
After a treatment protocol is established, pets typically begin working with Jaime Bast, a registered veterinary technician and certified canine rehabilitation practitioner. Bast utilizes a range of therapies to alleviate pain and improve animals' quality of life. An underwater treadmill allows pets to increase mobility without causing additional joint damage. A class IV laser isolates specific areas of the body, releasing endorphins to fight pain more naturally and less invasively. Platelet-rich plasma therapy uses a patient's own blood cells to treat osteoarthritis. "Bast brings a wealth of knowledge about how to use these systems," Ryan attests.
The Center extends another level of pain management care to its patients with the addition of Dr. Susan Roecker, a doctor of chiropractic medicine. Whether physical therapy or chiropractic sessions are necessary, the Center strives to make the treatment process as convenient as possible for animals and their owners. "We even offer drop-off," says Ryan. "You can drop off your pet before work, they can receive therapy, and then you can pick them up after they're finished."
"Some people think that if your animal is in pain, there's nothing you can do," says Ryan. "That's absolutely not true anymore. We've come a long way. If your pet is having ailments, it's no longer a matter of waiting. There's a lot we can do to help keep them happy."
The Animal Medical Center of Mid-America's Integrated Veterinary Pain Management Center, 11660 Administration Dr., Maryland Heights, 314-951-1534, amcma.org/locations/maryland-heights
Be the first to know
Get local news delivered to your inbox!