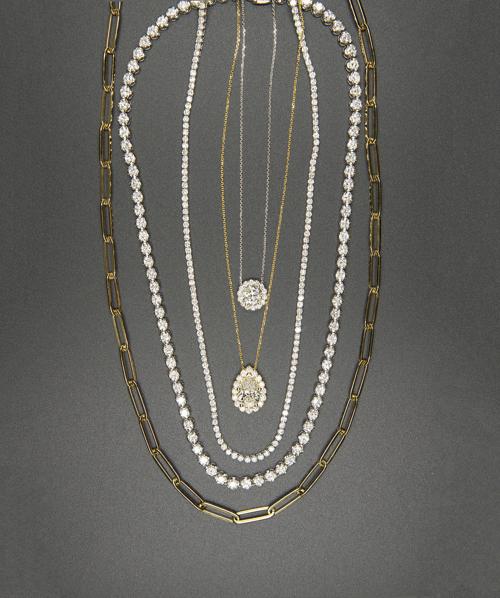 With winter come cold, flu and new COVID-19 restrictions, and shoppers everywhere are looking for the best way to show their loved ones they care while keeping safe and healthy for the holidays. Genovese Jewelers is your answer; the local, family-run jeweler has the inventory and the flexibility to give those you love beautiful gifts without leaving the house.
"We're wanting to make buying as easy as it would be on Amazon," explains executive buyer Katie Kelly. "We'll ship; we'll do curbside pickup; we'll do whatever it takes to make it work. Safety and health is the most important thing right now, so we're trying to meet everyone's comfort level."
Genovese offers a large selection of jewelry, designed and created in-house, starting as low as $300. "We're ready for the holidays," Kelly says. "Everybody is spending a little different this year, [but] they still want to do something memorable that will last a lifetime. We've been very busy, and we haven't slowed down our buying."
For the holiday season, Kelly sees the jewelry trend leaning toward adding to the staple items of a jewelry wardrobe: diamond studs, bangle bracelets and diamond tennis necklaces.
"Once you have the staple items, there is a lot of stacking and mixing of different golds, as well as textures such as roping beading and chain-link styles," Kelly says. "There's always ways to elaborate and reinvent your pieces and make them more fashion forward."
Genovese's storefront will be open this holiday season as well, with live music every Saturday in December. "The only difference is all of the new Covid-19 safety protocols we're taking, sanitizing and wearing a mask. We're keeping up the holiday spirit, even in trying times," Kelly confirms.
On top of shipping and curbside pickup, Genovese will FaceTime with clients over the custom jewelry process. The jeweler also has a Shopify page, where new products are being added every day.
"This year, people are wanting to cherish each special occasion," Kelly concludes. "At the end of the day, jewelry always makes you feel good. It brightens your day, and I think that for the holidays, what better to brighten your day than a box from Genovese?"
Genovese Jewelers, 12460 Olive Blvd., 314-878-6203, genovesejewelers.com