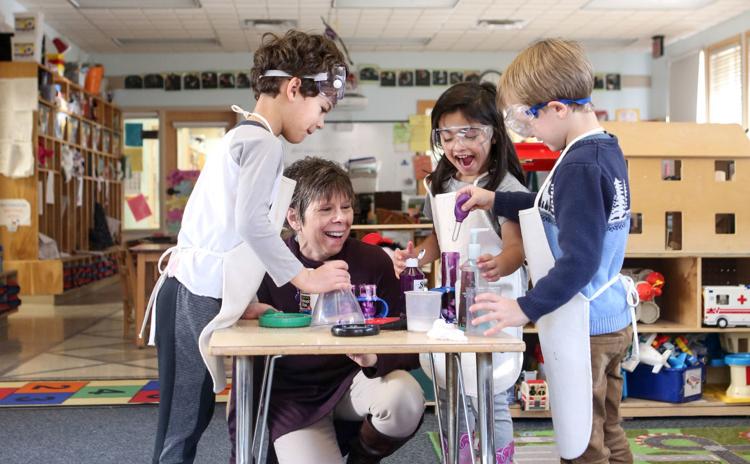 "I took a walk in the woods and came out taller than the trees," wrote Henry David Thoreau in Walden, his autobiographical ode to the simple pleasures of nature.
Surrounded by 18 wooded acres – brimming with trails, fields, a pond and a creek – the pre-kindergarten and elementary students at Community School are likewise forever marked by their time at the school. It is a place where children not only grow taller, but also emerge more confident, curious and empathetic learners.
Serving students from age 3 through sixth grade, Community School has long emphasized the positive impact of nature on the development of children, whether through free play at recess or outdoor learning experiences. "Alumni always mention the woods as being one of the things they remember best about their time here," shares head of school Bob Cooke.
The bucolic Community School campus is an integral part of the school's overall educational philosophy, which prioritizes hands-on learning and individualized, developmentally appropriate instruction. At Community School, this kind of learning begins as early as possible.
"We really believe in the power of a high-quality pre-kindergarten program," says Cooke. "Children learn best by being engaged, but it must be adjusted developmentally." Community School divides its pre-kindergarten program into two age groups: 3-year-olds attend Nursery, while 4-year-olds attend Junior Kindergarten. Both Nursery and Junior Kindergarten are housed in the school's Early Childhood Center. With five spacious classrooms, designated play areas and a community room with a fireplace, the 8,000-square-foot Early Childhood Center is specifically designed to meet the needs of younger students.
In this environment, pre-kindergarten students develop social and emotional intelligence, including "executive functioning skills" like self-control, sharing and conflict resolution. Beyond these soft skills, pre-kindergarteners are also active in the same academic subjects as Community School's older students. "The children here participate in academics, but in a very age-appropriate way," says Cooke of the school's enriching curriculum, which incorporates math, science, foreign language, and the literary, visual and performing arts, among other subjects.
"Learning to play a musical instrument or a sport is all about doing it and then getting better," asserts Cooke. "We take that approach here." Sometimes that involves a hair dryer, a bundle of straw and a few bricks. As Cooke recounts, Nursery students recently read the classic fable, The Three Little Pigs. In addition to acting out the nursery rhyme with puppets, the teachers also brought out the aforementioned items so that students could predict how much huffing and puffing it would actually take to "blow the house in."
"That lesson includes all of STEAM [science, technology, engineering, art and mathematics]," details Cooke. "And the students are learning the difference between make-believe and reality."
Junior Kindergarteners equally benefit from these kinds of interactive learning activities, some of which play out over the course of several weeks. Last year, the school's 4-year-old students voted to "take a trip" to Mexico. The students created their own passports and airplane tickets, complete with seat assignments, and learned Spanish words. They researched the country's history and regions, and organized the classroom into four geographical zones – beach, city, desert and rainforest – which they explored upon "landing." As the end of the trip neared, the entire class celebrated with a fiesta set to the tune of a live Mariachi band.
This exercise exemplifies Community School's methods. From picking their destination to conducting their own research, the Junior Kindergarten students were not only active participants, but also creators of the experience. With teachers as guides, they were able to have a say in how and what they would be learning.
"That's how children learn most deeply," asserts Cooke. "At Community School, we really try to help children learn how to think, not what to think. We want them to wonder and to go where their interests and passions lead them. We think we can achieve that at any age."
Community School, 900 Lay Road, St. Louis, 314-991-0005, communityschool.com
---
Visit an Upcoming Admissions Event
9:15 a.m. January 15 and 29
To RSVP, call 314-991-0005, or visit communityschool.com/admissions/visit.