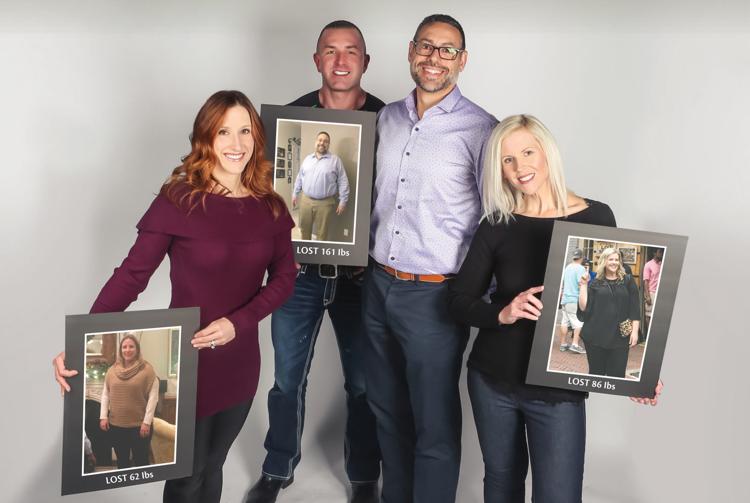 Anyone who has struggled with their weight recognizes what it takes to shed pounds – but following through is a different matter. Enter Charles D'Angelo, the renowned transformation coach credited with hundreds of jaw-dropping success stories. He helps people to focus on the real challenge: changing the way they think about themselves.
"Most of my work is helping a person get associated to why change is a must," says D'Angelo. "When we give space for self-reflection, we empower ourselves and begin to direct our lives, rather than feel like victims of fate."
Brian Frailey | 161 pounds lighter
One of his clients, Brian Frailey, was ready to free himself from his past, having carried extra pounds since he was a child. "It was due to poor habits and bad choices," he recalls. "The weight just got away from me."
After a jarring realization, he finally took charge of his situation and called D'Angelo. "The straw that broke the camel's back was my son," illuminates Frailey. "I'm involved in the Boy Scouts [of America] with him. We signed up for a backpacking trip through New Mexico this summer. I did [the same trip] as a kid and was eager to get back. I realized I was 114 pounds over the maximum weight limit."
Frailey's first meeting with D'Angelo proved to be eye-opening. "I walked in on day one and thought, okay, I'm going to do whatever this guy tells me to do," he shares. "The program itself is simple. It's the mindset aspect that I needed help with. Charles held me accountable."
Today, Frailey admits he could not have shed 161 pounds without D'Angelo. "Charles was firm with the plan," he says. "He was there to encourage me. Now, I sleep great at night. I have a higher energy level. There are so many benefits to what I have done."
"I was a bullied, obese teen," reminds D'Angelo. "I've been there. I can help shift your mindset and change your life's direction through small, profound changes."
Jamie Klopmeyer | 86 pounds lighter
"I tried to lose weight my whole life," describes Jamie Klopmeyer. "I had tried everything and was at my wit's end. It was time to try something totally different."
Her story is like many others; only, for Klopmeyer, it ended happily with her shedding 83 pounds in nine months. "I started as a size 18 or 20, and now I fit into a size six," she elaborates. "I have never been a single-digit [size] my entire adult life. It was a monumental moment for me."
With D'Angelo's guidance, Klopmeyer came to understand that food was her crutch for dealing with stress. She has since learned to allow herself to feel her emotions.
"It's a lifestyle change," she explains. "You have to stick with it. [Calling Charles] was a good investment for myself, for my health and for everything."
Jessica Schmitt | 62 pounds lighter
Jessica Schmitt had carried extra weight with her since she was a teenager. "If you name a fad diet out there, I've probably tried it," she admits. "At some point, you become confused about what's the right path for you." One phone call to D'Angelo, though, and she found the right fit.
"The biggest challenges are in the exceptions, rather than the rules," notes Schmitt. "The thing is knowing the balance." From dinners out to vacations, she has learned how to spot healthier menu items.
"Charles instills in you that you have to make healthy living a part of your life," says Schmitt. "The weight loss has been a huge win, and with that comes increased self-confidence. I've learned I have the discipline to eat healthy and maintain a healthy weight."
Charles D'Angelo, 314-495-3228, charlesdangelo.com