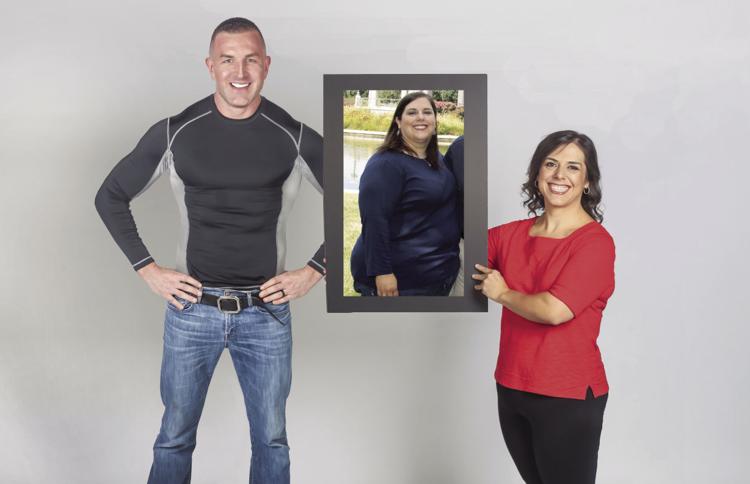 Antonia Miceli, 156 pounds lighter
Antonia Miceli, co-director of academic support and an associate professor at the Saint Louis University School of Law, received the university's Legal Scholar Award, a high honor for research or scholarship efforts on behalf of the justice system. At the ceremony where she received the prestigious accolade, she experienced a shocking revelation.
"I realized that, at this peak moment in my career, I was embarrassed to walk across the stage," Miceli describes. "I had gotten my hair and makeup done. I had a beautiful dress. And I still did not want to put myself out there."
That became the catalyst for reaching out to Charles D'Angelo, the celebrated personal development coach, to help her break free of bad habits. "In that first meeting with Charles, he talks about why you're overeating," she says. "You face your emotions and work through them. For me, it was about stepping out from behind the curtains of my professional life and being fully present."
While his program is known for jaw-dropping physical transformations, the outward change is only a small dividend of the full value, when considering the powerful shift in a client's mindset. "Having been obese, bullied and humiliated myself as a teen, I know what it's like to use food as a drug," D'Angelo shares. "My greatest joy comes in seeing the light go on in someone's eyes when they realize their own worth and begin to love themselves."
At ages six and two, Miceli's children lead active lifestyles. She now participates alongside them, even instigating the fun. Shedding 156 pounds – more than half of her body weight – has made a world of difference in how she experiences and appreciates life.
"The big [takeaway] has been putting myself back on my list," Miceli declares. "My job as a professor is to encourage students to be their best selves – same thing with my children. That's what we do as moms, and I wasn't doing it for myself. It's easy to forget you should be on your own list."
Today, her healthy habits have positively impacted her family, with her oldest son craving better food choices, like the chicken they grill together every weekend.
"Charles encourages you, reminding you to love yourself," Miceli says. "Part of that is developing the ability to advocate for yourself. I am now comfortable making better, healthier decisions because I appreciate where they lead me."
Beth Greer, 87 pounds lighter
Elizabeth (Beth) Greer was motivated to shed her excess weight while planning an overseas escapade. Previously, she had told herself that she could not find the time or patience to commit to better habits, as her career requires frequent travel. When sharing that perspective with D'Angelo, he made it clear that if she would not make room in her schedule to begin taking care of herself, then he wasn't the right fit for her. Surprised by his candor, she found the time – and took the leap by joining his program.
Greer is now down 87 pounds and headed to Australia, Tasmania, New Zealand and Fiji for the adventure of a lifetime. Breaking free of unhealthy habits, like mindless eating, she has found deep value in her newfound routine. "I don't have cravings," she says. "I'm always full. I have found what works for me."
Through working with D'Angelo, Greer began to see herself as a worthwhile asset. "Think about all the things you invest in – a car, a boat, a vacation," she says. "All are wonderful, but you need to take time for yourself. This was my investment in me, because I'm worth it."
Brian Frailey, 150 pounds lighter
"My son and I signed up for a [Boy Scout] backpacking trip through New Mexico next summer," says Brian Frailey. "I had done it as a kid and was eager to get back, but I realized I was 114 pounds over the maximum weight limit." That was the kick he needed to change his life. So, Frailey made the call to D'Angelo.
"I needed help with the mental aspect," he says, commenting on why he sought D'Angelo's coaching. "The first meeting is challenging – an eye-opener. I was there though, and ready. This has now been my world every day for the past nine months. When I say [I've lost] 150 pounds, it's surreal…unbelievable. It hasn't sunk in. There are so many benefits."
Frailey recently completed a 20-mile training hike with his son in preparation for their big trip. He is thankful for his newfound vigor and D'Angelo's forthrightness. "Charles was firm," he states. "He was there to encourage me. I couldn't have done this on my own."
Charles D'Angelo, 314-495-3228, charlesdangelo.com