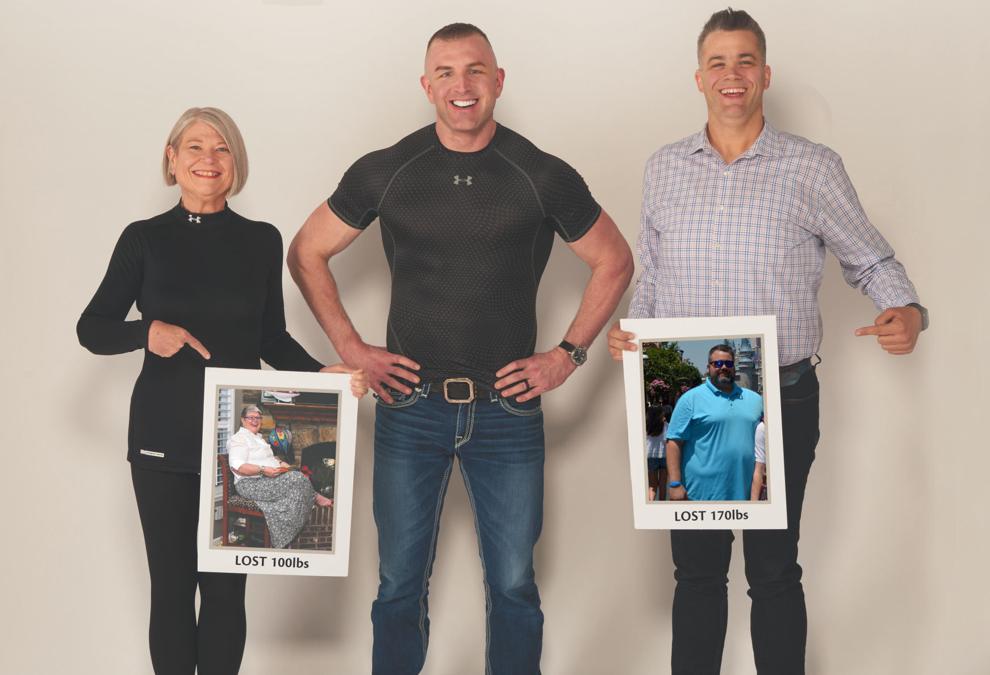 Dr. Brian Bausano, an emergency room physician at Barnes-Jewish Hospital, has never known a time when his weight wasn't fluctuating – until he met celebrity coach Charles D'Angelo.
"I knew this was my opportunity," he says of the decision to contact D'Angelo, after losing weight on a commercial diet program only to gain it back over time. "Family members had seen Charles on TV; so I emailed him and, 15 minutes later, got a personal call back from him."
Bausano always understood the necessary steps he must take to shed weight – consuming fewer calories and adding in exercise – but there was one part he had yet to conquer. "The mental aspect has been the biggest thing for me," he describes. "With Charles, I explored my relationship with food to make the mental changes needed to lose weight and keep it off."
Now, 170 pounds lighter, Bausano is sometimes still surprised by his reflection in the mirror – and he feels revitalized.
"It's been my experience that changing your choices can have the greatest impact on your life," his coach, D'Angelo, says. "As you [improve your choices], everything else seems to change for the better as well."
Today, Bausano channels his newfound energy into making memories. "The most rewarding [part is] being able to play with my kids. I ran 12 miles as part of [my training] for the half-marathon Go! St. Louis. Before, I never ran a mile in my life!"
The physician found that having family and friends beside him through this challenge made all the difference. "My wife has been super supportive," he shares. "Having my family and friends give me support as I try to change my life has been the key to success."
"If you want to make a change, extend your life and enjoy it more, this is a move you should make," he adds. "Embrace it and it will be a life-changer."
Bausano is not the only medical professional to have sought D'Angelo's expertise. Dr. Marcos Rothstein, a renowned nephrologist at Barnes-Jewish Hospital and professor at Washington University in St. Louis, is also a graduate of D'Angelo's program. He penned the foreword to D'Angelo's first published book, Think and Grow Thin.
Suzanne Coffey, who has reached her goal weight by losing almost 50 pounds under D'Angelo's guidance, echoes Bausano's sentiments. "As a psychotherapist who has [experienced] wonderful results with Charles as my coach, I can say that he truly understands what it takes to reclaim your life, and he knows how to help you do it," she says. "He helps you to see beyond self-imposed limitations, so you can realize just how amazing you are and always have been."
When last LN caught up with Beth Greer, she had shed 87 pounds with D'Angelo's insight and expert guidance. Then she grabbed her passport and headed to Australia, Tasmania, New Zealand and Fiji for an unbelievable getaway. She's back stateside and we checked in to see how she managed her weight with the ultimate interruption to her routine.
"I actually released weight while on vacation," Greer boasted, now down a total of 100 pounds. Out of her element, Greer got creative by flavoring her water with natural fruit and making selections at restaurants that most closely resembled the healthy choices she would make if at home. "I was careful with what I ate," she explains. "I looked for grilled chicken breasts and vegetables."
Greer only went off-plan when the occasion called for it, as when an opportunity to try kangaroo arose. That wasn't the only trick up her sleeve, though.
"My travel companions – my cousin and his wife – were very supportive," she shares. "We were extremely active the whole time, taking a taxi only once and choosing to walk [elsewise]. We walked miles every day, and I was never tired."
Staying active was a top priority for this trip, so Greer could partake in once-in-a-lifetime adventures, like the Nevis Catapult in Queenstown, New Zealand, which rockets you 492 feet across the Nevis Valley at 60-plus miles per hour. "It was so cool," she says about the experience. "Absolutely thrilling."
Greer also found herself on the inner arch of the iconic Sydney Bridge in Australia with BridgeClimb Sydney, as well as inside the country's Uluru-Kata Tjuta National Park on a more than 1½-mile walk through the sacred Walpa Gorge.
"It made me feel good to know I could do all the things I wanted," Greer remarks. "It's a really different feeling." From catching the occasional stranger's notice to being able to shovel her own driveway, she has renewed her zest for life.
"While I'm certainly well known for helping people lose fat, the dramatic weight loss is the dividend when working with me," D'Angelo shares. "The focus isn't just helping people with their weight. It is helping them with their lives."
Charles D'Angelo, 314-495-3228, charlesdangelo.com