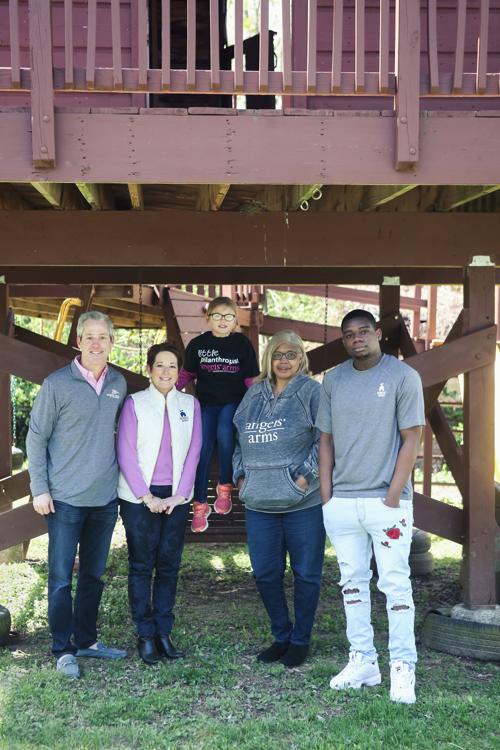 Children entering foster care can face immense, adult-like challenges. One local organization, Angels' Arms, has found a way to lighten the load of foster parents while helping these children experience what it's like to be a kid.
"The children who come into the state's care are really our children," says founder Bess Wilfong. "Everyone can have a part in their lives. Foster parents are always on the frontlines. When you find people willing to do this, the community has to embrace them."
Having fostered several children, she faced the obstacles involved in fostering.
"Missouri is one of the lowest-ranking states for foster care support," she explains. "The stipend is so low that I don't think it even covers food for a day. The clothing allowance is gone immediately and they're growing kids. You're responsible for any extracurricular activities."
Another unexpected challenge is having the state separate siblings when families cannot support more than one child. Angels' Arms provides a larger home to experienced foster parents who are willing to take on multiple children.
Volunteers can provide essentials bundles, which includes no-contact grocery deliveries, or participate in fast-food Fridays, where parents receive gift cards to fast-food restaurants.
Some services have been put on hold throughout the pandemic, such as hosting birthday parties or group service days on home improvement projects. Angels' Arms is instead focusing on immediate needs as foster parents face unusual challenges, like home-schooling and the disruption of family court and parent visits.
Tom Hartnagel felt compelled to take up Wilfong's cause. "My wife taught with Bess," the founding board member and event chair says. "Twenty years ago, several couples gathered and Bess shared her concept. My wife and I started a fundraiser – a small fashion show with 85 participants. It's grown to a big auction, [with] 550 guests and hundreds of items."
The fall event, Stepping Out for the Angels, takes place on November 14, from 6 to 10 p.m., at River City Casino.
Foster parent Phyllis Hackman finds the organization's efforts a vital component of caring for her children. Fostering feels a part of her heritage; though her mother and aunt had 14 additional siblings, their family took in family members and children in need in the community.
"My Aunt Dorcas fostered for more than 50 years," Hackman says. "She had four kids of her own and adopted three out of foster care. I always knew I wanted to be like her."
In her 19th year of fostering, Hackman currently fosters teenage boys who are unable to socialize, due to the state's stay-at-home status. "In the summer, they're [usually] out doing things, like going to the rec center," she explains. "We have a large weekly grocery bill and it's even larger now. They eat constantly."
Angels' Arms also helps in an unexpected, life-changing way.
"Older kids are well aware that foster parents get a small maintenance payment," Hackman shares. " The great thing about Angels' Arms is that we've got volunteers and donors who interact and do things for our kids. It shoots down that theory that adults do things only because they're getting something in return."
"Give all kids a chance," Hackman adds, who has seen all of her foster children graduate high school, beating the national average, with two going on to graduate from college. "Keep your eyes, arms and hearts open."
From the birth of the organization around one family's table, Angels' Arms has grown to 13 homes that have supported almost 600 foster children. The organization, notes Hartnagel, owes all of its success to grassroots fundraising initiatives that you can take part in. Start this month, in May, during National Foster Care Month.
Angels' Arms, 12128A Tesson Ferry Road, St. Louis, 314-842-8400, angelsarms.org
---
GIVE STL DAY
May 7th
Donate now at givestlday.org/angelsarms
20th ANNUAL STEPPING OUT FOR THE ANGELS
Nov. 14 from 6 to 10 p.m.
For tickets and sponsorship opportunities, contact 314-842-8400 or visit angelsarms.org
Be the first to know
Get local news delivered to your inbox!